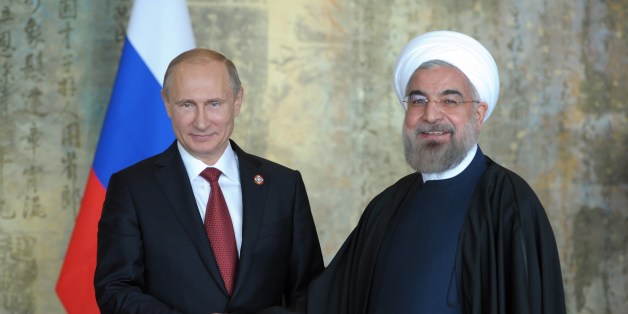 For the Islamic Republic of Iran, one of the most significant and beneficial byproducts of the ongoing nuclear talks with the P5+1 nations -- the United States, the United Kingdom, Germany, France, Russia, and China -- is not solely linked to the prospects of Iran's nuclear program. In fact, the international legitimacy that Iranian leaders are gaining from the negotiations bears much-more-positive consequences for Tehran's strategic geopolitical and military designs in the Middle East.
At the beginning of this year, Sergei Shoigu became the first Russian Minister of Defense to visit Tehran in 15 years. Then, in April, Russian President Vladimir Putin paved the way for delivering a missile system to Iran by lifting a ban on the sale of sophisticated Russian air-defense missiles to Tehran. The ban had been imposed in 2010 as a result of UN Security Council resolutions, as well as pressure and lobbying from the United States and Israel. Nevertheless, Iran's military power and the Russian-Iranian partnership have shifted since the P5+1 and Iran reached a framework for a final nuclear deal.
Rise in the Russian-Iranian Partnership
For Iranian leaders the progress in the nuclear talks can significantly increase their geopolitical and economic influence in the region through global trade that could bolster Tehran's military power. For example, the S-300 surface-to-air missile system can provide the Islamic Republic with a powerful deterrence against any air strikes (including from ballistic missiles or cruise missiles) against their nuclear sites. In addition, the arms sale could embolden Iran to scuttle the foreign-policy objectives of its rivals -- including regional state actors and the United States -- in the region.
For Russian leaders it is crucial to be ahead of the game when a final nuclear deal is reached between the P5+1 nations and Iran. Taking action will ensure that Moscow can reap a significant amount of trade profits (whether militarily or non-militarily) from Iran. For instance, Russia has long been negotiating to intensify its oil-for-goods barter deal with Tehran. Moscow can place its military deals with Tehran based on the oil-for-goods exchange program. This will provide Russian leaders with a leg up in Iran's energy and financial markets before the final nuclear deal is signed.
Since a framework for a final nuclear has been reached, several powers will feel the urge to immediately intensify trade (including arms, goods, and oil) with Iran. Before European countries can tap into Iran's market, Russia is attempting to secure its profits from its arms client (Iran), maintain its strategic alliance with Iran, reassert its military cooperation with Tehran, and enjoy a significant share in Iran's market. Russia's Ministry of Defense has stated that Moscow is ready to strike the arms deal, which is worth approximately $800 million.
In other words, the prospect of a final nuclear deal has prompted a race among several countries to benefit from the easing of UN Security Council sanctions against Iran. A competition to secure trade with Iran has already been initiated. And Russia, a long-term strategic ally of the Islamic Republic, would not desire to fall behind. As Andrei A. Klimov, the deputy chairman of the Foreign Relations Committee in the Federation Council (Russia's Senate), told The New York Times, "We need to think about the future of our trade partnership [with Iran]. We don't want to wait for anybody else. It is a kind of competition, if you like."
Iran would welcome any military deal that could further advance its regional hegemonic ambitions. As Iran's deputy defense minister, Reza Talaienik, told the semiofficial Tasnim News Agency in response to Russia's decision to lift the ban on missile sales, "If Russia fulfills its commitment to deliver the S-300 missile system to Iran, it will be a step towards boosting the relations and collaborations between the two countries. It will be a step forward."
In addition, as Tehran is considered a strategic ally of Moscow, bolstering Iran's military power will further advance Russia's strategic geopolitical objectives in the region. The heightened tensions between the Obama administration and President Putin pushed Moscow much closer to the Islamic Republic as well.
No Opposition From the West; Moderation in Iran's Regional Policies?
Although some experts, policy analysts, and politicians might argue that Russia's move would complicate the nuclear talks, it is unlikely that the Obama administration or Western allies would scuttle the final nuclear deal because of an Iran-Russia arms deal.
The recent developments clearly indicate that Iranian leaders will not moderate their objective of regional preeminence or scale down their military influence over other countries in the region. It appears that the easing of sanctions will be utilized by Iranian leaders to further invest in their country's military and ratchet up Iran's strategic geopolitical and economic influence in the Middle East.
Russia and the Iran have leveraged the international legitimacy that the Islamic Republic has gained from the nuclear talks to strengthen their strategic defense ties. This international legitimacy will not only bolster Iran's military power, which would further destabilize the region and pose security concerns for other regional state actors, but will set off a global race to increase trade with Iran, including trade in arms.
Majid Rafizadeh, an American scholar and political scientist, is the president of the International American Council on the Middle East. He is originally from Iran and Syria.
This post first appeared on Al Arabiya.