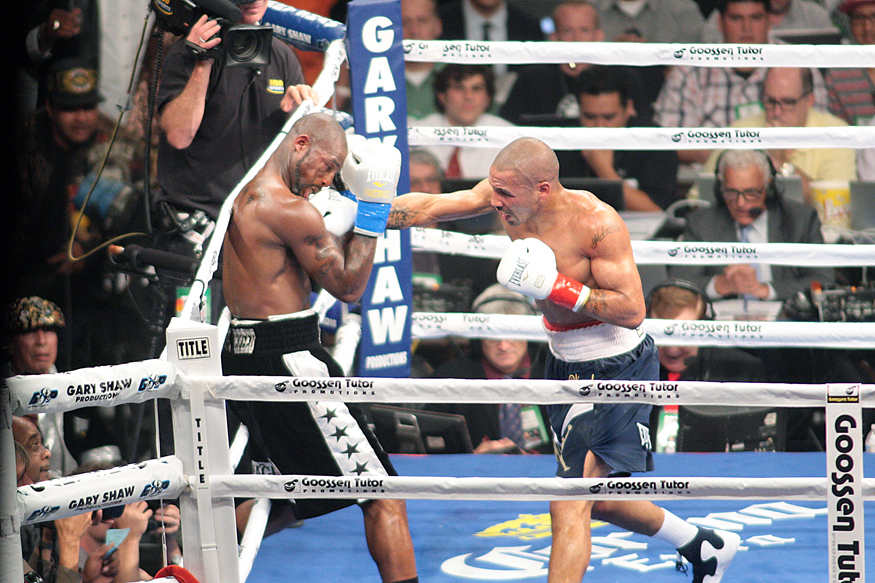 Photo by: Miguel Blair
Oakland, CA - Another victory, still undefeated and wanting more. Andre Ward did not disappoint as he defeated light heavyweight champion Chad Dawson in front of his home crowd in Oakland.
Through ten rounds Ward delivered left-hand blows to pummel Dawson. In the third and fourth rounds, Andre knocked Chad down leaving him stumbling and exhausted. It was clear his legs had given out and with 2:25 minutes left in the tenth, boxing referee Steve Smoger stopped the fight.
"I looked at his legs and his legs were gone," Ward said. "I'm glad he stopped it because it would've probably been bad. I think it was a great stoppage by Steve Smoger."
Dawson went through drastic measures to move down his weight from 175 pounds to 168 to take on Andre but was no match. Chad's a great athlete all around from size to skill but Ward is a great fighter and proved once again why he remains the champion. Landing up to 155 power punches mostly from the left, he kept his poise and composure.
"I went through eight sparring partners this time and we never have that many in training," he explained. "You do multiple things in order to knock out Chad Dawson, so I envisioned my left hook knocking him out."
Despite his impressive career path, Ward is still considered an underdog because he's a non flashy boxer who doesn't disrespect nor talk trash to his opponents. Instead he brings a structured technique and agility in the ring. But tonight, he was spectacular and phenomenal in his performance.
In his first live title fight on HBO, many believe it's time to schedule the next fight in Las Vegas. Command a bigger audience in bringing him the fanfare like Floyd Mayweather and Manny Pacquiao. These fighters are getting older and it's time for the next generation to emerge.
"I felt like we brought Vegas to Oakland, said Andre. "This promotion has been like no other promotion we've ever done. I've never been at a weigh-in in my hometown like that, it looked like a mega fight with a ton of media and packed."
Ward's team is already preparing for his next fight. Hoping to give him a few months off then it's back to training. Promoter Dan Goosen was careful in not naming Andre's next opponent at the press conference. But did say the next fight will be sooner than later, explaining the proficiency used in selecting fights.
"We keep on shocking people with our upcoming fights," Goosen said. "We like to take things to a level where people don't normally see. Without given any names (jokingly), hey, 'Andre' you feel like going to Vegas next week?"