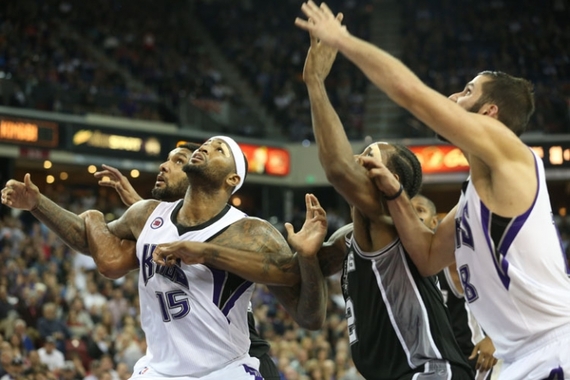 Photo by Rocky Widner
Sacramento, CA - The Kings returned home from a tough road trip to regain their winning ways. They beat the Spurs 94-91 last night. The defending champs were looking to sweep their four-game road trip but got a rare surprise. DeMarcus Cousins who got into foul trouble early, lead his team to victory despite limited minutes.
"We got back to playing the right type of basketball which is defending first and worrying about scoring later," said Cousins. "Collectively as a unit we know what are mistakes are. It feels good right now but we still have a long way to go."
"It feels great anytime that you can beat the defending champs and protect your home court," Sacramento's coach Michael Malone said. "The key was we defended at a high level. We held them to 91 points and 42% from the field."
San Antonio took the lead in the fourth, the first since the second quarter. Mano Ginobili's three-point play in the final seconds of the game cut the lead to 93-91. But the Spurs last shot attempt was an airball from Ginobili adding their first loss on their West Coast road trip.
"We hung in there, we just ran out of juice a little bit," said Spurs coach Gregg Popovick. "A couple of guys were probably a little tired at the end of the road trip, but everybody goes through that. We had a good chance to win the thing, we just didn't."
"We could have stepped it up a little earlier in the game and played with more intensity," Kawhi Leonard said. "We have to play the whole 48 minutes. But give credit to the Kings. They played great, executed down the stretch and played great defense."
Sacramento got off to a great start early taking advantage of San Antonio's missed shots. Coach Malone said prior to the game that he wanted to see more ball movement and trust among the players. And that's exactly what he got when the Kings showed good ball movement in the first half.
Cousins had 25 points and 10 rebounds despite sitting out the entire second quarter. Rudy Gay lead the offensive surge early in the first while Darren Collison's driving layup and free throws edged the Spurs for the win in the final seconds of the game. Collison finished with 19 points finding open teammates while going for 7-of-13 shooting with five assists.
Sacramento ended a three-game skid giving them a 6-4 start, the best start since 2004-05 season. The Kings are the only team to not allow an opposing player to score 25 or more points in a game this season. The streak is now 10-games. Sacramento host two more games at home before heading back on the road for the rest of the month.