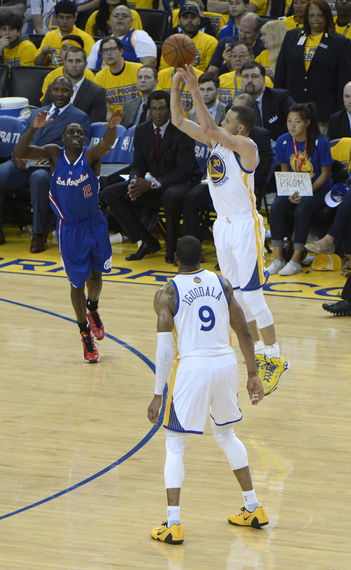 Photo by Gerome Wright
Oakland, CA - Late Friday night TMZ released an audio of Los Angeles Clippers owner Donald Sterling reportedly making offensive remarks regarding African-American people. This set a wave of anger throughout the NBA and social media. The team was not pleased with the owner's remarks and wanted to focus solely on the game at hand.
But that didn't happen, in fact it was the Golden State Warriors who benefited immensely in their 118-97 victory over the Clippers to force a game 6 back in Oakland Sunday afternoon. While this matter has become bigger than basketball, the Warriors did not lose focus and played their best game in the series.
"Maybe our focus wasn't in the right place would be the easier way to say it," said J.J Redick.
Saturday afternoon, LA held practice at the University of San Francisco. Head coach Doc Rivers said, "speaking on behalf of the team, no one is happy about the comments made by Sterling. Our focus is winning game four against Golden State. The players will not deal with this issue."
Unfortunately, that message was lost in translation. The Clippers came out for pre-game warmup and immediately removed their team warm up jackets to reveal their shirts worn inside out to not show the team's logo. Players also wore black arm bands, sleeves and socks to show unity against the deplorable comments made by the owner.
"Whatever the distractions, I gotta do a better job," Rivers said. "I didn't do my job tonight. I take that personally... It's my job as a coach to get them ready, and I just didn't feel like I did the right stuff."
NBA Commissioner Adam Silver has his hands full! He attended Sunday's game and met privately with Sacramento Mayor and former NBA All-star guard Kevin Johnson who is advising the players union on how to deal with the Sterling situation. Silver will hold a press conference tomorrow morning addressing the issue at hand.
As for the players, they did everything they said they would not do and that's lose focus of the game. Trying to figure out how to boycott and unite as a group was more important to the Clippers than stopping Golden State. Game 5 will head back to Los Angeles were no one is sure they'll be welcomed.
As for the Warriors, it's an opportunity to steal a win tomorrow and make this series more interesting when they return back to Oakland for Thursday's game. Players throughout the NBA have expressed their concern for the situation and the Clippers players. However, it will not distract the teams who want to win a title, their goal is moving on to the next round.
"We just wanted to come out and focus on all of the work we've put in over the summer, throughout the course of the season to get ready for this moment in the playoffs," Stephen Curry said. "Just have fun and enjoy it. Not let one person ruin it for everybody."