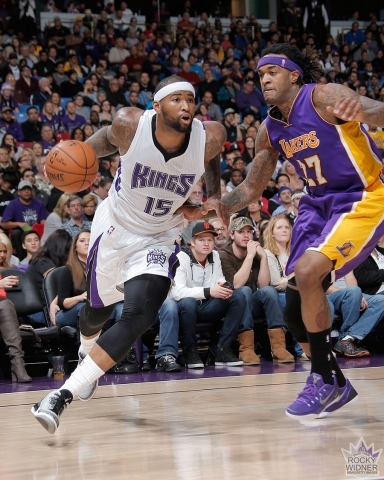 Photo by Rocky Widner
Sacramento, CA - Despite being down the Kings rallied back to end their five-game losing skid when they defeated the Los Angeles Lakers 108-101. Sacramento began the game on a 15-7 run, and collectively they displayed good ball movement and played great defense.
"It was a great team effort," said Kings head coach Tyrone Corbin on guarding Kobe [Bryant]. "Kobe is a great player, he's a Hall of Fame guy. He's going to take some tough shots and make some tough shots. He didn't see a lot of openings and gaps, so it made it hard for him to get everything that he got."
Bryant was "hot" for a minute, when he scored 14 of of his 25 points in the first half. Bryant added seven of his point early in third before cooling off. At that point Sacramento began chipping away at the lead before taking over. By the end of the third quarter the Kings were within two points.
"Obviously, I have had tough moments," Bryant said. "But the thing that I have always found effective is to focus on where you're at in the moment and time."
The Lakers look horrible at this current moment in time. They lacked effort, structure and committed 17 turnovers of which Bryant had nine. Nick Young added 26 points but that wasn't enough to contain an aggressive Sacramento team. Rudy Gay whose been having a slow start came out making jump shots and looked confident on the floor.
Demarcus Cousins had 29 points and 14 rebounds in his second start. After his first start, Cousins said he wasn't fully healthy but he looked it tonight. Cousins played a part in every crucial play, he made a defensive stop late in the fourth, threw a bounce pass to Darren Collison who lobbed an alley-oop pass to Ben McLemore on the fast-break.
"For one thing we picked up the pace, I would say (in the third)," Cousins said. "We hit them in the mouth and didn't let the bleeding continue. We put our foot on the pedal and then took off. That's how we were preaching in the huddle and came out with a good win."
The Kings recorded there biggest comeback of the season when there were down by 13-points. Gay finished with 24 points and McLemore added 23 points and eight rebounds. The Lakers made it easy in the fourth when they shut down. McLemore was left wide open despite missing several three-point shot attempts.
The frustration among the players and head coach is obvious. With little to say as to what the problem is, the Lakers first suggestion maybe to sit their superstar and allow the remaining players figure this out. Coach Byron Scott suggested it might be best to sit Bryant a few days but other than that he has no solution to the continued defeats of the Lakers.
"It's probably not that much of an option, really," said Scott. I just have to look at the body, the amount of the workload, an see how it responds."
Bryant didn't disagree with hat option at this point. Sacramento on the other hand earned it's first win under new coach Corbin and looks to have found a good rhythm before heading on the road to play the Warriors tomorrow night. This victory is the confidence they needed.
"Our defense, I thought that we did a great job paying attention to detail and staying with our game plan," Corbin said. "This will help us moving forward."