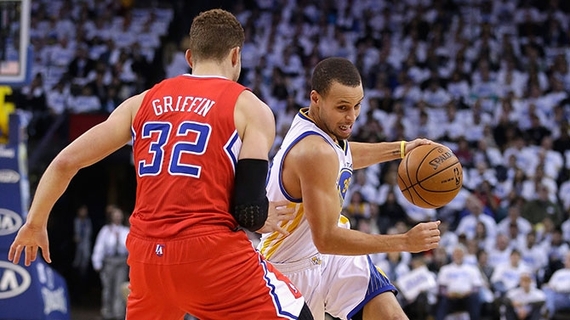 Photo by Erza Shaw NBA/Getty Images
Oakland, CA - The last time these two teams met on Christmas day, there were two ejections, two flagrant fouls, and three technical fouls. There's not doubt that it gets pretty physical but I wouldn't expect anything less from both teams who are battling for the top spot in the Pacific Division.
Tonight, the Golden State Warriors will host the Los Angeles Clippers for the last time here in Oakland. Many except a highly combative game at Oracle Arena. The Clippers currently sit atop the division and hold the the fourth spot in the Western Conference, the Warriors have fallen to the third spot in the division and sit seventh in the Western Conference.
"It's no rivalry," said head coach Mark Jackson. "We don't have bad blood. In this league, when your competing and teams are jockeying for a playoff position in your same division, it makes it exciting. We embrace it, they embrace it."
It's no rivalry, it's just two teams playing good basketball. The Clippers will be without their starter Chris Paul but that hasn't stopped them from playing well, they just got back from a seven-game road trip losing only two games. They beat the Washington Wizards last night and look to continue their winning ways. Golden State however, has lost three games at home and hope to turn things around.
"It's two teams trying to get back to that playoff level and get further, so whenever you play against each other that intensity kicks in," Stephen Curry said.
With the second half of the season approaching, there's still a lot of basketball to be played. Both teams have proven to be playoff contending teams over the last two years and play with much passion. It's going to be a physical game to say the least but I wouldn't expect anything less coming from to teams who want to make a statement to all West Coast teams heading back into the playoffs.
"It's going to be a physical game," said Draymond Green who was ejected for an elbow to Blake Griffin's face. "That's just the way it's always going to be when us two teams face off."