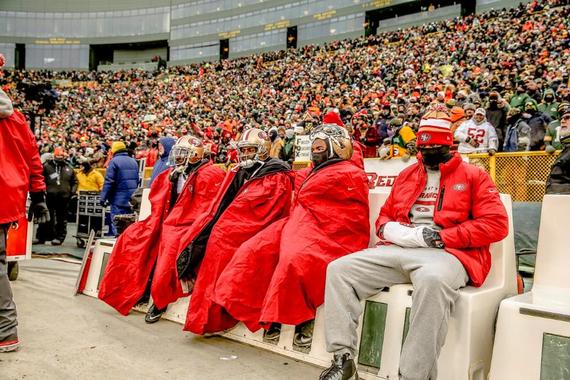 Photo by 49ers
San Francisco, CA -- Phil Dawson's field goal advanced the Forty-Niners to the next round of the playoffs. Many predicted the freezing cold would keep them from victory. But San Francisco braved through freezing temperatures to beat the Green Bay Packers 23-20 last Sunday.
Now, they head to Carolina to face the Panthers who beat them at Candlestick Park during the regular season. This time it's more than a rematch, it's an opportunity to return back to the Super Bowl. But in order for that to happen, the 49ers must get past Cam Newton and a stellar Carolina defense.
"I can't wait, said Vernon Davis. "I'm excited to get back in there. A fresh new start, we can play the game all over again. It's another opportunity to take on the Panthers."
In their quest for the franchise sixth championship, San Francisco has not forgotten they lost four games in the regular season. In fact, all to teams who are currently in the playoffs. If the 49ers can get past the Panthers, they will then face the winner of the Seattle Seahawks vs New Orleans Saints game. But wouldn't it be a doozy if San Francisco returned to CentryLink Field.
Another perfect scenario would be if the Saints beat the Seahawks and the NFC Championship game would be played at the "Stick". What better way to end the season than to play one final playoff game before moving on to Levi's Stadium next year. It's all speculation but it would be a treat for the fans.
"Absolutely. It's possible. Why not?," Anthony Dixon said. "We are just taking it one game at a time but why not give the fans one more game at Candlestick. They deserve it. So, if that means a Saints win, than, 'Let's go Saints'!"
The advantage for the 49ers in this rematch is the return of Davis, Aldon Smith and Michael Crabtree who did not play. Crabtree had eight receptions for a postseason career-high 125 yards in his last game against the Packers. Davis caught one pass for two yards in that Nov 10 defeat and did not return in the second half due to a concussion.
"Having Crabtree back makes a huge difference, we're on a different level right now, " said Davis. It's obvious we have guys who we didn't have before, Crabtree and Smith back in the mix. They add value to what we have. That's why it's going to be exciting to see what we do when we go in there."
"We can't come out flat. This is it. If you lose this game, you're going home. It's simple. It's plain. It's right there and guys know it."