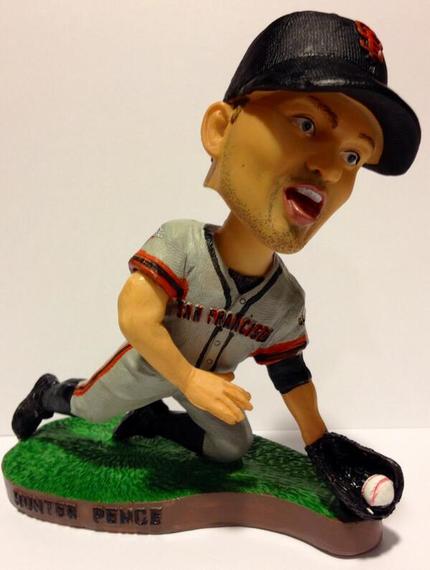 Photo by the Giants
Hunter Pence is no stranger when it comes to giving back to the community. He's done so much throughout his career and continues to be apart of organizations and events that helps those in need. Pence joins Willie McCovey in supporting the 6th Annual Junior Giants Stretch Drive going on June 26th through June 29th.
One $50 donation can give a child the opportunity to play baseball for an entire season. As a thank you for donating at this level, donors will receive a commemorative Hunter Pence bobblehead featuring his diving catch from Tim Lincecum's 2013 no-hitter game. Higher donation levels will receive an autograph baseball or jersey from both McCovey and Pence.
"I'm honored to be apart of this, but I think the Giants and Willie McCovey are the ones that I'll give a lot of the credit to, they put in the hard work to get all of this set up to help in the community and expand the game we love," said Pence.
Another thank you gift will include a pre-game reception with McCovey who inspired the Stretch Drive to help the Giants Community Fund provide over 21,000 boys and girls in 90 underserved communities. Celebrating its 20th Anniversary, Junior Giants is a free, noncompetitive program that stresses the Four Bases of Character Development - Confidence, Integrity, Leadership and Teamwork - and offers programs in Education, Health and Violent Prevention.
The program has raised $430,000 in 2013 and hopes to surpass that amount in 2014. Since its inception in 1991, the Fund has donated more than $18 million to community programs. The Giants Community Fund, a non-profit organization, collaborates with the San Francisco Giants by using baseball as a forum to encourage underserved youth and their families to live healthy and productive lives.
"I don't think the Junior Giants is to create the next big leaguer," Pence explained. "It's to give kids an opportunity to play but mostly to learn good values, enjoy the game, have a good time, learn team stuff... Like the great things baseball provides and hopefully bring some joy into others lives."
The fund supports Junior Giants leagues throughout Northern California, Nevada and Oregon and provides assistance to targeted community initiatives in the areas of education, health and violence prevention. Volunteers will be collecting donations outside of the O'Doul Gate at AT&T Park and at the Community Clubhouse on the Promenade Level. Fans can also contribute online at JRGIANTS.ORG.