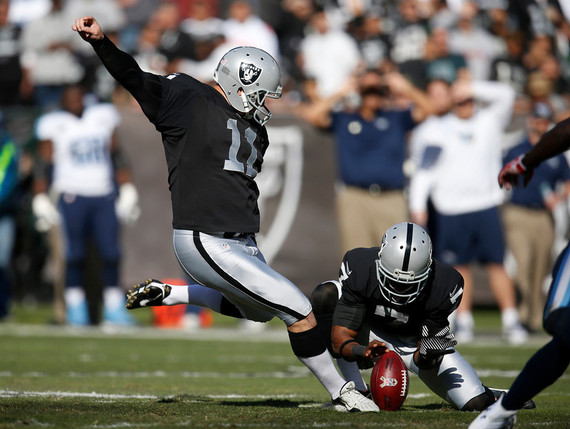 Photo by: Nhat V. Meyer/Bay Area News Group
Oakland, CA - No one said it was going to be easy, yet many thought the team was moving in the right direction, especially after the win last week. Unfortunately, many of the same problems that occurred throughout the season was a factor Sunday. In a must win situation, the Raiders lost to the Tennessee Titans 23-19.
"We knew going into this one, in our world it was a playoff game," said Titans head coach Mike Munchak. "We couldn't fall to 4-7, we knew that. I'm sure they felt the same way, so that was a huge drive."
Oakland scored their first touchdown of the game in the fourth quarter with 2:42 left in regulation. Matt McGloin's 27-yard pass to Marcel Reece for the touchdown put the Raiders ahead 19-16. The only task Oakland had, was to hold the Titans long enough to run out the clock.
But Tennessee had other plans, Ryan Fitzpatrick calmly moved his offense down field. The Raiders defense that forced Tennessee to kick two field goals in the first half, ran out of gas in the end. Fitzpatrick threw a 10-yard touchdown to Kendall Wright with 10 seconds remaining in the game.
"He made a great read," Tracy Porter said. "The position I was in was on purpose and they threw a pitch right between me and the corner and it was difficult for both of us to make the play. It's just what happened."
Completing eight of ten passes, Ryan moved the Titans offense into the red zone. Fitzpatrick found Wright, who beat out Porter on an out pattern from the slot and fell into the end zone for the winning score. Oakland's head coach Dennis Allen challenged the call that his knee was down but the officials ruled the call was indeed a touchdown.
McGloin who earned his second start after an impressive performance last week struggled against a tough defense. The offensive problems that the Raider's faced early in the season are still a factor and that's converting on third downs. Unable to get the offense into the red zone, Sebastian Janikowski scored all of the points for Oakland in the first three quarters.
"Up and down day," said Matt. "But we're going to have days like that. Unfortunately, it was one of those days today, but I thought we did a good job of adjusting at halftime and it was great to see that we were able to make those changes and continue to get better, figure things out and work things out."
It certainly didn't appear to be easy for McGloin who threw an interception, lost Tight End Mychal Rivera to a head concussion after a helmet-to-helmet hit by Safety Michael Griffin. Tennessee's defense held him at third down through three quarters and unlike, other days, this loss moved the Raiders back from the playoff race.
Janikowski was another disappointment after he missed two crucial field goals that proved costly. The Raiders would've had the advantage early in the game after Jeremy Stewart blocked a punt that set up Sebastian for a 40-yard field goal but he missed for the second time after making 85 of 86 the previous five seasons.
"We're not making them, not consistently enough," Allen said. "We have to continue to work to get better there. I still have confidence that when I send him out there that it's going to go through. It's something we have to go through and we have to continue to get better."
"It's disappointing, especially with the way we went out and performed last week," said Charles Woodson. "To let a team drive down late in the game and get a touchdown to get the go ahead score is pretty disappointing."