As women and the fashion industry finally move away from the "it bag" craze, a group of talented handbag designers specializing in rare and exotic skins as well as impeccable craftsmanship are bravely leading the way towards the future.
Tyler Ellis (Tyler Alexandra)

Inspired by her late father, Perry Ellis, and his impact on American fashion, Tyler undertook her own design enterprise after studying film and television at Boston University. Raised in Los Angeles' Pacific Palisades, Tyler's eventual move to New York City cemented her appreciation for excellent design and spurred her into a career in the fashion industry. In honor of her father, the distinctive Tyler Alexandra label is a handwritten artifact, penned by Ellis himself before he passed away.
Tyler Alexandra was born out of designer Tyler Ellis' desire to create a timeless handbag -- something women could wear for years before succumbing to their daughters' pleas to pass it down. With that trend-defying goal in mind, Tyler Alexandra launched in the fall of 2010. A signature style quickly emerged. Marrying ultra-luxe materials -- from rich Italian leathers to polished crocodile -- with a fresh wingtip silhouette, Tyler's first designs revealed a sharp vision and an ardent commitment to couture quality craftsmanship.
Handmade in an esteemed Parisian atelier, a Tyler Alexandra bag is among the finest on the market. Small-batch production overseen by the designer and assiduously sourced materials create an aura of exclusivity; these are luxury goods made with great care and unparalleled skill. Made of a rich panoply of materials, ranging from exotic crocodile and stingray to luxurious satin, suede, and gleaming woven metals, all components are individually sourced to guarantee the highest quality. With modern riffs on perennially chic classics, Tyler Alexandra bags are truly made to last a lifetime.
Camille Lauren-Zarsky (Camille Zarsky Handbags)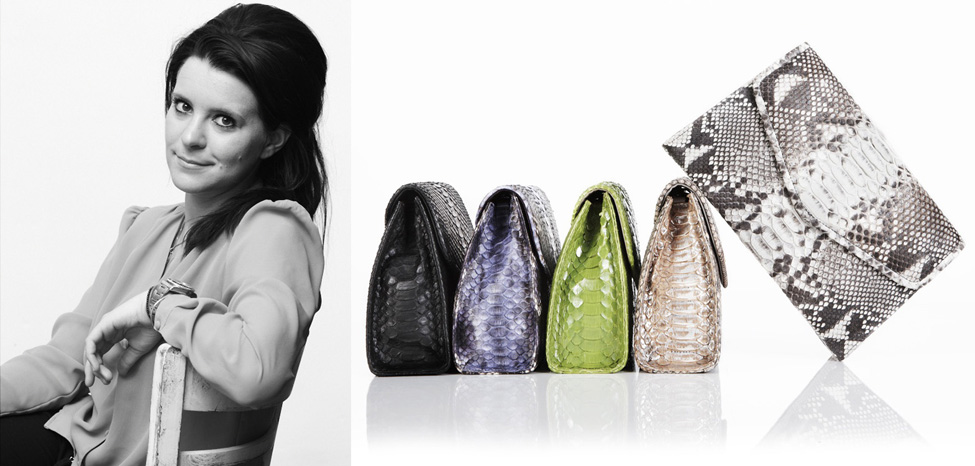 Growing up in Houston, Texas, Camille Lauren Zarsky was exposed to the arts at a very young age. Her mother's involvement in Houston's burgeoning art scene set the stage for Camille's future creative freedom. "I remember spending evenings running through Ernesto Neto mazes and attending gallery openings with Jenny Holzer and Robert Raushenberg. It gave me that wonderful sense that anything could be possible," she reflects.
Meanwhile, her father, a successful entrepreneur, encouraged her to be fearless and follow her own path into the fashion industry. Years and numerous internships later, Camille moved to New York City where she began working for top design houses (Hugo Boss, Ralph Lauren, Rebecca Minkoff) and talented stylists (Christine de Lassus, Kate Lanphear, Sarah Gore Reeves). Each experience and each personality left their own indelible influence on her work. The result of each those experiences are evident in the launch of Camille Zarsky Handbags.
The beautifully articulated collection fuses inspiration from her travels as a fashion stylist with her artistic childhood roots growing up in the Lone Star State. Camille combines her love of exotic skins with a passion for transcendent design in her collection of perfectly simple clutches. Camille Zarsky Handbags feature only the finest European materials and are handcrafted by artisans in New York City. Camille Zarsky Handbags are authentic American luxury designs.
Emmaline Ranzman (Emm Kuo)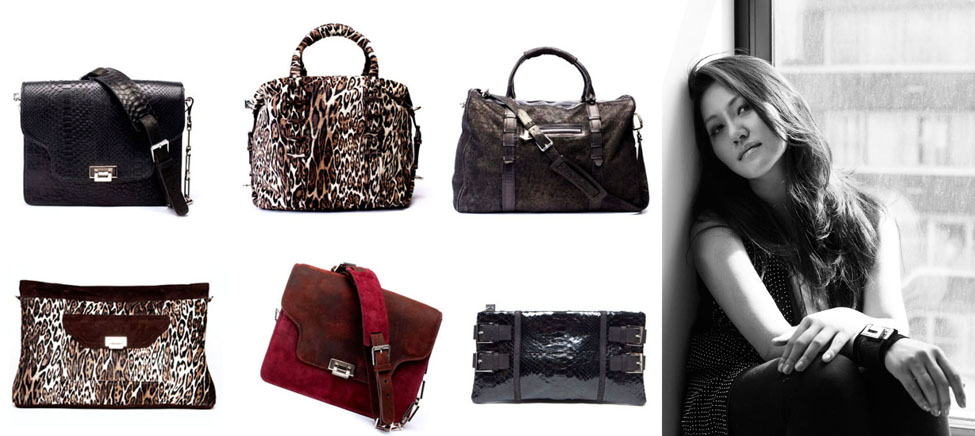 Appreciation for quality materials and a strong integrity to design and workmanship, are the main principles behind the Emm Kuo accessories line. Architectural influences, strong textural contrasts and clean shapes render the collection modern yet classic. The Emm Kuo brand aims to create accessories that are a harmonious mix of style, sophistication and versatility. Each piece is treated like a work of art; intertwining only the most luxurious European leathers, exotic skins and customized hardware in an intricate, but understated way.
Born in Taipei and raised between Hawaii, New York and Hong Kong, Emmaline Kuo Ranzman developed an early love of travel and appreciation of world cultures that has left an indelible mark on her design aesthetic. While receiving a BA from New York University in design marketing and art history, she assisted at LVMH in London, and Yigal Azrouel in New York. Upon graduating, she later went on to work at Entertainment Media Works, one of the pioneers of the fashion dot-coms, as well as acted as a fashion consultant in Hong Kong and Shanghai.
Realizing her true passion lay on the creative side, Emmaline enrolled at Parsons School of Design where she received a graduate degree in fashion design and went on to design at Catherine Malandrino and Stephen Burrows. Her love of exploration and experiences of other cultures has led her to all corners of the globe, including extended stays in France, Spain, and the Middle East as well having visited over thirty different countries. These travels have been a constant source of inspiration, shaping who Ms. Ranzman is as a designer and savvy business woman.