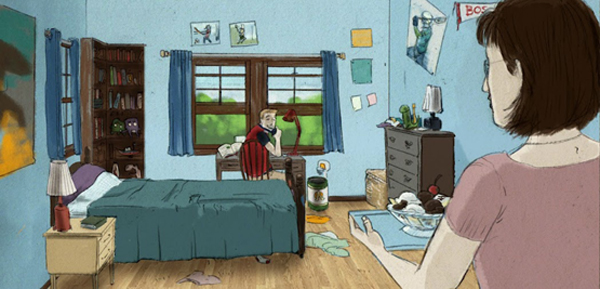 MUNCHAUSEN by Filmmaker - Ari Aster
Independent filmmakers and writers these days are being forced to get super creative in their attempts to raise funds for new projects. Through innovative crowd-funding platforms and networks like KickStarter and IndieGoGo, not only are they raising funds -- they are also gaining the attention of built-in supporters, fans, television executives and Hollywood studios.
With all the various independent film projects, start-ups and artists looking for funding through KickStarter, one in particular is making quite a stir -- Munchausen.
Writer-director Ari Aster, producer Alejandro De Leon, and cinematographer Pawel Pogorzelski have created a hysterical video pitch to promote their dark comedy Munchausen. According to their official synopsis:
Munchausen is a vibrant, wordless, Pixar-inspired montage (think the marriage sequence in UP, but live action) in which a devoted mother, unable to confront the heartbreak of her son leaving for college, delays his departure by making him sick. She accidentally goes too far, is helpless to reverse that which she set in motion, and is forced to face the unfathomable consequences of her decision. Again, think PIXAR!
There is something absolutely hysterical, bold and shameless in the way they continuously scream the name PIXAR, as if they are attempting to resurrect Pixar's founder, Steve Jobs, to give them their big break. Or at least to have Pixar or one of their competitors jump on board as sponsors or patrons. Even if their screams for attention go unanswered by the larger studios, they have definitely already gained the admiration and dedication of many supporters and well-wishers.
Meanwhile, at the other end of the online fund raising spectrum, highlighted at IndieGoGO is a seasoned and much more subtle in their approach, husband and wife team. Michael and Ramona Schindelheim have spent many years in the film industry and now find themselves at the 11th hour in their attempts of funding their passion project Desire.
Desire The TV Show from Ramona Schindelheim on Vimeo.
According to the couple, Desire is a scripted TV show about an all-female rock band reuniting ten years after a nasty breakup and the mysterious death of a band member. It's a drama with dark humor and original rock music. After initially going the Hollywood route with the pilot script, the creators decided to take a huge departure from the norm and are now independently producing the project's pilot. While they have plans to show the pilot to production companies and studios with the goal of turning it into a full-blown television or broadband series, the couple are also looking at the option of self-distributing the series.
Now in the final 48 hours of their funding campaign the creative couple and kindred spirits are hoping to eventually find themselves on the sites' home page and listed as a campaign Success Story
Either way these campaigns end, one thing is for sure -- they seem to have already gained the attention of countless supporters as well as a ticket buying audience. With this winning combination, I hope these independent filmmakers aren't too surprised when the big studios and executives come knocking -- and screaming (wink-wink)...
@MUnCHAUSEN video and photo courtesy of Ari Aster
@DESIRE video courtesy of Ramona Schindelheim