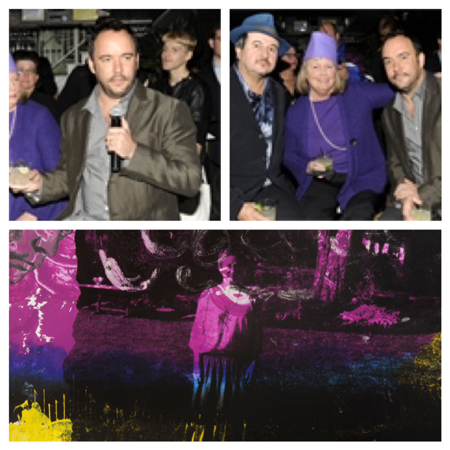 Itica Pritica: A Collaboration by Beezy Bailey and Dave Matthews
When I received a last-minute invitation to attend an intimate discussion with Dave Matthews and Beezy Bailey on their new collaborative exhibition at the Robert Miller Gallery, instead of sending in a RSVP, I responded, "You had me at Dave Matthews."
Well that's not entirely true, but it is exactly what I was thinking. However, as I read beyond the headliners, I realized that Mr. Matthews was actually going to be discussing his recent collaboration which pays homage to Warhol and Rauschenberg with the famed South African artist Beezy blah blah blah. I wasn't familiar with the work of Mr. Blah, Blah, Blah, however, my blah, blah, blah quickly turned to profound respect and admiration once I googled and researched Mr. Bailey's poignant and intelligent work. So instead of a flippant RSVP, I reserved my spot with an enthusiastic -- YES.
To accompany me on my 10:15 p.m. adventure (I've always been intimated by the quarter-hour), I enlisted the young art patron and financial advisor Erkko Etula. I always like to be joined on these little jaunts by a voice of reason and calm, just in case I slip into art-groupie mode. And Mr. Etula was the perfect pair of fresh eyes and ears for this particular journey.
As we walked through the door of New York's exclusive No. 8, operated by nightlife siren Amy Sacco, I immediately noticed they were setting up three stools in the middle of what is periodically my dance floor or catwalk depending on the libation consumed earlier in the evening. Unbeknownst to me, on this particular evening my dance floor would double as stage and bully pulpit for our guest speakers and moderator.
As we made our way through the room, it was quickly revealed through a series of whispers, the third seat would be taken by moderator Alanna Heiss, the founder and visionary of P.S. 1. Once I knew Ms. Heiss would be moderating this little chat, I knew I had better buckle up for a serious and academic conversation on the agonizing collaboration of these two tortured artistic geniuses. Clue one this might not be the case came in the form of the slightly rosy and flushed cheeks of all three of our distinguished panelists as they wobbled atop their assigned stools attempting to grow their sea-legs. Stools I should mention, which were conveniently or strategically placed within arm distance of the bar. I also quickly noticed the concoctions swirling around the confines of the familiar Mad Men-style cocktail glasses had a yellowish, tequila-ish (or something stronger) glow to them... And immediately following their formal introduction by the organizers of the event as well as their collaborative art-film entitled ITCA PRITICA -- they spoke... All I can say is thank goodness for alcohol. What followed was the most fantastic, alcohol laden, honest, profound and hysterical art discussion I have ever had the pleasure of attending.
Take a QWIKI look: Bleezy Bailey, Alana Heiss, Dave Matthews
For the next hour or two, Mr. Bailey, Ms. Heiss and Mr. Matthews proceeded to discuss everything from Dave and Beezy's fascinating childhood in an Apartheid South Africa to them finally setting out on separate artistic journeys.
Now if I'm being completely honest, I've always been a huge Dave Matthews fan. However, one thing that has apparently escaped me through his music is the fact this man has a sense of humor ripe for any Comedy Club willing to ply him with enough of the old yellow stuff while he simply holds the microphone and lets it rip. Don't get me wrong, we are not talking Andy Dick, haha-how-tragic-funny -- there is something more aha-how-brilliant-funny about the shenanigans of Mr. Matthews. Not to mention, to witness the brotherly banter and comedic commandery between Dave and Beezy actually gave tremendous insight into the way in which they ultimately create and collaborate.
In the film which was made on the first day of their collaboration in New York City while scouting for source imagery, Mr. Matthews captures his long-time friend through the lens of his trusted I-phone as Beezy dances, prances and promenades down the Bowery in a stylized fat-suit. There are moments when watching this film the viewer can't help but think how hysterical and haunting these images are against the back-drop of a humorously melancholic musical composition scored by Dave Matthews.
The 28 silkscreened works follow the same story line of Itica Pritica (words that were of course made up by the diabolical-duo) with Mr. Beezy's fat-man, the Statue of Liberty and Mr. Matthews making recurring appearances throughout the work.
My suggestion for appreciating this work, which will be on display at the Robert Miller Gallery from now until April 13, 2013, would be to check all of your artsy-fartsy, highfalutin, academic-snobbery at the door. Instead go in with an open mind, open ears and open eyes. If you do, I can guarantee you won't be disappointed. And if you don't enjoy it at all, at least you've learned two new words -- Itica Pritica.