As the glaring spotlight of the fashion and entertainment media prepare to descend on Gotham City in a few weeks, several designers have already landed themselves in the buzz-zone and are expected to be the rising stars of New York Fashion Week Spring/Summer 2013.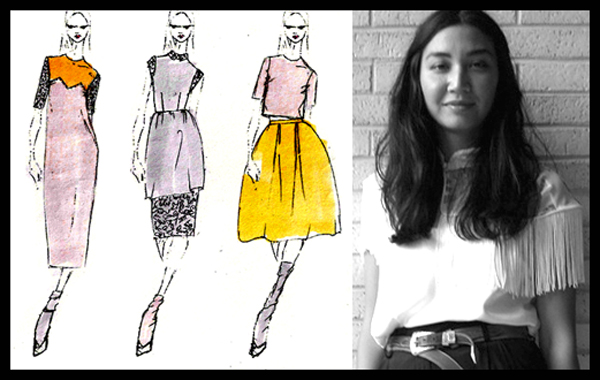 www.suzannerae.com
SUZANNE RAE PALAEZ
The Suzanne Rae ready-to-wear collection is truly one of the most divine and feminine collections I've had the pleasure of watching progress over the past few seasons. The collection is designed by Suzanne Rae Palaez and incorporates traditional garment construction and experimental draping techniques. To witness one of Ms. Palaez's designs make its way down a catwalk is like watching a female warrior sauntering straight from the heavens above. Her use of silk, cotton and fine lace are transformed by the intricacy of her draping skills and always leaves the admirer of work wondering, "How did she do that?"
Suzanne Rae Palaez lives and designs out of Brooklyn, New York and is a graduate of Parson School of Design as well as holding an economics degree from Bryn Mawr College. Ms. Palaez's professional career began in the art gallery scene of New York City and eventually led her to the design ateliers of Costume National in Milan and Morgane Le Fay in New York. Suzanne has spent the past few seasons bringing her namesake collection to sublime and buzz-worthy fruition.
As an American designer, Pelaez believes it is her responsibility to create designs for women that are locally made and with sustainable fabrics whenever possible. Suzanne collaborates with local artists to create unique prints for each collection and supports local industries by making all samples in-house and with 100 percent of the company's production done in the city's Garment District.
According to Ms. Rae, this season her Spring/Summer 2013 collection which will be presented on September 11, 2012 at Lincoln Center was inspired by the photography of Francesca Woodman and explores a woman's ability to be both delicate and strong. It is her hope that by pairing this concept with minimalism, the collection will strike a balance that reflects a more progressive and less conventional expression of femininity.

www.gavinrajah.com
GAVIN RAJAH
South African based designer Gavin Rajah is a tremendous talent that for the past few years I've only been able to admire from afar via the haute couture shows in Paris - however, judging by the recent buzz surrounding his upcoming show - all of this about to change. On September 6, 2012 during the highly anticipated ARISE: Icons of Design presentation Mr. Rajah and his splendid collection will finally make their New York City debut.
Mr. Rajah is a true entrepreneur and inspiration in the global world of fashion. His brand has become synonymous with discerning style, and has established itself as a premier luxury label emanating from the African continent. Collaboration with micro-economic projects specializing in traditional skills and crafts are his passion and he is constantly seeking ways in which to promote this to the rest of the world. Mr. Rajah's collection entrenches hand-made luxury and the meticulous craftsmanship that comes out of his atelier.
According to Mr. Rajah, his new collection is inspired by an eclectic collage of love poetry by Boccaccio, the Victorian concept of the language of flowers, the movie A Summer Place (1959) and a yearning for a new world. Laser cut vinyl blossoms, quilted cameos with gold bullion embroidery, pristine pencil skirts with flourishes on back panels, opulently beaded detail, gossamer Chantilly lace, bias cut multi-paneled dresses, softly tailored jackets and sporty baseball jackets meld into creating a collection that is a toast to life, love and new adventure.
I truly do believe Mr. Rajah's runway show will be one of the most electrifying and elegant presentations the New York fashion crowd has seen in a very long time.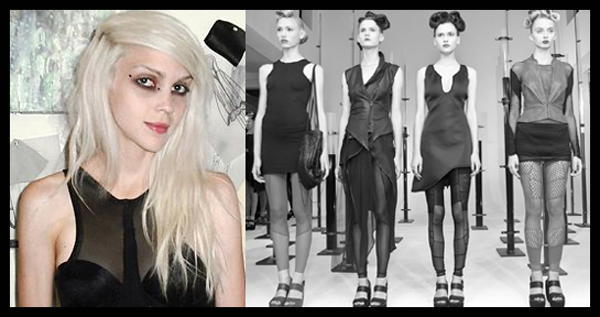 www.katiegallagher.com
KATIE GALLAGHER
One of my personal favorites and perhaps the coolest of the cool is the blonde haired, raven eyed fashion star -- Katie Gallagher. The young Ms. Gallegher doesn't simply create "bad-ass" uber-chic for the cool set -- she defines the movement of a generation.
New York-based designer Katie Gallagher was born in the middle of a forest in Pennsylvania. As a young girl she says she hated wearing clothes, but loved and always wore her cat on her head. She attended the Rhode Island School of Design and has been working on her namesake collection since graduation. What makes Ms. Gallagher's collection uniquely cool and modern is her unconventional patternmaking, strange volumes, technical secrets, and the ingrained idea that fashion is not just about clothes -- but rather about stories, moods, ideals, and attitudes.
In explaining her method of designing, Katie says, "Everything I make starts with my drawings and paintings, which I've done every season prior to construction. I love to try to re-create a three-dimensional version of whatever I've drawn; it requires pretty unconventional pattern- making."
Providing a glimpse into her creativity and a sense of her design intent, Gallagher also says, "I normally create a scene, a narrative, or sometimes a whole universe that I would be interested in making into a reality -- and then I fill these worlds with people. The people just happen to be wearing what's appropriate to their surroundings and ideas. Clothes aren't really at the center of my interests; the people that wear them and their ideals are."
For her Spring|Summer 2013 show to be presented on September 6th, 2012 at 4:00 p.m. at the Standard Hotel the designer has dubbed her offering as Everything Forever and says she was inspired by the concept of rebirth and purity. "Despite inflictions, the soul can remain pure. However, everything we do is in us forever" says Katie. She has chosen a color palette for this collection which is decidedly minimalistic and comprises of ivory, crème, raven and metallic slate. Everything Forever features Katie's signature of modern and form fitting silhouettes accented with cutouts, peplums and sheer textiles, exuding demure femininity.
Photos courtesy of: www.suzannerae.com, www.gavinrajah.com, www.katiegallagher.com