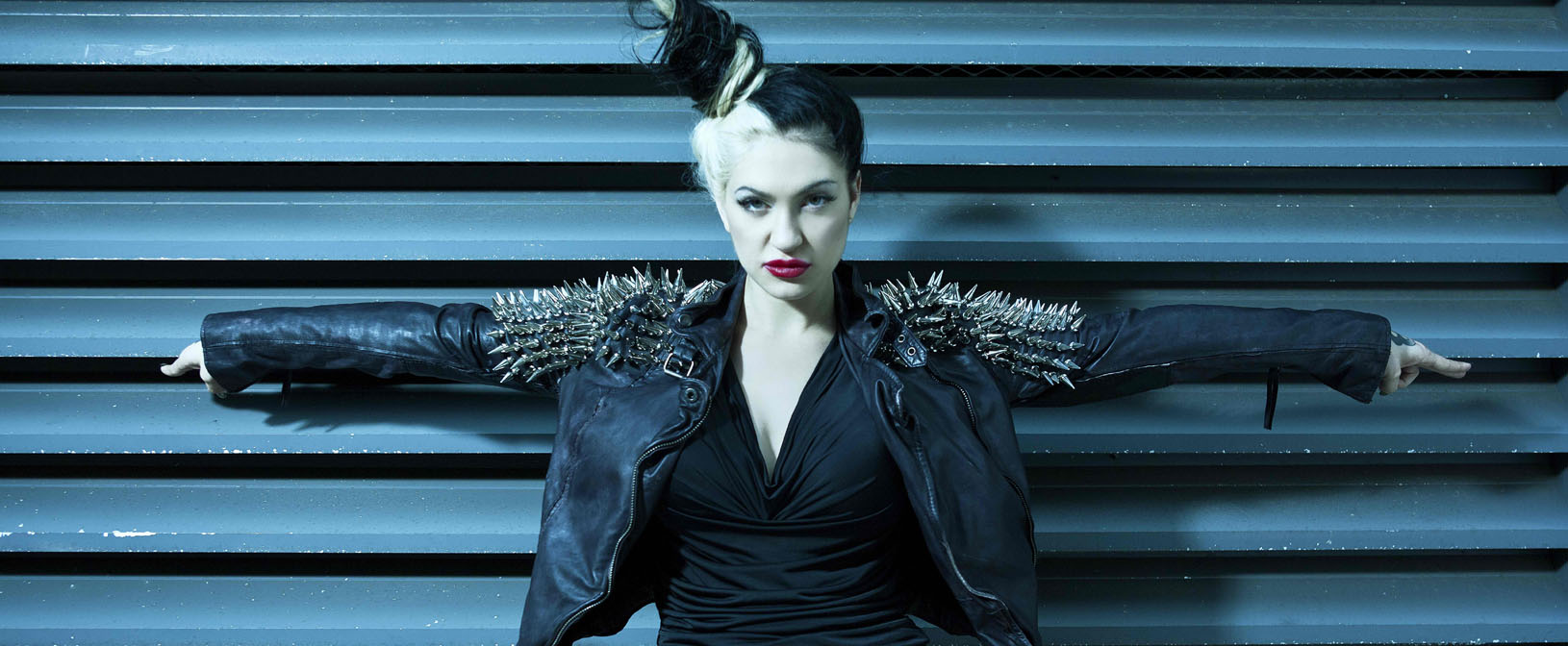 Porcelain Black at first glance, with her demi-goth/rocker-chic inspired style and two-toned black and white tresses, appears to be the spitting image of a would-be love child of Marilyn Manson and the Honorable Daphne Guinness. But upon further inspection one is pleasantly surprised to realize that Porcelain Black is actually her own special creation. Ms. Black is actually one of those rare artists with a great deal of raw and unfettered talent coupled with a natural born sense of killer style.
I find it a bit amusing that when one usually thinks of a new music artist hitting the scene, one normally associates said newcomer to a particular song, sound or genre. But imagine being introduced to a singer's mere existence because you've heard rumors that her world-class stylist is also doubling as her backup singer. Don't ask me how I come across such information, but in the immortal words of Miss Holly Golightly, "I keep track of these things..." Imagine if you will, the same woman that dresses the likes of Angelina Jolie, Pink, and Marilyn Manson, is now doing double duty as stylist and backup singer to Porcelain Black. Well it's fantastical, genius and totally true. It turns out legendary stylist Jennifer Rade (referred to some in the blogosphere for her "cool factor" as the anti-Rachel Zoe) is not only assisting in crafting the overall image of this newbie but is also so enamored by her new client's talent and music that she finds herself doing the occasional turn as backup singer, ooohing and aaahing with the best of them.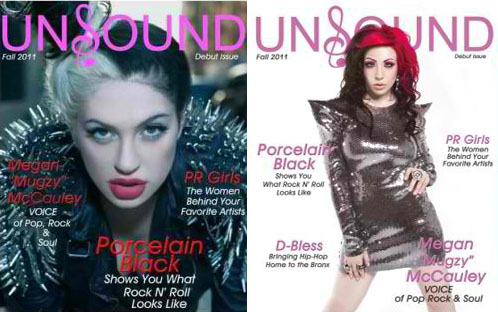 Recently, I was privileged enough to receive an advance viewing of the new digital music and fashion magazine UNSOUND and there on the cover of the magazine was none other than the mysterious Porcelain Black. UNSOUNDmag.com focuses on new artists that are either on the verge of a break-through as well as the unsung heroes of the music industry. For their inaugural issue they have offered readers double covers with a sultry Porcelain Black while the other honor goes to indie-rock-chick Megan "Mugzy" McCauley (side bar: please remind me to do a follow-up on this little powerhouse at a later date -- but for now back to Ms. Black). As I flipped through the digital pages of UNSOUND magazine I discovered two things about Porcelain Black well worth noting. The first was that Porcelain Black's personal style is similarly as outrageous as Lady Gaga or Niki Minaj -- to the untrained eye that is. However, further research quickly reveals that there seems to be a naturalness and authenticity to her style, music and performance. Personally, I've always found there to be a slight disconnect from the way GaGa and young Ms. Minaj adorn themselves and the music they write, record and perform. But I think the number one thing that sets Porcelain Black's style apart from the other two pop-stars is there is something straight out of the gate that is aspirational about her style, especially to her growing fan base. I can already envision hordes of young girls (and my fellow gays) dying their hair to resemble Porcelain's as well as lining up to snap up H&M and Topshop inspired collections to get her vintage-goth-rock frocks and looks.
As I continued my fever pitched research into Porcelain Black, I discovered something that was perhaps the most embarrassing and made me feel absolutely uncool -- I was a complete late comer to the Porcelain Party.
Artist UNSOUND with Porcelain Black from Unvogue Magazine on Vimeo.
Through Porcelain Black's video interview I was also able to find out exactly how this symphony of dark style, pop music and street-chic came to reside in one being. By following her musical trail I was also able to ascertain the reason there is so much comparison between Porcelain and Lady Gaga has very little to do with their costuming and everything to do with the producer "RedOne" (which in some circles is credited with Lady Gaga's overall musical success and several of her number one hits). But then I came across the video and performance that cemented how late I was to the party -- the video of Miss Black and none other than the man himself -- Lil Wayne aka Weezy. I know for a fact this kind of musical collaboration on an artist's first single isn't something one canhope, pray or pay for... This of course has given Ms. Porcelain Black instant street-cred.
No matter how late I might be to the Porcelain Black party, I for one am happy to know I was finally invited. And when her album finally drops later this year hopefully the rest of the world will get a chance to dance and sing along to her anticipated hits. Who knows, if I play my cards right, I too might be able to get a spot as a back-up singer or dancer (wink-wink)... I may be completely rusty at both, but they don't call me Mister Golightly for nothing. Not to mention, I'm a very quick study -- especially on all things Porcelain Black.
(all photos provided by UNSOUNDMAG.COM)