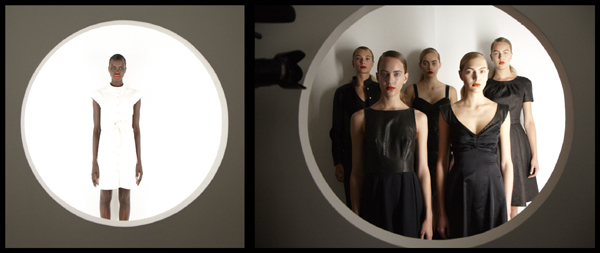 bebe's Spring/Summer 2013 Collection
Recently, during the frenzied peak of New York Fashion Week, the 35-year-old contemporary brand bebe quietly and definitively leaped ahead of the fashion fold and grey noise of the industry. With the assistance of the brand's newly appointed ᅢᄐber-chic creative director, Rushka Bergman, known for her work at L'Uomo Vogue as well as fulfilling the duties as Michael Jackson's personal stylist before his untimely passing, bebe forged new territory that has traditionally been the playground of only the top luxury brands. In one fell swoop, bebe has been reborn. Not only has it had a rebirth -- it has been remade, reimagined and restored into a sophisticated, edgy and cool brand for the 21st century.
It is no secret that over the past 10 years or so, the bebe brand has lost some of its original luster and cache. But based on the Spring/Summer 2013 collection the company recently premiered in New York City, all the naysayers may have to rip up their pre-planned obituaries for the future of this iconic brand.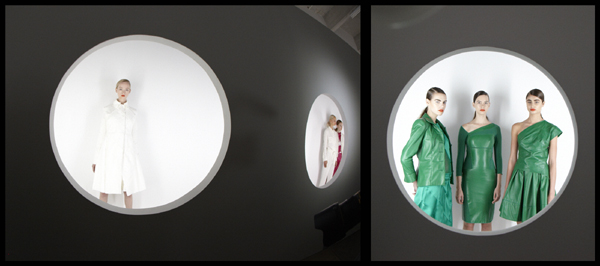 The Sophisticated and Edgy Galaxy of bebe's S/S 2013 Collection
As I entered the gallery space that had been leased and transformed for the bebe presentation, I couldn't help but think visitors were being transported to a galaxy far, far away. A galaxy where young hip girls as well as chic moms enjoyed playing dress-up and women with thriving careers could find a sophisticated and sexy balance between work and play.
As I made my way through this futuristic maze, I couldn't help but notice the blinding flashbulbs surrounding two powerful and engaging figures. As I got closer I quickly recognized the James Bondesque flair and style of bebe's founder, Mr. Manny Mashouf, and the dramatic posing and coif of the one and only Rushka Bergman.
Although difficult with the throng of well wishers, journalists and photogs surrounding this duo, I was able to steal a few moments from the endearingly animated Ms. Bergman.
Firstly, I had to know all about this magnificent set that had been erected, to which Rushka quickly replied, "The set came to me in a dream darling and it matched perfectly with the modern and tailored look of the collection." However, nothing distracted Ms. Bergman from posing and vamping for the cameras in between my questions. "Now tell me about this new and exciting direction for bebe," I asked as we were slowly being engulfed by a new set of photographers and owners of newly purchased blog domains. But she insisted on taking very little credit for this evolution as she heaped praise and adoration onto the bebe in-house design team and staff: "It was a collaboration, darling... A beautiful collaboration of cool and intelligent people... You must know how much I adore intellectuals." Ms. Bergman is truly the queen of quotable one-liners. However, knowing a bit more than normal about Ruska Bergman's personal aesthetic and intense academic research before taking on a project, I could definitely see her signature hand print of sleek femme fatales woven into every fiber and seam of this collection.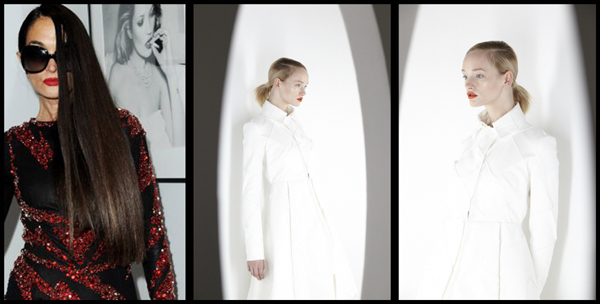 bebe's Creative Director - Rushka Bergman, S/S 2013
Before she was whisked away by a public relations handler or competitive stalker, I was allowed to ask one final question: "How would you describe this collection and your collaboration with bebe?" And with an extended hand and a toss of her legendary hair over one eye, she simply replied, "Genius... absolutely genius..." In a world of fake modesty and pseudo humility, I could not have described the bebe collection and Ms. Bergman's efforts any better. Genius... Absolutely genius...
Something tells me that if the bebe brand, it's founder Mr. Mashouf and their new creative director Ms. Bergman continue to play their cards right -- this will not simply be a one off in their rebranding efforts, but a galactic star map for a much brighter and absolutely genius future.
bebe's S/S 2013 collection photos courtesy of Malcolm Harris
Rushka Bergman photo courtesy of Dave M. Benett / Getty Images