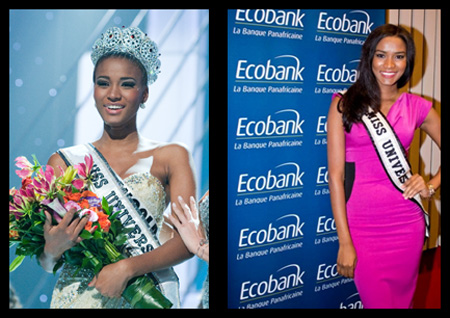 Miss Universe, Leila Luliana da Costa Viera Lopes
With her crown firmly on her head and a cause deep in her heart, the reigning Miss Universe, Leila Lopes, recently returned to the United States after a 5-African Nation tour organized by the U.S. based firm, Roberta Annan Consulting. As many will recall, via the international media firestorm that occurred after her crowning, on Sept. 12, 2011, Miss Leila Lopes made history as the first Angolan woman to win the Miss Universe crown. Ms. Lopez used her recent trip and title's platform to continue her commitment to raising awareness on issues related to HIV/AIDS, poverty and education.
HIV/AIDS, poverty alleviation and importance of education form a triangle of critical barriers that stand between Africa and development. Increased efforts have been applied to put the continent on a path of greater transformation but more is needed. The Miss Universe African Tour was a unique mission to raise a louder voice for education, poverty alleviation and HIV/AIDS prevention in Africa.
Sponsored by Ecobank, the tour took Leila Lopes to Senegal, Cote d'Ivoire, Togo, Ghana and Nigeria. According to the Group CEO, Mr. Arnold Ekpe, Ecobank was delighted to be associated with the tour because "many in our target audience, especially the youth contingent, are highly aspirational and resonate with the associations of success, achievement and collective concern for the people of Africa that Miss Universe represents." Ecobank started a student promotion to fit into the tour in each country Miss Lopes visited.
The Miss Universe African Tour
Miss Lopes's first point of call was Senegal where she addressed a press conference in the capital, Dakar and met with university students for a conversation on the importance of education in building their country and developing Africa. At the same meeting, Miss Lopes presented winners of the Ecobank student promotion with scholarships and laptops.
The Miss Universe Tour continued to Abidjan, Cote d'Ivoire with a press conference as well as meetings with government and SOS Village officials before heading to Ghana on the same day. Clearly there is no rest for the committed.
Arriving in Accra during the evening Leila was welcomed on the tarmac by the Angolan Ambassador to Ghana, Miss Universe Ghana as well as media outlets from around the country. The welcome party escorted by Ghana Police led the convoy to Movenpick Ambassador Hotel for a Samsung Program, where she raised funds and spirits for the SOS Village.
The tour continued with media appearances, presentation of Ecobank scholarships university students, cash donation to SOS Village and ended with a cocktail reception in her honour at Labadi Beach Hotel, Accra. In Ghana, Leila Lopes was given the title Obaa Ba meaning Woman of Substance, by the Miss Universe Ghana organization, for her selfless humanitarian.
While in Togo, Miss Universe called on Prime Minister of Togo before performing a groundbreaking ceremony at the Pan African Centre with scholarship winning students. She also had meetings and lunch with Ecobank staff including Mr. Arnold Ekpe, the CEO and Ministers of State.
The 5-African nation Miss Universe Tour climaxed in Lagos with a press conference on HIV/AIDS prevention, importance and poverty alleviation. Miss Leila Lopes was also interviewed with university students on Studio 53. The tour came to a formal end with an official tour of Lagos' SOS Village.

Miss Universe with scholarship recipients / SOS Children Village
At the end of the tour, Miss Leila Lopes with the support of sponsors and organizers were able to donate US$100, 000 to SOS villages and students scholarships. These funds will not only help to educate the winners of the scholarships, but will also allow SOS Villages to continue in their mission of providing "a loving home for every child" that has been orphaned or abandoned.
The Miss Universe African Tour by all accounts was a huge success. Miss Universe's message on HIV/AIDS, poverty and education was well received and she is already hard at work planning the next exciting tour and inspirational mission.
All photos courtesy of Roberta Annan Consulting