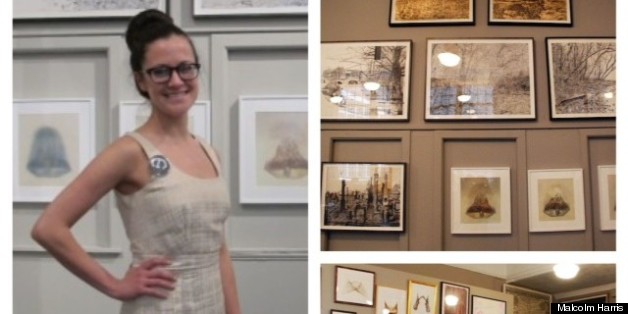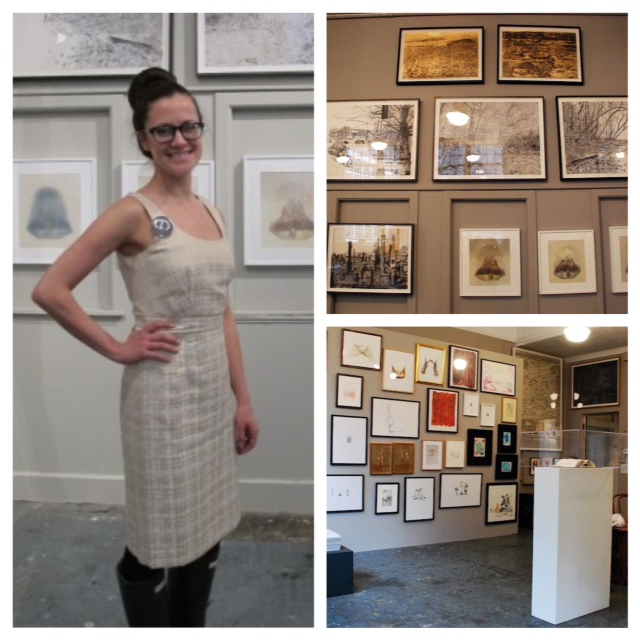 Curator - Kristin Sancken, House of the Nobleman Opening
As the art world begins to morph and recalibrate to resemble the 21st century, women in the art world have begun making their voices heard both through the art they create as well as the art they chose to curate and exhibit. One of these extraordinary women making her presence known comes in the petite and Holly GoLightly-esque frame and persona of curator Kristin Sancken.
Over the past few years, the tenacious Ms. Sancken has managed to amplify her voice in the testosterone driven art world -- not only through her ground breaking curatorial projects but also through her whimsical and poignant writings for a number of art magazines and blogs. Lucky for us the curator extraordinaire has agreed to play 13 Questions in order to give us a little window into her life and curating process.
1) When did you know you wanted to be a curator?
Interestingly enough, I was kind of forced into curating. Artist and curator, Annika Connor and I started collaborating on Watercolors while I was still in grad school. I tried to bow out of the project several times but she would not let me. I am grateful for her persistence because the outcome was so rewarding. After that, I realized this is what I wanted to do.
2) Someone once said to me, "Inside every curator is a frustrated artist..." Do you agree or disagree with this statement and why?
Yes, and i think it goes both ways. I have a background in architecture so I'm often fixated on the physical space and seeing the final show as its own performance. In addition, artists know the best artists. A lot of the works I source are suggestions from artists I have worked with. So I guess inside this curator is just a frustrated architect who really likes art.
3) Kristin in all honesty, I had never heard your name before the WaterColors show at Phillips de Pury and then suddenly your name was on everyone's tongue. Was this a scary or rewarding time for you?
It was actually very scary. I was a 25-year-old and not many people took me seriously. There was a lot of pressure for me to prove myself when all I wanted was for the show to be a success. When your first foray into the art world is a multi-million dollar exhibition at Phillips, there's a realistic fear that you can only go down from there. I was worried I was forever going to be known as the Watercolors Girl.
4) You left Phillips de Pury shortly after that to strike out on your own -- can you briefly describe that journey if possible?
There was a huge mental boulder I had to remove. I was taught that you go to college, go to grad school, get a job and work your way up. Doing anything entrepreneurial was foreign, but I had ideas and passion and people were responsive to that. My moment of clarity was seeing Mary Boone at a party in Connecticut and thinking to myself, "What would Mary do?" At that moment, I decided to continue working on my own and eventually everything fell into place.
5) Since leaving Phillips you've curated and collaborated on some very interesting projects. What's been your favorite?
Right after leaving Phillips, House of the Nobleman contacted me to help curate an exhibition of works on paper at Cutlog NY during Frieze week. We ended up bringing in 50 artists and exhibited about 150 works, from Marcel Dzama and Wade Guyton to Outsiders and Russian illustrators. Instead of white walls or a traditional booth, we created a salon style setting in an old classroom. It was really important to all of us that we maintain the architectural integrity of the space. The room felt almost lived in and everyone who came in had a warm response to that.
6) How did you choose to work with the progressive gallery "House of the Nobleman" especially when rumor has it you were being courted by almost every gallery on the planet?
They were a perfect match for me. House of the Nobleman curates large-scale exhibitions in architectural landmarks to bring publicity to the spaces and their developers through art. I got to know the owners, Victoria Golembiovskaya and Anastasiya Siro, and we all share similar goals and ideas. They had built a very innovative company and could offer me opportunities a traditional gallery could not.
7) Tell me about your passion when it comes to supporting emerging and outsider artists?
Being from the South, I have always loved Outsider and Folk art. There is something about the sense of bravery and raw integrity behind it. Now it's being recognized as a mainstream movement. Still, artists dealing with mental illness and other issues need to have their talent nurtured and their needs addressed in a very specific way. I am a big supporter of organizations like Fountain Gallery and Creative Growth that cater to both the commercial and therapeutic side of artists dealing with adversity.
Emerging art came later. Artists kept asking me how to get representation and I didn't know the answer. I think one of the most important things a curator can do is show emerging artists alongside big names. It inserts their work into a larger discourse. If a piece is presented correctly, term consolidation ceases to exist. The phrases "outsider," "emerging," "mid-career" and "blue chip" fade away and viewers can decide on their own what they like.
8) I'm very interested in hearing more about the new way HON plan on identifying, supporting and nurturing young talent?
I am not really a huge fan of the Brooklyn, Lower East Side, Chelsea career climb and so many artists who are not represented have reached a level of maturity that surpasses this. We want to source the best art out of NYC and serve as a funnel into top galleries. In the meantime, we curate solo and group shows for our artists, work on private placements and residencies, and solicit press and publicity on their behalf. We also welcome shows at other galleries and encourage our artists to get as much exposure as possible. We're serving as both career advisers and dealers.
9) What exciting things can we expect to see from you at the House of Nobleman?
They recently brought me on as Associate Director. I plan on actively continuing to expand the reputation House of the Nobleman has built in London to execute their mission here in New York. I also plan on pushing all of our artists into ecommerce, encourage philanthropy, and am working on educating and broadening a younger collector base.
10) If you could curate a show for your favorite artists living or dead who would it be and why?
I would have a show called Doppleganger and feature works by women and men that remind me of each other: Henry Darger and Sally Mann, Louise Bourgeois and Ernesto Neto, Alice Hope and George Widener, Egon Schiele and Alice Neel, Kara Walker and Chris Ofili... I'm a twin. That's why.
11) Are there any curators that you admire and influence your work as a curator?
In my opinion, Amani Olu is the epitome of what every independent curator should be. Not only does he do a phenomenal job curating his own shows, but he runs the Young Curators program to support others in his field. To me, that is very admirable.
12) Are there any other interesting projects you are curating outside of HON?
I am curating my first solo show called Kink for Andrea Mary Marshall opening June 27 at Anthem Wares. The idea behind it is to explore sexual empowerment through fetish and fashion. I am also helping coordinate a show at Tripoli Gallery in Southampton later this summer. A percentage of sales will to support WHOLE WORLD Water, a social enterprise that unites the Hospitality & Tourism Industry to raise money internationally for people that live without clean and safe drinking water. Richard Branson and Prince Albert of Monaco are among their endorsers.
13) Final question: Wine or Spirits? And why?
Both. I'm not driving...