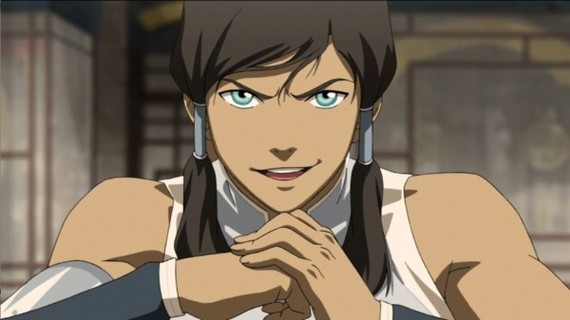 I stand before you steadfast in my proclamation that Nickelodeon's The Legend of Korra is one of the best shows on television. I think having that opinion puts me in a unique space along with people who believe The Vampire Diaries has some of the most ingenious writing and character work in the past several years, and Logo's RuPaul's Drag Race is one of the best reality television shows. For those of you that disagree on those points at least give me the chance to explain. Bear with me, at least with regard to Nickelodeon's flagship series and sequel to it's 2005 show Avatar: The Last Airbender.
The Legend of Korra did something that's hard for any television show to do. It satisfied an appetite for something I never knew I even wanted. Specifically, it created a role model and figure that I sorely could have used growing up but was still able to benefit from as an adult: a brown-skinned protagonist. While I'm sure an entire war can be raged on whether Korra is Black, Latino or Other; we can all agree that she is brown and for me that's good enough.
While I am not a woman and I'm not particularly muscular, I am brown-skinned. Seeing the strong, confident young Avatar did something for my spirit. Despite her confidence and power she is not a perfect character. Many times allowing arrogance and being hot-headed to be her greatest flaw. But this flaw doesn't make her weak or make her more likely to be rescued. Instead, as it should be, it's a feature of the story, a part of her arc and a chance to give her a place to grow from.
At the end of this latest season we find her at her lowest, this year's finale was a far flung change from the deus ex machina ending of the first season. It leaves our young heroine broken both literally and figuratively. And yet at the same time, we are reminded again how very necessary she is to this world. Credit goes to creators and their team for creating a fulfilling and engaging story arc that has allowed Korra to grow and truly earn the title of Avatar. It's becoming a recurring trend in the Avatar series that the Avatars are needed not only to maintain balance but to act as a figureheads and role models for the various nations.
While this season's quick return was a welcome change to the normal long delayed pomp and circumstance of hype, it was a sign of how casually Nickelodeon wanted to throw away the series. Allowing eight episodes to run on the network before shelving it online with little reason except the fair point that it does great numbers online. Yeah, so does every TV show -- ever heard of Netflix? That doesn't mean there's not an audience who wants to turn on their cable provider and watch it. It's sad as a long time fan of the show's creators and the series to see the treatment they've received from a network they've been a part of for almost a decade.
In an industry where content is king it's sometimes puzzling how quick the business side of the industry is quick to throw away a show whether then finding a better way to make it profitable. One can't help think one is easier than the other. So while the ruckus around this last season leaves me anxious and nervous for what should be a fantastic conclusion to Michael Dante DiMartino and Bryan Konietzko's latest series, I'm reassured that their fantastic vision, world building and creative risks will continue to flourish and they've got the resume to back it up. No matter what corporate interests and politics may happen around them, I feel confident the show's staff will rise above it and continue to elevate the medium for the better.