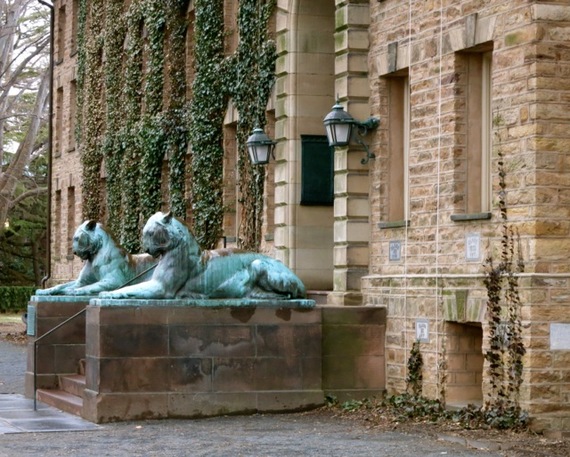 There's so much more to Princeton, NJ and its environs than just the university. Come for a few days, and though your IQ might not rise to the level of former resident Albert Einstein's, you're sure to have great meals and great fun in this Ivy League town. Here are 12 top picks from attractions to restaurants to lodging.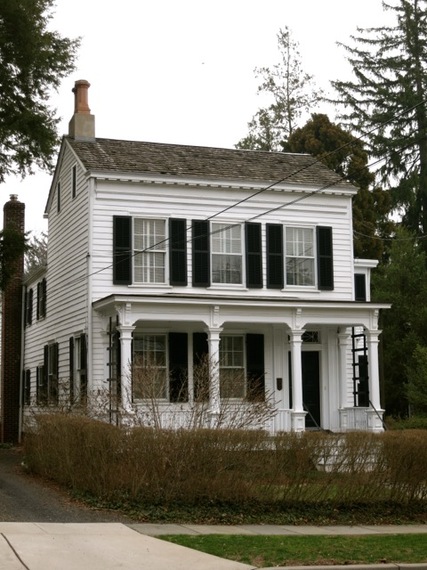 1. Princeton Tour Company. Mimi Omieccinski giddily dishes on well-known Princeton residents past and present -- some the most prominent people in world history. What was the real reason JFK left Princeton U. after just seven weeks? Where did Saul Bellow, F. Scott Fitzgerald and Ernest Hemmingway play their version of beer pong? What was Hitler's bounty on Einstein's head when the great scientist was offered a job for life and free housing at the Institute of Advanced Studies (IAS) in 1933? Who now lives at Einstein's very modest white home at 112 Mercer Street? (Hint, IAS stipulates that it must remain in private hands: the hands of only Nobel Prize winners). And when is Einstein's birthday, and what does it have to do with Pi? For most of its existence, the college was virtually closed off the to the world: its gates open to the public only in 1970. Now, luckily, you can "get in," too. If only for a stroll though its Oxford-like campus.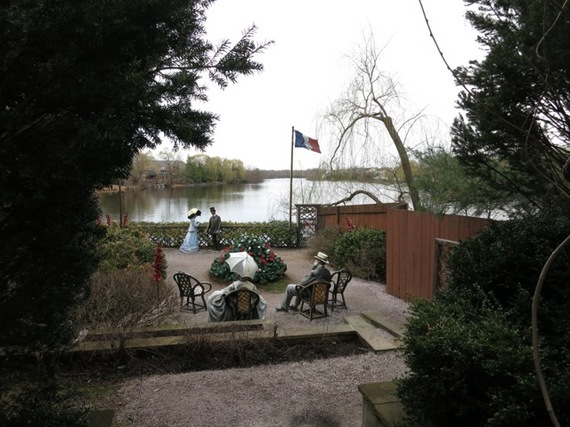 2. Grounds For Sculpture. It's as if the coolest sculptors, arborists, landscape architects, Walt Disney and the Secret Garden huddled together to mastermind the design of 42 acres carved from the former New Jersey State Fairgrounds. Founded in 1992 as a nonprofit by one of the Johnson and Johnson heirs -- the artist Seward Johnson -- Grounds For Sculpture, a mélange of outdoor art, trees, water features, art-deco and contemporary buildings, was envisioned as a place for art appreciators of all stripes. Sip wine or beer beside a pond straight out of a French painting, with lotus blooms the size of dinner plates, wander through tree-lined "allees," touch most (but not all) of the magnificent art work, and duck into galleries the size of airplane hangers. You can spend a whole weekend here and will still want to return immediately. With an entry fee of $15 and an annual membership of $70 allowing the holder unlimited admission, events, parties, a special VIP room and lots of other goodies, this is now one of two places in the country I wish I lived closer to in order to take advantage of membership. (The other is the Rock and Roll Hall of Fame in Cleveland, OH). With a brand new expansion in 2014, GFS is sure to become a worldwide destination.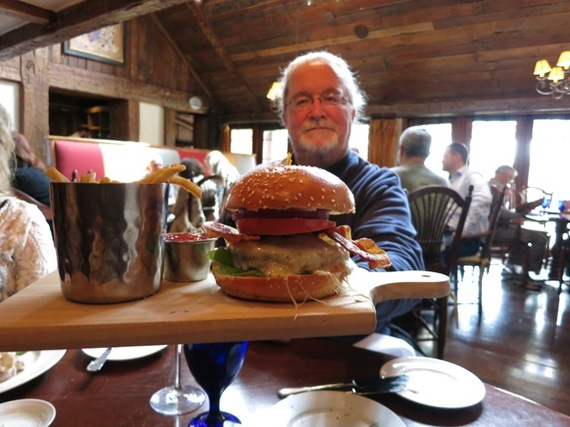 Rat's Restaurant at Grounds for Sculpture. New Jersey Monthly called Rat's the state's "Most Romantic" restaurant, and if you can get past the name and just look around, you'll realize why. Lakeside, garden sculptures, stunning landscaping and "Gypsy Wagon" entrance is just the half of it. The "modern take on country cuisine" include repeat-guest favorites such as the addictive Crispy Shrimp Salad ($18) and Short Ribs with roasted vegetables ($23).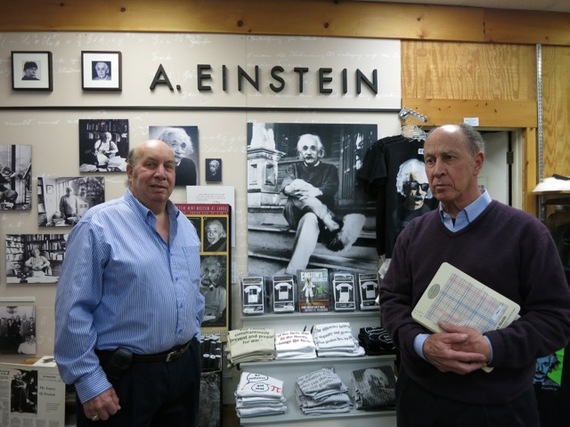 3. Landau/Einstein Museum. Walk through a world of woolens to the back of this store, where you'll find an homage to Einstein -- just a little nook -- between the Fisherman knit sweaters and the Loden Coats that includes photos and copies of his most offbeat and important letters. Brothers Henry and Robert are the third generation of Landau's to run this woolen's store right across from Princeton U's main gate. The store became an ersatz Einstein Museum after neighbors were asked to bring Einstein memorabilia to be used in the front window for the filming of the movie IQ. A dying breed, this is a family-owned specialty store where the owners love to talk to customers face to face (though you can certainly order online) and one of the only places on Earth you can find a variety of classic woolens like light, soft ultra dense Loden Coats, authentic hand-woven Harris Tweed jackets, Possum Marino woolens, and Mohair Throws, aka "Plaids."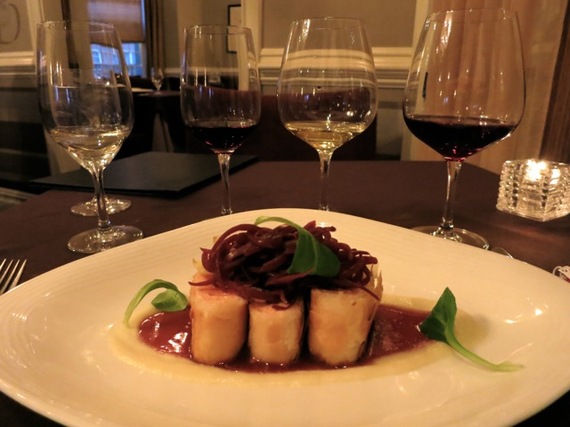 4. Peacock Inn Restaurant: Expect an exceptional dining experience rather than a meal, and allow a few hours. Chef Manuel Perez and his pastry chef wife, Cynthia, helm one of New Jersey Monthly's Top 25 Restaurants in New Jersey, and Manuel's proficiency with fish harks from his stint at Le Bernadin in New York. Knowledgeable and anticipatory wait staff make brilliant recommendations including the signature silky Hudson Foie Gras Terrain ringed with Marmalade, Onion Soup with a stamp of pureed caramelized onions over which sweet Vidalia Onion broth is poured, discs of crispy-soft Ricotta Gnocchi in a bed of asparagus, sun-dried tomatoes and mushrooms, Organic Scottish Salmon "En Croute" -- velvety fillets wrapped in the slightest hint of phyllo, and the Sticky Toffee Date Cake to finish it off. Multi-course tasting menu, $91 and paired with wine $141. Two words: Worth It.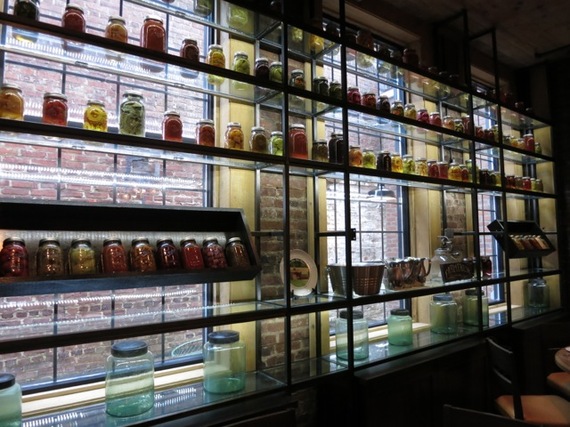 5. Agricola Community Eatery. When McDonald's started to use the phrase farm-to-table in its advertising, the idiom became a laughingstock. But not in the case of "instant hit," Agricola, which actually has its own 121-acre farm just six miles down the road. Celeb-trained chef, Josh Thomsen, who worked under Thomas Keller at the French Laundry, does vegetables and even meat outrageously well. Agricola is a veritable cornucopia when it comes to fermented and pickled veggies -- put up in colorful jars that decorate one-windowed wall. Please order the appetizer that highlights the best of these spicy-sweet carrots, daikons, green beans and other "dirt candy," in a perfect sweet and sour balance. And though I practically swooned over the meaty Mushrooms with Truffle Broth ($20), it might not be on the ever-changing seasonal menu. Suffice it to say everything that comes out of the kitchen is not just fresh, but tenderly and expertly cooked.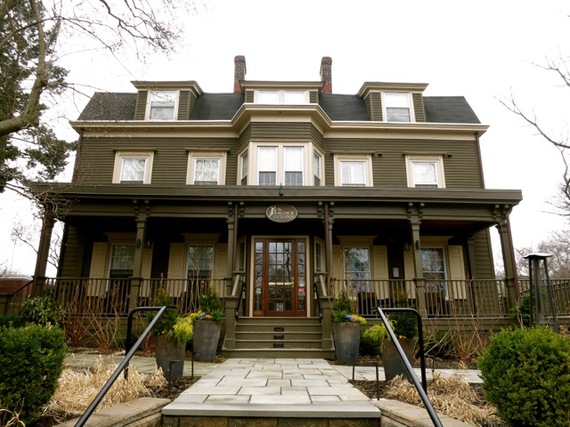 6. The Peacock Inn. The only boutique luxury lodging in Princeton, F. Scott Fitzgerald, Ernest Hemmingway and other notables were purported to have raised more than one glass in the basement when it was a speakeasy during Prohibition. After an extensive renovation that created 16 guest rooms out of over 30, Japanese-clean design and spa-retreat bathrooms with grey stone tiles, multi-head rain shower (with an unusual daisy-shaped shower head), tiny crystal chandelier over the sink, and Molton Brown toiletries bring an exotic-luxe feel to traditional Princeton lodging.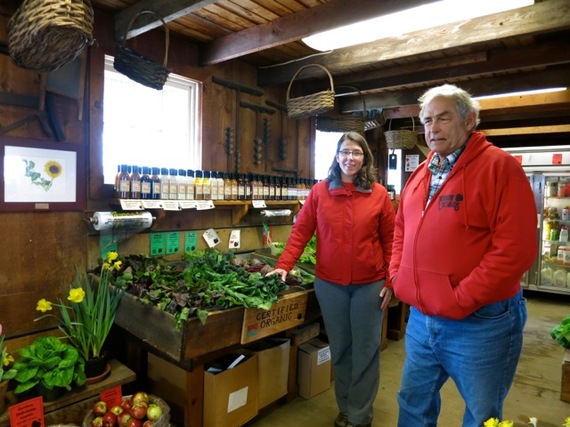 7. Terhune Orchards You'll most likely be greeted by Lucky, the albino peacock and unofficial mascot of this 200-acre farm, owned by Princeton H.S. and University grad, Gary Mount, his wife Pam and their daughter, Tannwen. (I'd wager this is one of the few farms in the country owned by an Ivy League graduate). The Farm Store -- housed in the original 100 year old Apple Cold Storage barn which once had a cool stream running beneath the battered, wide floorboards -- sells an assortment of 35 different crops, flowers, from-scratch pies, apple cider donuts and other baked delights, and house-made wines. (One package popular with Princetonians is a bottle of wine, flowers and pie delivered right to campus). Come for the wine-tasting or "pick-your-own" anything in season, including first up in the Spring; asparagus!. Store open 9-5 weekdays, till 6 on weekends. Wine Tasting Fri-Sun, Noon-5.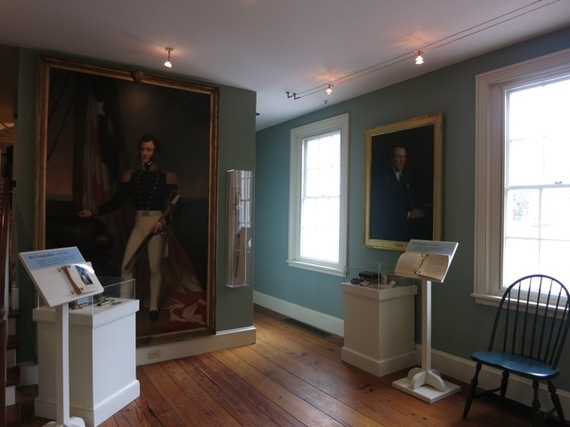 8. Morven Museum and Garden. Owned by Richard Stockton, the first graduate of The College of New Jersey -- soon to become Princeton University -- and the only signer of the Declaration of Independence to be thrown into the British brig for treason, this house also served as the New Jersey Governor's Mansion. An engaging, gossipy 45-minute tour will introduce you, through stunning portraits, to all prominent Stockton's and their mates, including the namesake of Stockton, CA, Robert Field Stockton who, aside from being a Naval hero was embroiled in one of the greatest fiascos of his day when a cannon he had designed accidentally exploded, killing the Secretary of State, the Secretary of the Navy and President Tyler's future father-in-law.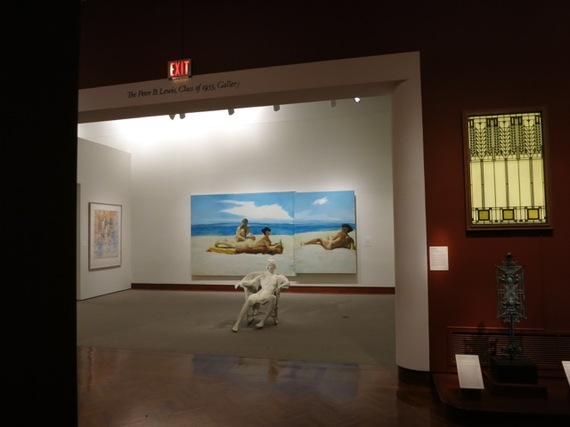 9. Princeton University Art Museum. Covering five thousand years of art, with a rotating collection of 93,000 items, Princeton's holdings represent one of the largest of any university art museum. Yet it is superbly laid out and surprisingly intimate. Visitors are surprised by the depth of the collection. Most small museums have one Monet, one Warhol. Princeton has three of each. Upstairs, you'll find provocative and important pieces of contemporary and European art: downstairs, Medieval and antiquity artifacts second to none. "Through art, people can access the globe -- it's a gateway to the wider world," says museum Director, James Steward.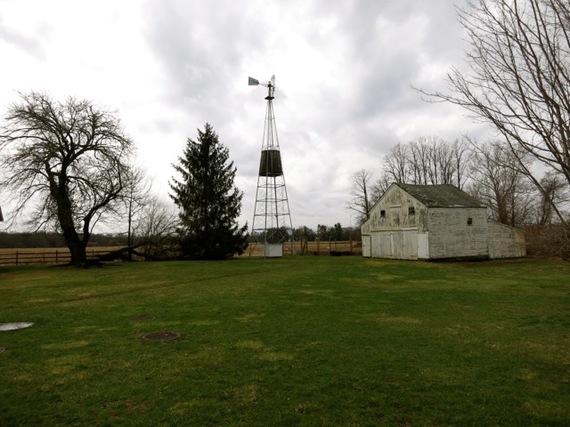 10. Historical Society of Princeton at Updike Farm. Drive up to the distressed white barns, working windmill and acres of green farmland and all of a sudden you're inside a Wyeth painting. One of two Princeton Historical Society's sites (slated to be its headquarters in 2016), it is primarily used as a museum gallery and community center where members of local social service organizations come to chill out in this peaceful, tranquil place. "We want people to come out here and imagine Washington's troops marching through," says Eve Mandel, Director of Visitor's Services.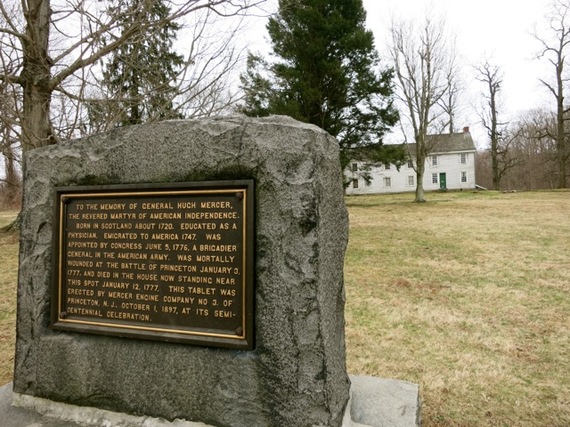 11. Princeton Battlefield. According to Kip Cherry, the executive director of the Princeton Battlefield Society, this, the first of General George Washington's victories against a well-organized British Army, was the battle that changed the minds of the French officers who were hesitant to help a ragtag unprepared American militia. Looking much like the farmland it was on January 3, 1777, you can just imagine 1,500 Brits facing 5,500 American soldiers at 6:30 a.m. on a field of stubble stiff with frost. Though a Visitor's Center is in development, you can see the "witness house" -- the Clarke House -- that served as a field hospital after the fight.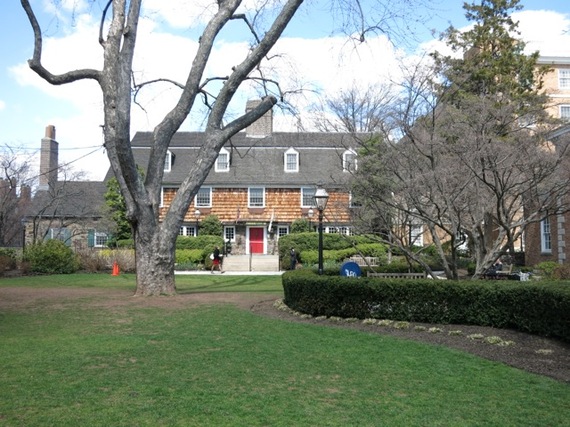 12. Nassau Inn. Posing as a 1700s town tavern in the center of town, this Princeton landmark actually extends over a block, with 188 nicely updated rooms and suites. Staying here has been a tradition for Princeton parents and grads since a few years after Jimmy Stewart graduated in 1932. The Yankee Doodle Tap Room is perfect for a drink with friends -- have a gape at the signed Princeton graduation pictures on the wall: Adlai Stevenson, Jimmy Stewart, Brook Shields and Michelle Obama included.
For more to see and do in Princeton NJ and other destinations in the Northeast, check out GetawayMavens.com.