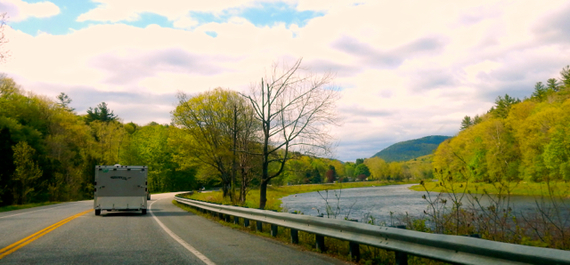 "Our State slogan should be 'We Make Stuff,'" said a long-time Vermonter, while discussing this Northeastern state's exceptional products. Visit Vermont and you will discover that the only landlocked New England state is really serious about making stuff: Beer. Maple Syrup. Cheese. Teddy Bears. Flannel. Art. Crafts. Locally-Sourced-Dining. Anything a Vermonter makes becomes the standard by which all others are judged. (Who's ever heard of trademarked Maine or New Hampshire Maple Syrup? Connecticut Teddy Bears? Rhode Island Flannel?).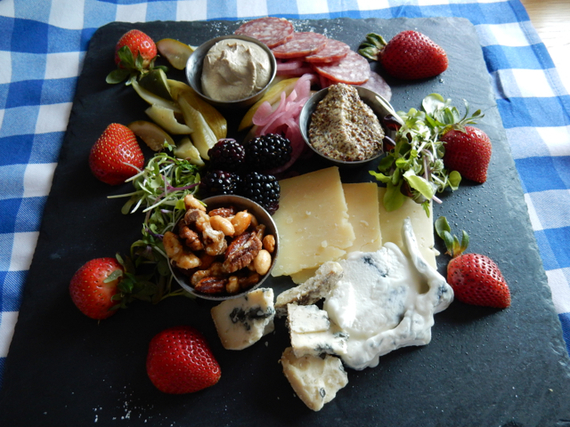 So, an excursion to the resplendent Green Mountain State should incorporate stops into places that make and sell these goods, along with other lesser known attractions and unsung historic sites. Last year, I offered THIS LIST of the Best of Vermont. This year's list covers a bit more ground.
(Consult the Getaway Mavens for in-depth information on these destinations and others in the Northeast USA.)
SOUTHERN VERMONT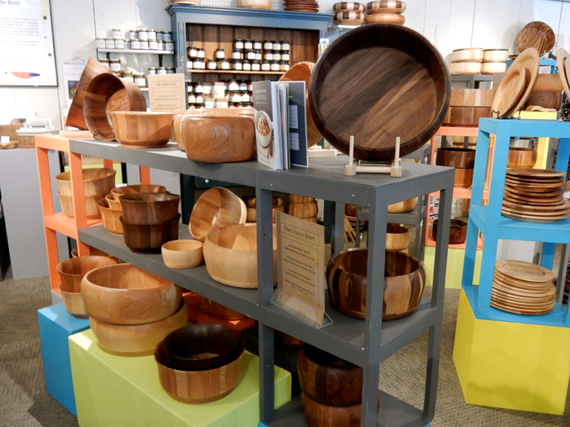 1. Shop, eat, and stay in a town once torn to shreds by a hurricane. Wilmington VT and the greater Mount Snow/Haystack Mountain area was slammed hard by Hurricane Irene in August 2011; so much so that buildings floated away and crumbled to bits. But just within this past year (2016), there's been resurgence, especially on the culinary scene. Over half a dozen new restaurants have opened, shops have been restocked and improved and this small town on the corner of Route 9 and Route 100 in Vermont is worth a revisit. Instead of "taking a right at the light," at Route 100 to get to Haystack and Mount Snow, drive through and stop into shops like Vermont Bowl (with wooden salad bowls you'll recognize as Dansk and Williams-Sonoma designs, all made here), and the 1760 Norton House, a "Quilter's Paradise" that draws quilters from all over the county.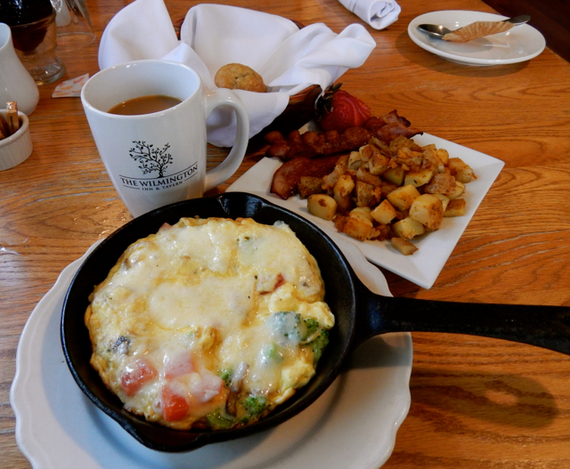 2. Feast on an incredible Cast Iron Frittata of the Day, after a night in upscale, contemporary comfort at the Wilmington Inn and Tavern, the only B&B on Wilmington's Main St. Innkeeper, Rachel Pilcher, makes her signature dish, that comes sizzling hot in the skillet - and other breakfast delights - every morning for overnight guests.
3. Peruse the witty art of Skip Morrow - the humorist who brought the best-selling "I Hate Cats" to the world - at his home studio and Art of Humor Gallery just outside of Wilmington's downtown. You'll find walls lined with Morrow's art on two floors, and though you might have planned to stop in for a few minutes, the cartoons, a marriage of The New Yorker and Mad Magazine, entice you for much longer. Like most, the gallery is "self-guided," but outfitted with "Help" buttons to push if you require assistance (or want to meet the agreeable artist).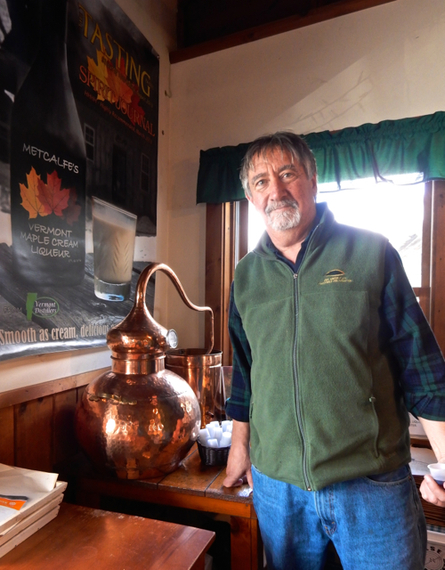 4. Find one of the largest collections of albino animals - both alive and mounted - at the Southern Vermont Museum of Natural History on Route 9 in Marlboro at the Hogback Mountain Overlook. There's a "Red" fox, deer, squirrel, porcupine, woodchuck - and even a live albino California King Snake. Though there are 650 stuffed creatures representing 220 species, most people come to see the live owls and Bald Eagles that have been rescued over the years. Here, too, in the Overlook Gift Shop, you can sip one of the best Maple Cream Liqueurs on Earth. As the Tasting Room for Ed Metcalfe's Vermont Distillers, try tiny free samples of these wonderful elixirs. It's rare that a distillery focuses on liqueurs, but Vermont Distillers does them well, especially the favorite Maple Cream (which puts Bailey's to shame), and Raspberry Liqueur.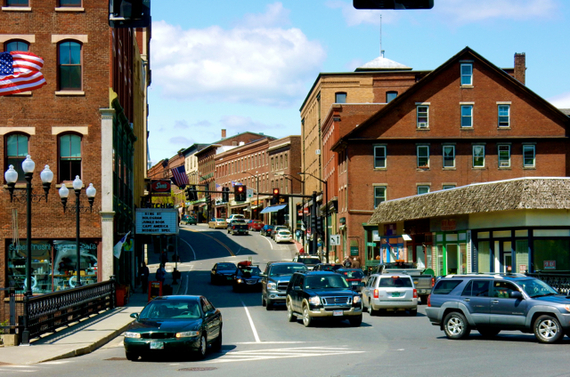 5. Visit the city that takes lighthearted joy in countering Spain's frenetic Running of the Bulls. Brattleboro VT came up with its own chill Vermont version of this dangerous ritual - "Strolling of the Heifers" - which takes place early June every year. Calves and their bovine Moms meander through town, past extremely cool shops like Penelope Wurr - all artful things British, Ruggles & Hunt - quirky stuff for all ages, and Gallery in the Woods - a kaleidoscope of a craft shop, and by three popular brewpubs; the Connecticut River-set Whetstone Station, Hermit Thrush, and McNeils.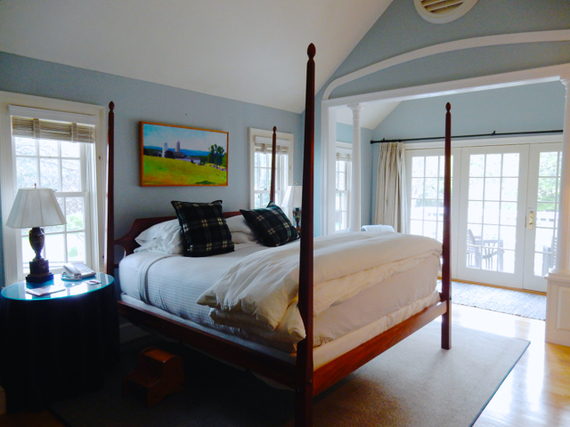 6. Stay in the reborn, celebrated lodging that Mick Jagger chose as his 40th Birthday getaway; the Four Columns Inn in Newfane VT (in the Brattleboro area). Closed in 2013, overhauled and reopened in 2015, The Four Columns was the consummate "New England Inn" for years before being sold and revamped. The stellar in-house restaurant, Artisan, is now more community focused, and plans are afoot for lots of cool, packages integrating regional museums, public gardens and classic car events.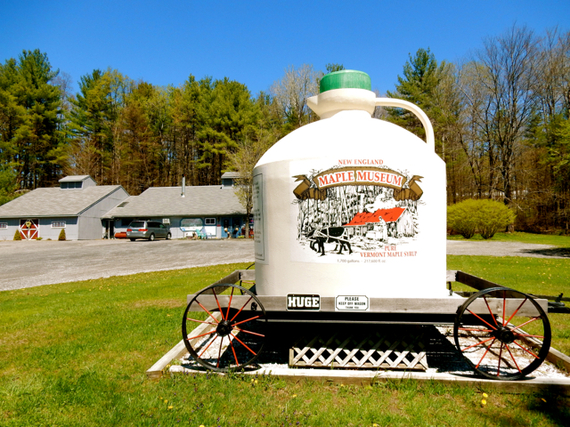 7. Press a button to hear a tired woman griping about the "hard, hot and boring," work of maple sugaring at the old-fashioned but oddly endearing New England Maple Museum in Pittsford (about 20 minutes north of Rutland). These recordings, made by a farmer and his wife, are bemusing in that the husband waxes lyrical about "Sugaring," while his wife sounds plainly exhausted. Here, you'll learn that Vermont has the most exacting standards of any state when it comes to Maple Syrup production and sales, and this museum does a grand, homespun job of telling its story.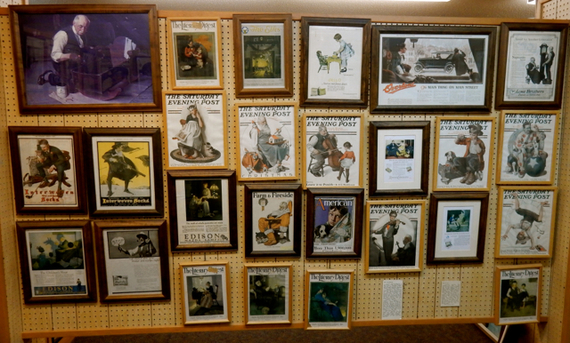 8. Examine Normal Rockwell illustrations on their original Saturday Evening Post Magazine covers (some with address labels still attached) at the Norman Rockwell Museum in Rutland VT. Though the more famous Rockwell Museum is in Stockbridge MA, this one contains over 2,000 Rockwell -created Magazine covers, ads and movie posters displayed in chronological order. After walking through the gallery, pop into the shop where you can purchase one of these magazine covers for just $35.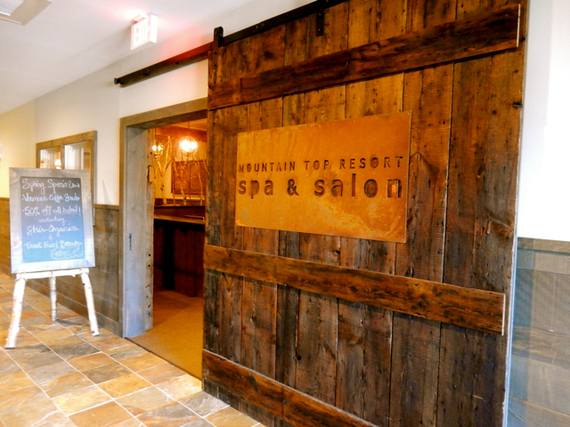 9. Soak your feet or relax from a body treatment while gazing at intoxicating mountain and lake views at the newly renovated luxury Mountain Top Resort Spa. Decadent.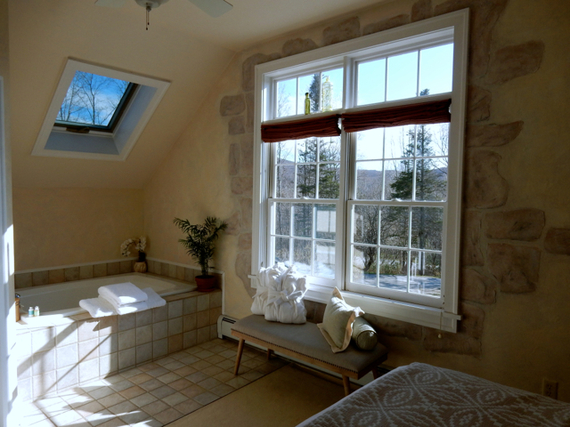 10. Stay in a stunning room named after one of 13 members of the Ripley family, who, in 1849, built this farm-retreat, now the Red Clover Inn in Mendon (a few miles from Rutland). Owned by the Tylers, who also own the kid-friendly Tyler Place, Red Clover Inn is the preferred option for Killington skiers who want a luxury experience just 15 minutes away from the hill.
NORTHERN VERMONT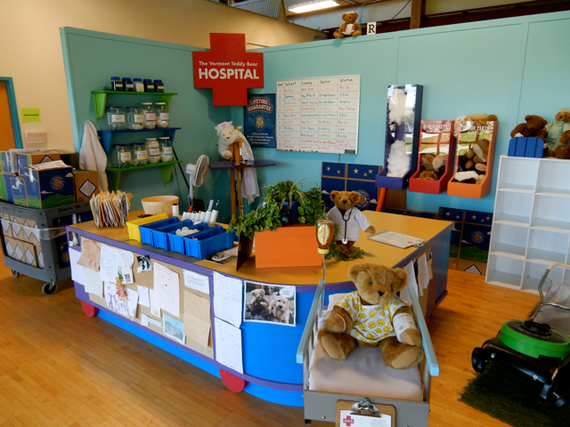 11. Tour Vermont Teddy Bear Co. (Shelburne, about 15 minutes south of Burlington) You won't find Ted at this heartwarming factory, where bears are made by hand, and repaired with love in the Teddy Bear Hospital. Guaranteed a lifetime, Vermont Teddy Bears can be personalized and have welcomed more babies and have been integral to more marriage proposals than you'd ever imagine.

12. Spend at least three hours at the formidable Shelburne Museum, a 45-acre, 39-building complex comprised of "collections of collections," the largest of which is the massive 220ft. sidewheel steamboat, the Ticonderoga, brought to this spot in 1955. With elements of Williamsburg (VA), Winterthur (DE) and Greenfield Village (MI), the Shelburne Museum is one of the most unique assemblages of buildings, boats and bridges you'll ever experience. Birthed by folk-art-collector society dame, Electra Havemeyer Webb, whose family is credited with bringing French Impressionist paintings to Metropolitan Museum in the 1920's, The Shelburne Museum is as eclectic as Electra was eccentric. She started collecting weathervanes, trade signs, tableware, pewter, sleighs and so much more in 1911, amassing so much that she had to find acreage to house it all. And now it's here for the world to see.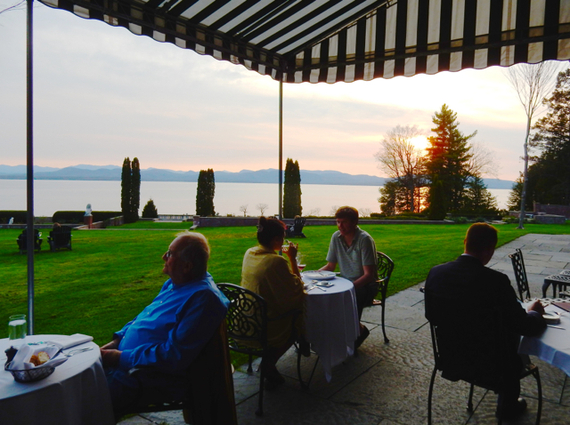 13. Pet a baby lamb, dine on farm-to-fork fare, and learn about sustainable agriculture at Shelburne Farms, a National Historic Landmark. Like its sister attraction, The Shelburne Museum, there's a lot to see on this 1,400-acre working farm; nine points of interest including the Farm Barn, which houses the Children's Farmyard and cheese-making facilities, the Dairy, where 125 purebred Brown Swiss cows are milked daily to produce the Farmhouse Cheddar (available at the Farm Store), the family summer home, now an Inn, and other attractions. The Lake Champlain-set Romanesque/Queen Anne stone manor house, on a landscape designed by Frederick Law Olmstead (who chose what to plant) and Gifford Pinchot (who determined where to plant), was the Webb family's summer home from the 1960's to 1974. In 1987, it became the Inn @ Shelburne Farms, a stunning 24 room seasonal hotel (no heat or air-conditioning in the rooms) with a restaurant that is the pure definition of "Farm-to-Table," with a carbon footprint of zero.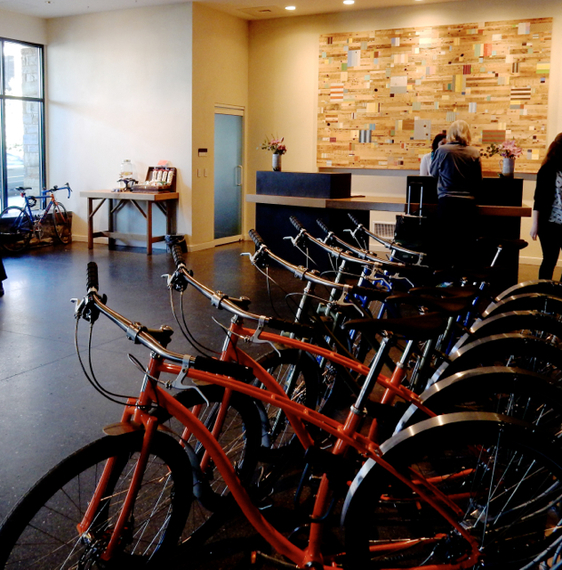 14. Consult Matt, the "Beer Concierge" at Hotel Vermont, Burlington's newest and coolest luxury boutique hotel, for information on Heady Topper deliveries and the best way to approach an in-city Craft Brewery Crawl. There are four craft breweries - Switchback, Queen City, Zero Gravity, and the new Foam - and one cidery, Citizen Cider, within city limits, and another, the popular Fiddlehead, just down the road in Shelburne. But Matt also puts together an extensive full-day, two night "Brewery Tour" package, bringing lucky craft beer lovers to Vermont's Northeast Kingdom to taste the next best thing in brews (see below).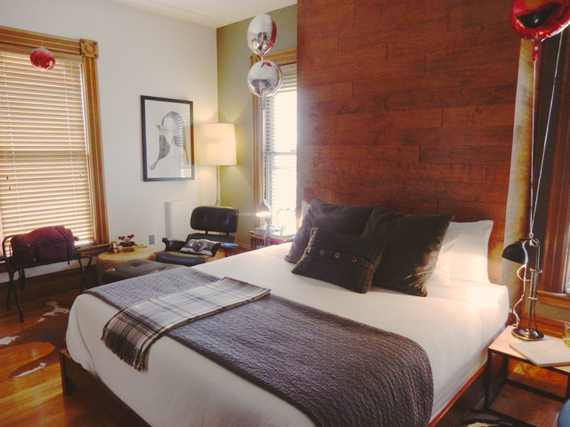 15. Sit in a vintage Eames chair, while listening to your favorite rock albums in your gorgeous mid-century modern designed guestroom, at the unique Made Inn Vermont B&B, Burlington. You'll find a can of Heady Topper and Focal Banger among other drinks in a small fridge in each of 4 rooms as well, though you won't find a bathroom en-suite. (You are assigned a private loo, down the hall). Far from a standard-issue B&B, Made Inn Vermont appeals to dog lovers (well-behaved pets of any size welcome), romantic Millennials, or anyone who appreciates dazzling décor, a hot-tub patio, and wine, beer or sangria at check in (and of course, a can of that tough-to-get Heady Topper, complimentary!).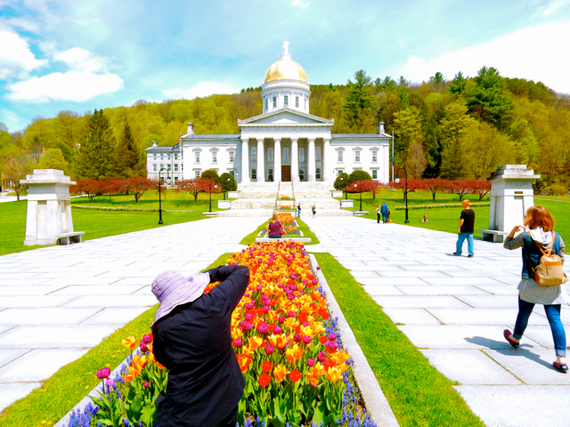 16. Drive to Montpelier, America's smallest State Capital city (population 7,500), and the only one without a McDonalds. Even if the State House is closed (open only Mon-Fri for tours), walk to its radiant plaza for a view of the stunning gardens that run arrow straight to the front doors of the gold-domed building.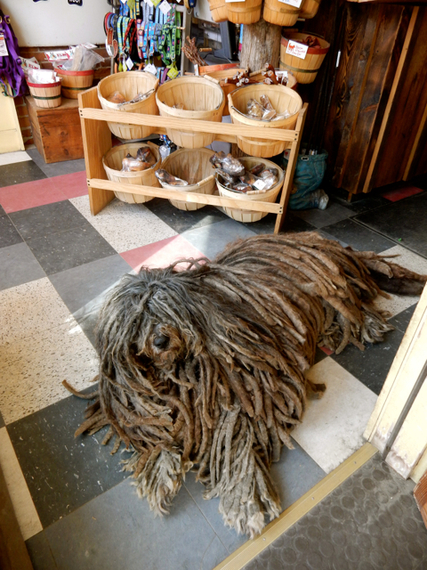 17. Enter the Bagel/Burrito/Caft Beer/Music Venue, Bagitos, and you just might find an older gentleman step-dancing to live Irish music in the middle of the day. Montpelier VT is oh so Ben & Jerry's groovy, for a seat of government that is, where one would expect suited up politicians in a homogenized environment. Far from it. There are terrific restaurants - i.e. Kismet - and very quirky shops (e.g.The Quirky Pet, guarded by a "Mop" sheepdog, pictured) and eateries, all ripe for exploring.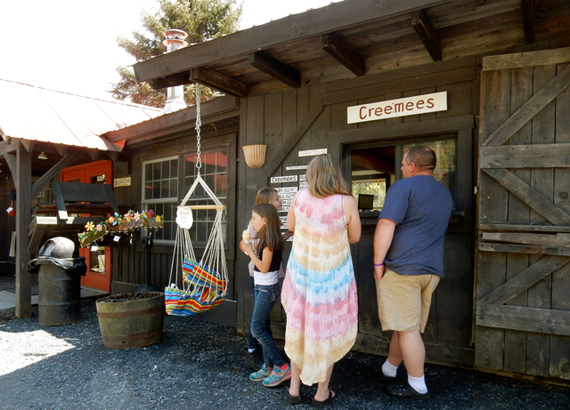 18. Savor what the Editors of Yankee Magazine considered the best Maple "Creemee" in Vermont (2014) at Morse Farm, a few miles from downtown Montpelier. (Don't make the mistake of calling the smooth ice cream that comes from a machine "soft-serve." In Vermont - it's called a "creemee."). Ask for "Burr," Morse Farm's colorful owner/artist, who is quick to tell visitors that he's the 7th generation of Morse's to be running this enterprise; "60 years in this location, 150 years before that down the road." Watch a sugaring demonstration, pick up some Morse Farm Maple Syrup and in winter, enjoy "Sugar On Snow," maple syrup hardened on ice.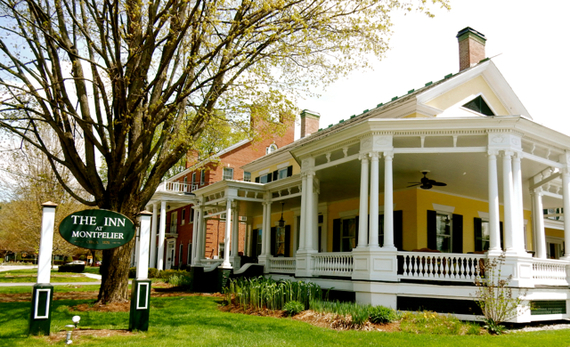 19. Learn why Sam Adams (yes, the namesake of the beer) was strapped to a chair that was hung from a tavern sign - so he coule be ridiculed by the townspeople for a few hours - at the folksy Vermont History Museum in Montpelier. It's engaging for a small museum, with a longhouse, Tavern and other walk-through structures. If staying overnight, book a sweet room at the only charming B&B in Montpelier's downtown, the Inn at Montpelier.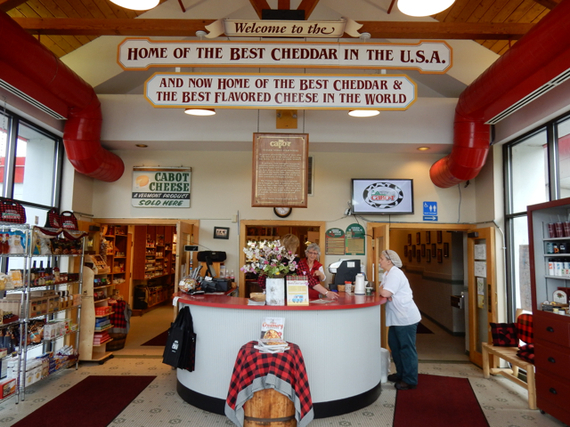 20. Heading up to the Northeast Kingdom (called, NEK, the north easternmost reaches of Vermont), stop in the tiny farm town of Cabot at the Cabot Creamery for a tour of the cheese-making factory. Cabot is now owned by a farm collective called Agri-Mark, the largest farmer-owned co-op in New England representing 1,200 farmers, and obtains milk for its popular flavored Cheddars, Colby and Monterey Jack from 300 dairy farms - most within a 90 mile radius. The 30-minute tour is an eye-opening look at how good cheese is made, followed by a stop at a tableful of samples.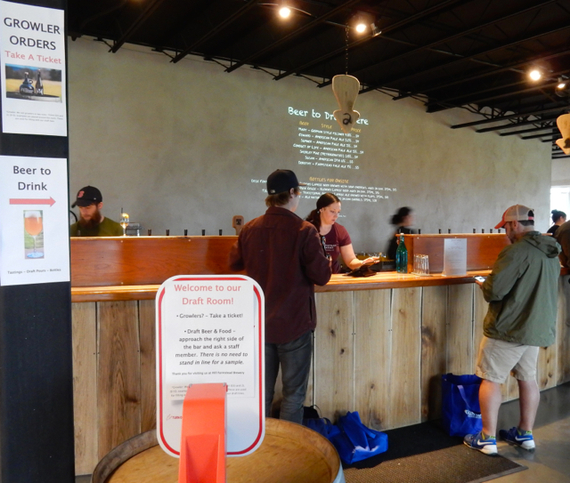 21. Take a number and wait in line for a growler fill at the craft beer fan's new hotspot, Farm Hillstead Brewery in Greensboro. Yes, it's come to that - in this very remote place in Vermont's NEK (Northeast Kingdom) miles on a dirt road - a beer line so popular you'll have to muscle through dozens, sometimes hundreds of people to pick up a growler of Edward Pale Ale (97-Beer Advocate) or Susan IPA (99-Beer Advocate) or a host of other heady brews. Considered one of the "Holy Trinity" of Vermont breweries (with Alchemist's Heady Topper and Focal Banger topping the list, followed by Lawson's Finest Liquids Triple Sunshine IPA), once you get here and taste the goods, you'll see why.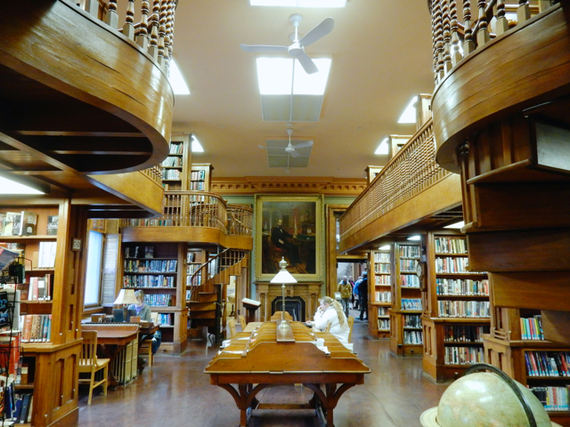 22. Study in the classy way the Victorians did at the strikingly handsome St. Johnsbury Athenaeum, a library and art gallery in one. Take a peek in, and you may want to fetch a book and stay awhile.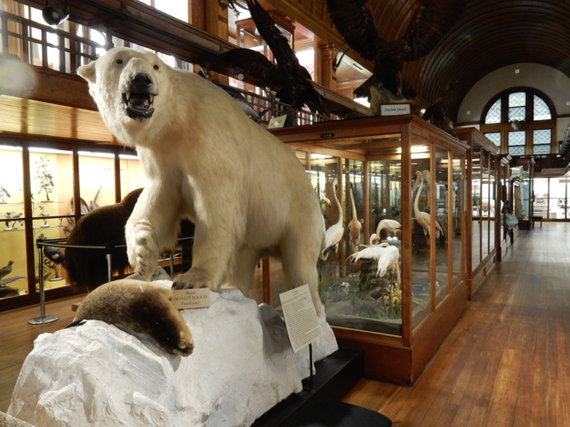 23. Learn what NASA is up to - today - at the Fairbanks Museum of Natural History and Planetarium in St. Johnsbury, which features one of the most current and cool small planetarium shows in the country. It's rather ironic that this state-of-the-art planetarium is housed inside a distinguished Victorian-era, mounted-animal, glass-case, Natural History Museum, but not so much when you realize that both aspects of this museum encourage visitors to take a close and careful look at the mysteries of nature.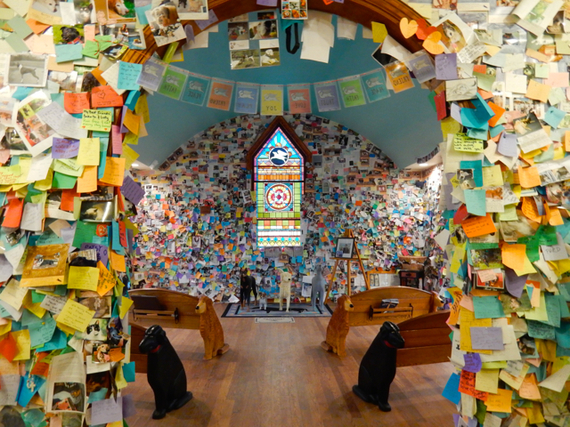 24. Visit the Dog Chapel on Dog Mountain in St. Johnsbury, and you will cry, guaranteed. Conceived by artist and author, Steve Huneck, the small church on a hill has been a magnet for people who have lost beloved pets: Dog, cat, and other animal owners have been leaving notes, leashes, collars, toys, even ashes here since it opened in 2000. None have been removed. So, when you go inside to pay your respects, be prepared to read some and weep. Dog Mountain also encompasses an art gallery featuring Huneck's paintings, prints and books, and a "leash-free" 150-acre park with hiking trails and swimming ponds for dogs. Open year round, Dog Mountain periodically hosts parties and events for animals and their owners, but you can visit any time.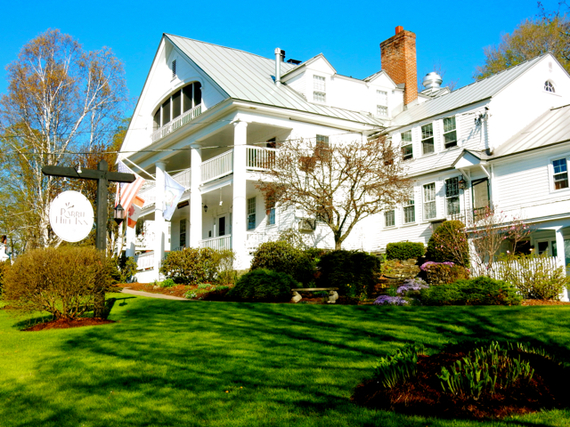 25. What does the incomparable Rabbit Hill Inn (Lower Waterford, near St. Johnsbury) make best? Friends. Innkeeper/owners for 23 years, Leslie and Brian Mulcahy are the genuine deal. For them, running an impeccable New England luxury Inn is not about how much money they can make, or even how much praise they get from the foodie world (which happens to be a lot), but how many friends they gather into their fold. The inn's destination restaurant is a "Best" fine-dining choice in the surrounding area, and even the breakfast that comes with each room is cooked by a celebrated chef. The Rabbit Hill Inn has been acclaimed on many levels, but to the Mulcahy's, the accolades that count the most are from repeat guests - some who have been coming for decades from far away - and first timers "who turn into lifelong friends."