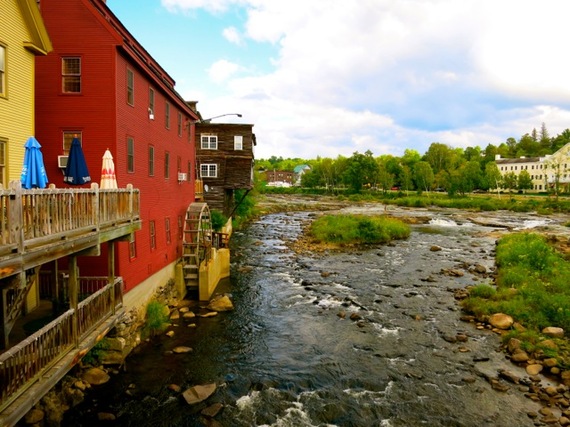 The 800,000-acre White Mountain Region of New Hampshire has been drawing tourists for over 150 years. Though not quite tamed, man has left his mark on these stony hills, making money by highlighting Mother Nature's finest features. And selling fudge. The Cog Railway on Mount Washington, in fact, was the first transportation system built specifically for tourists in 1869. Though not quite "offbeat" or unsung, many attractions here are in private hands, and have been for generations - a rarity in the increasingly corporate world of tourism.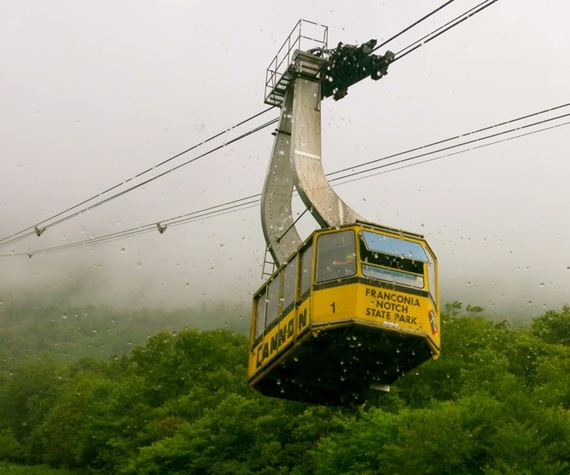 If you intend to visit most of these attractions, reserve a White Mountains Attraction Pass, which will get you and a friend into many, including the Cog Railway and Santa's Village, for $349 (a $1100 value).
And if you want more - much more - information about these and other attractions in the Northeast USA consult the GetawayMavens.com - your place for Offbeat Escapes.
NORTH WHITE MOUNTAINS NH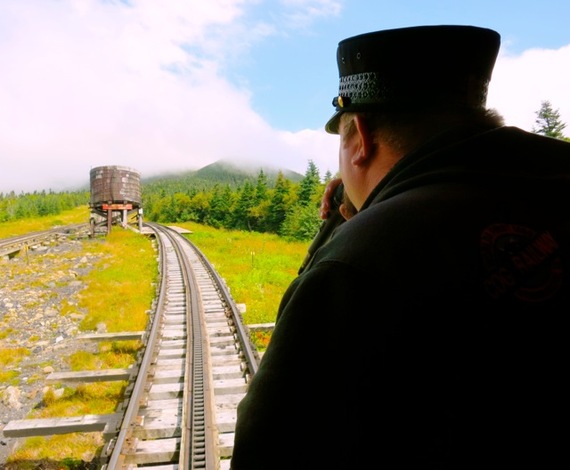 1. Mount Washington Cog Railway, Bretton Woods.The summit of Mount Washington, the highest peak in the Northeast, is known to have "the most extreme weather" on the planet, with winds that have been clocked at 231 MPH. Opened in 1869, this Cog Railway was the first mountain climbing cog railway in the world, now on the National Historic Register, and surprisingly, in private hands. Originally utilizing dirty coal fired steam power, most engines have recently been converted to the cleaner and more efficient Bio-Diesel, which also makes the trip faster. Now, the train climbs at a speedy 5.5 MPH, and takes 47 minutes to ascend to the top of Mount Washington, elevation 6,288 ft. Along the way, you'll hear tales and learn a good amount from your funny (and all-important) brakeman - who narrates the trip through a headset while watching the track.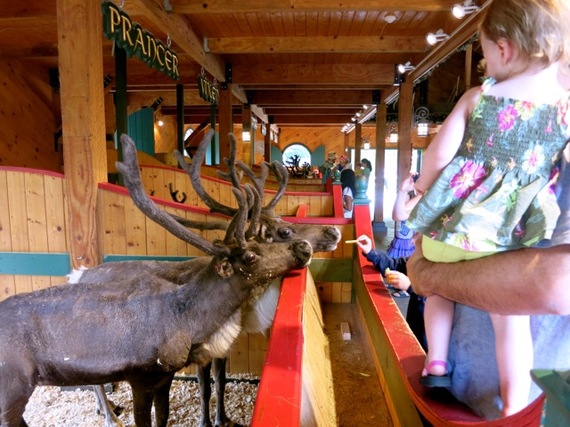 2. Santa's Village, Jefferson. This tip of a hat to St. Nick has been a Presidential Highway (Rt. 2) attraction for generations, and you don't have to be of the Christmas-celebrating persuasion to enjoy it. Begin by talking to Rudolph outside the main gate - an animatronics reindeer with keen listening and speaking (ok, human powered) skills. Pay $30 for a full day of fun (per person), and ride the monorail "Skyway Sleigh," the junior Roller Coaster, Antique Cars, "Yuletide Log" Flum, and more. When tired, sit for the Disney-like "Jingle Bell Jamboree," or in a real 319-seat movie theater (cool when the heat gets to be too much outside), or on Santa's lap. Though the rides are popular, the crowd favorites, of course are the Jolly Man in Red himself, and the Reindeer Barn, where dozens of engaging, soft-antlered, doe-eyed animals nuzzle your hands for food.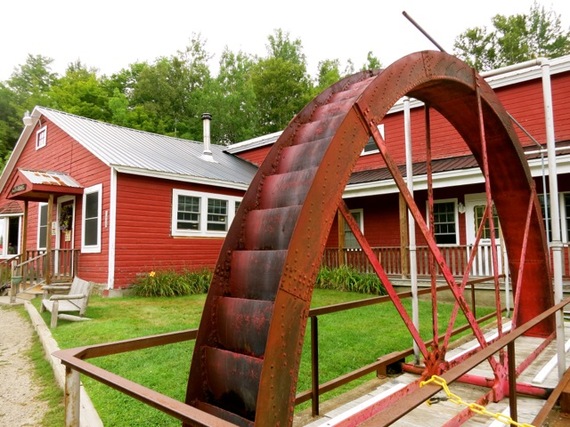 3. On your way to or from Santa's Village, stop for lunch at Waterwheel Breakfast and Gift Shop, Jefferson. In an antique Sugar House, this place, known for its thin hubcap sized buttermilk pancakes, has been packing 'em in due to rave reviews. Trish and Kevin Arakelian purchased this stand-alone gift shop (on Route 2 - the Presidential Highway between Gorham and Jefferson) in 1999, adding a homey restaurant component, and turned it into a hotspot.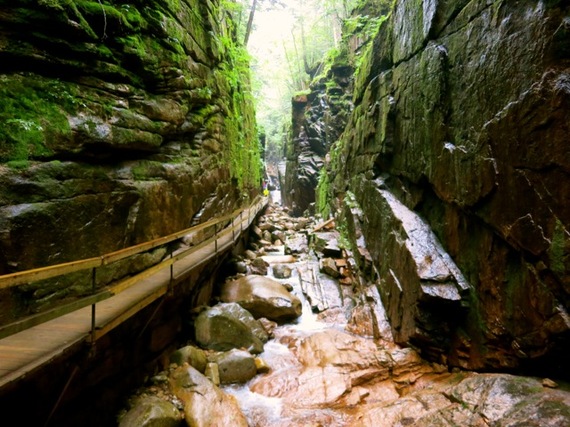 4. Franconia Notch State Park. After Nathanial Hawthorne visited Franconia in 1832, he wrote the short story - "The Great Stone Face" about the "Old Man in the Mountain," influencing a population increasingly interested in adventure travel. Though the granite structure comprising the Old Man's face fell on May 3, 2003, there's still plenty to see in Franconia Notch, including The Flume -a granite chasm overflowing with thundering water, The Basin, and The Cannon Mountain Tramway/ New England Ski Museum. Olympic medalist, Bodie Miller, earned his chops on this mountain, and in fact you can see all of his Olympic Medals in a glass case at the compact and worthwhile Ski Museum adjacent to the Tramway. Be sure to ride the 70-person tramcar, which whisks skiers and sightseers to the summit of Cannon Mountain in 8 minutes.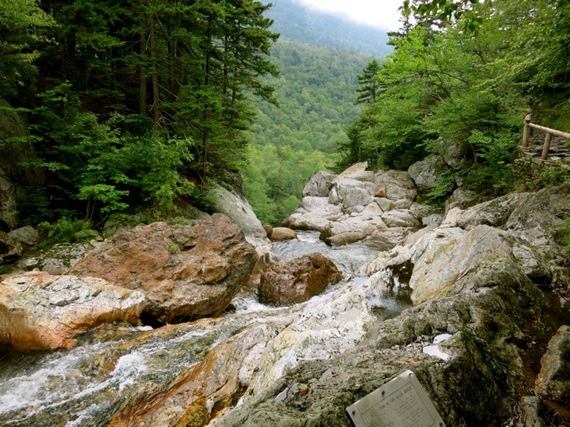 5. Pinkham Notch. Plan 30 minutes to hike to and from the 64 ft. Glen Ellis Falls. Lots of stairs, but it's a well-marked and pretty trail. Then, if weather permits, stop at Wildcat Mountain and take the Gondola to the top (part of the Appalachian Trail) for superb views.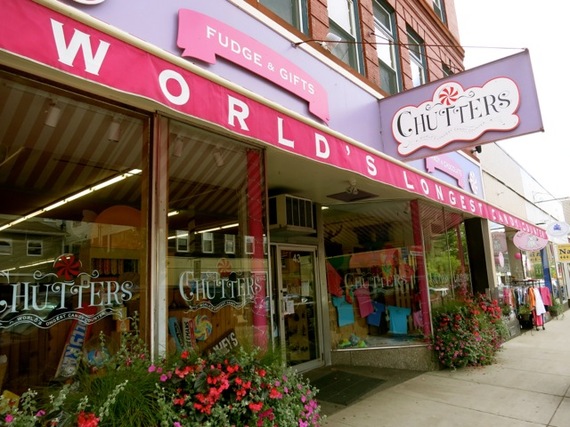 6. Littleton NH. Littleton is a lived-in community-minded burg filled with small town charm and optimism. So, it's no surprise that the author of Pollyanna, Eleanor Porter, was born and raised here. Naturally, there's a statue of Pollyanna at the entrance of the town library. But there are several other must-sees in Littleton, including Chutters - with The World's Longest Candy Counter at 112 ft (Guinness World Book 2000). All flavors of Jelly Belly's, fruit slices, candy corn, chocolate shells, licorice twists, rainbow shoe lace licorice, sour everything, rock candy, gumi-fantasia (including 3-foot long gummi snakes, gummi flip-flops, gumi chicken feet), and tennis gumballs -in jars lined up to a vanishing point, are priced by weight ($12.99 lb). Mike and Carol Hamilton opened Chutters in 1995, and it has since become a stand-alone tourist destination. You'll also find The Jax Jr. Theater (where Bette Davis from the next town over, attended her movie's premieres), and shops like the "Mad-Men-Cocktail-Accessories" source, Just L, Northern Lights Music - owned by guitar aficionado, Dan Solomon, and the trend-setting Schilling Beer Co, cantilevered over a rocky river inside a 1796 mill building.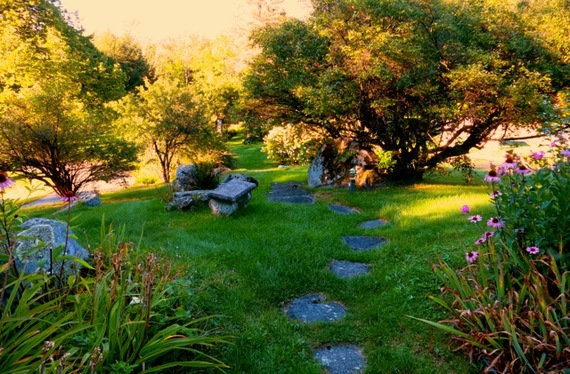 7. The Northern White Mountains are home to two of the three remaining Grand Hotels in New Hampshire (the third, Wentworth By the Sea, is in Portsmouth); Omni Mount Washington in Bretton Woods and the Mountain View Grand in Whitefield. But for a much more intimate experience, stay at Adair Country Inn, Bethlehem. Owned by Cathy and Joel Bedor (who also co-own the Mt. Washington Cog Railway) this exclusive 11-room hideaway is just seconds off of I-93, though so quiet and tranquil, you'd never know it. Built by Frank Hogan (attorney for Teddy Roosevelt) as a wedding gift for his daughter in 1927, this elegant establishment was home to Dorothy Adair Guilder until her passing in 1991. Dorothy's hats, and her husband's books, including a signed copy of Ulysses S. Grant's Personal Memoirs, were kept as reminders of these former residents. The inn and its 200 acres of landscaped grounds, designed by the sons of Frederick Law Olmstead, are preserved as if time has stood still. Each room features a billowing luxurious featherbed and other stately appointments. It is the height of privilege to sit on the patio overlooking the lush gardens, sipping a glass of wine, before heading into the dinning room or the former library, now a bar, for a fabulous dinner.
WESTERN WHITE MOUNTAINS NH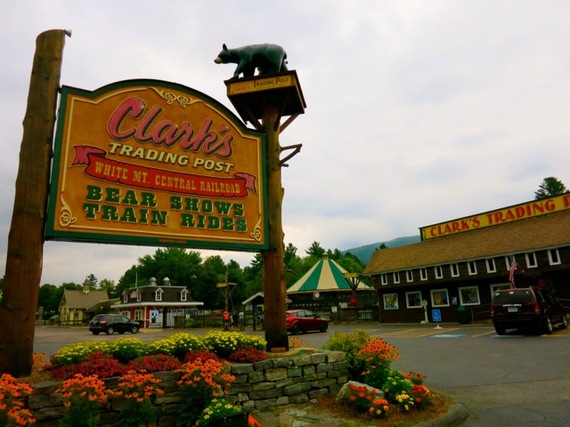 8. Clark's Trading Post, Lincoln. Yes, Clark's sells over 10,000 lbs of fudge per year, but this complex is so much more than a gift shop. Plan on two hours or more to get an overview - more if you are a nostalgic type (or have kids in tow). First opened in 1928 and now run by its fifth generation, Clarks began as an Eskimo Sled Dog Show and shop, and has morphed into a Bear and Chinese Acrobat Show and Theme Park, with a brick Main Street that seems straight out of The Truman Show. You can ride a steam train, scale a climbing wall, ride Segways and bumper boats, make your own candles, stuff your own toy (like Build a Bear, but cheaper), and of course shop. But the reason most people visit Clark's is for the Bear Show. Maureen Clark is the head bear trainer, and deems it a "privilege to work with them." Right now, there are seven performing Black Bears - some were abandoned, some orphaned, some born here. They begin instruction early, and Maureen can tell the difference between "showman" and shy. Training is compassionate and respectful of the bears. "We don't use whips, sticks or threatening devices," she says. "What we do have are spoons and treats."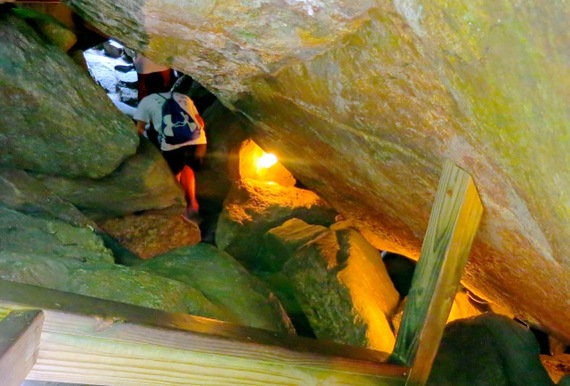 9. Polar Caves Park, Rumney. Once you get past the fudge, the trinkets in the souvenir shop, the Gold-Panning sink, the Thai pheasants chasing each other in small cages, the petting zoo and duck pond, you get to what you REALLY came for: The Polar Caves. Don't expect caverns with stalagmites and stalactites: These series of haphazard boulders that seemed to have fallen hundreds of feet off the adjacent granite cliff (but are actually remnants from the last glacier) are arranged in such a way as to create the nooks and crannies perfect for squeezing through, up and around. Though it helps to be a contortionist (or a kid) to get through some of these dozen passages that exhale cool air throughout the year (thus the name), parents and even grandparents in good shape love it, too.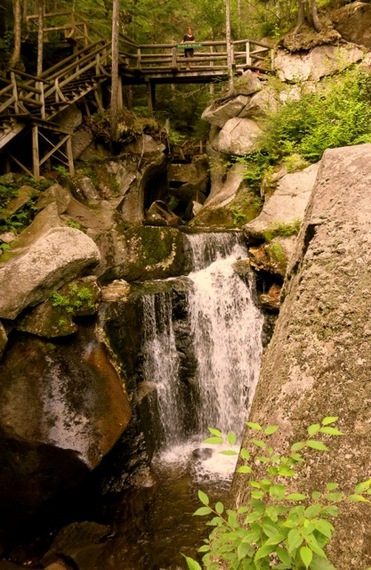 10. Lost River Gorge and Boulder Caves, N. Woodstock. Combining elements of The Flume and Polar Caves, this attraction's claim to fame is its intricately designed and wrought wooden stairways and boardwalks that weave in and around boulder caves throughout a narrow gorge. In many cases, you'll hear the river, but not see it, hence the "Lost River" moniker. A fun way to get your dose of exercise and nature.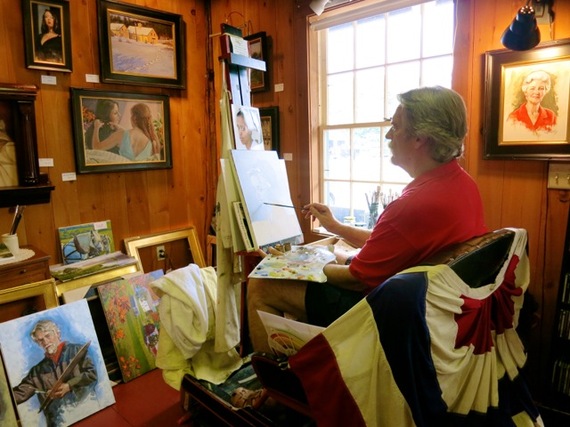 11. Bath NH. This tiny town is home to several terrific spots including "America's Oldest General Store" - the 1790 Brick Store where you'll find 'Bacon Fudge Pops" for $2.59, and Brick Store Sodas. Next door, though At The Hop 50's Ice Cream Shop sells commercially made Hershey's Ice Cream, the décor is absolutely one of a kind. Walk in just to see every inch of wall and ceiling blanketed by 45's, posters and other memorabilia. One shop down, at the American Heritage Gallery of Art, you'll find portrait and landscape artist, Craig Pursely, at his easel inside a buggy without wheels. He paints five days a week (often working from photographs), and closes after foliage season when "there's no heat, no insulation and no tourists."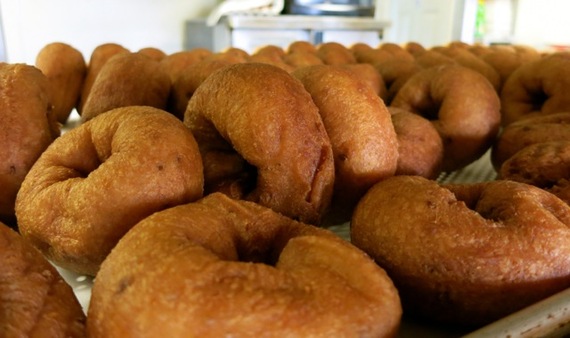 12. Windy Ridge Orchard and Cider House Café/ 7 Birches Winery, North Haverhill. Far from town, this windy hilltop spot, formerly just an apple orchard, now features a cute Café and Tasting Room for homemade Apple and Blueberry Wines (under the 7 Birches name). A family destination as well (with outdoor playground), you can munch on great cider donuts, pick your own apples and blueberries, taste fruit and more traditional wines in a lovely tasting room, and pick up apples ($6.50 half peck), wine, honey, books, homemade peanut butter and local crafts in the gift shop. In the winter, Windy Ridge morphs into a Christmas Tree Farm.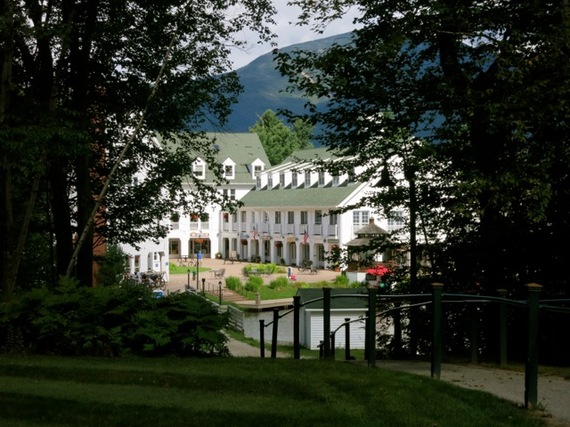 13. Waterville Valley. Waterville Valley's Town Square is like Pleasantville with winter sports. And stargazing. The married co-authors of Curious George, Margaret and Hans Rey, summered in Waterville Valley specifically for the dark skies, and left their mark on the town. Is Waterville Valley a town? Is it a ski resort? Well, actually, it's both, and though recently run by a corporate entity, when the resort lost a bit of its close-knit, family owned flavor, lately, Chris Sununu (son of NH Governor and H.W. Bush's Chief of Staff, John) and other locals have pooled resources to buy much of Waterville Valley and are bringing back the family-friendly, low key New Hampshire vibe. There are plenty of places to stay, and you don't need a car, but you will need it if you plan to explore the rest of the White Mountains with Waterville Valley as your base.
EASTERN WHITE MOUNTAINS NH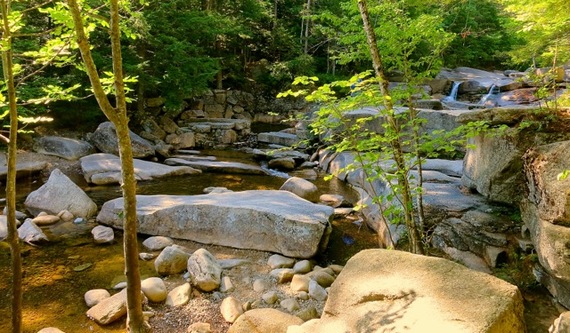 14. Diana's Bath, Bartlett (near N. Conway). Walk 1.2 miles round trip to a series of cascading pools of water. Utterly enchanting. On weekends in the summer, bring your bathing suit and be prepared for crowds - you'll be far from alone.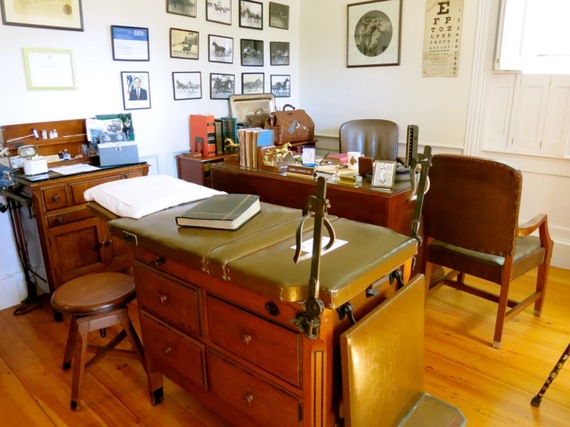 15. Remick Country Doctor Museum and Farm, Tamworth - This modest, unassuming farm, illuminating the lives of modest, unassuming, dedicated, beloved father and son country doctors, should be on everyone's White Mountain "To-See" list. Edwin Remick (1866-1935) and Edwin Crafts Remick (1903-1993), saw to this farming community for a total of 99 years between them. For most of that time, the Remick's were the only physicians in Tamworth, until the death of "Younger Remick," at age 90, in 1993. Remick donated his home, his father's home, and the farm as a museum so that future generations would know what the life of a country doctor was like in the 20th century - a most fascinating and stereotype-busting exploration. A tour includes the doctors' small and compact office as it looked in 1993, with Edwin Crafts Remick's diploma from Tufts University Medical School still hanging on the wall. Plan to spend at least two hours here, exploring the farm, the Remick homes, offices and milk barns. Then, take a stroll through tiny Tamworth itself, where you'll find the 1931 Barnstormers Summer Stock Theater (still operating) - and the brand new Tamworth Distillery.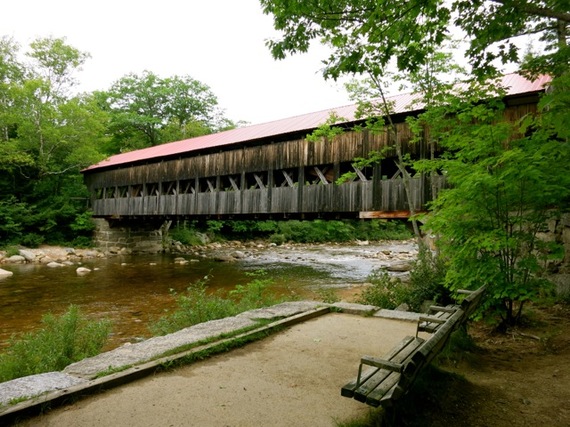 16. Kancamagus Highway. Opened in 1958, this 32 ½ mile long East-West Federally Designated Scenic Byway from Conway to Lincoln is replete with natural and man made features including the Albany Covered Bridge - a lovely wooden bridge over the clear Swift River, the Lower Falls - great for flume riding on hot days - and plenty of scenic overviews.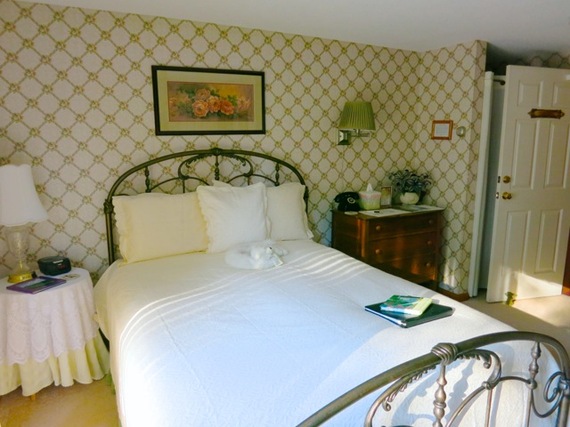 17. Inn at Ellis River, Jackson. Homey, cozy and country-cute, the Inn at Ellis River may not top some of the review charts, but tell that to guests who rave about the place and keep coming back. Part of the reason is the setting -right on a stone-dappled river. Partly its because the owners, John and Mary Kendzierski, who purchased the 22-room inn in early 2015 after staying here multiple times over the last 18 years, have put heart and soul in running it. There's no denying that the spotless rooms with wrought iron or carved beds, an inviting swimming pool, billiards room with full bar, and John's fresh-baked scones, croissants and featured hot dishes delivered with a friendly smile each morning create a nurturing, cocooning atmosphere.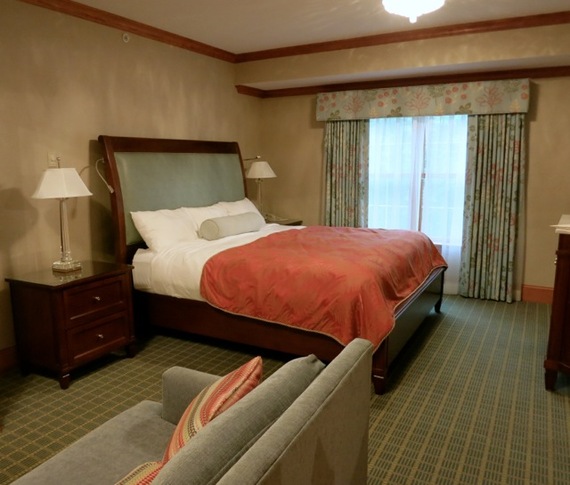 18. The Wentworth, Jackson. This 61 room in-town inn, considered a "Mini-Grand Hotel" is "country" of a different sort - more French Provincial than American cute. Renovated in 1991 by Swiss-born Fritz Koeppel to elegant effect, redone Deluxe Rooms sport a streamlined mint green/deep red pallet with new mattresses, fireplace, huge flat screen TV's, marble bath, steam shower and private hot tubs. "It's all about the guest experience, the owners have spared no expense."