Sometimes you're the giver, sometimes you're the taker. Mother Nature's smack downs do not discriminate between the filthy rich and dirt poor. Hurricanes are equal opportunity destroyers. The hooked-in have escape hatches when forewarned; a home on higher ground, friends with light and heat, funds for an extended hotel stay. But the rest stay put, through the cold, wet, and fear.
If you're flying into JFK Airport and peer out your window on descent, you'll see slivers of sand that look like barrier islands. These communities constitute "The Rockaways" and about 130 miles as the crow flies from Sandy's landfall, Atlantic City, N.J., The Rockaways, along with all Atlantic Oceanfront towns in New York, saw a surge of water, 15 feet high, that crumbled decades-old boardwalks like wafers and white-capped into living rooms, kitchens, surf-shops and Church auditoriums. Large boats floated onto main causeways, cars filled with mud, and everyone lost power.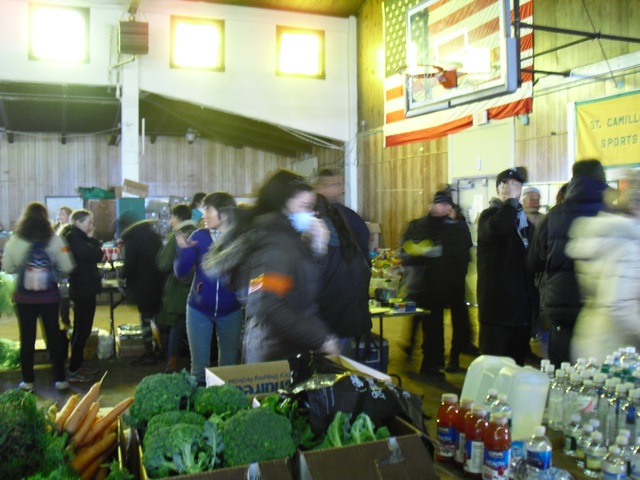 A week after the waters from Sandy receded, I joined a growing group of people who at first felt powerless (in every sense of the word -- my own home in CT lost power for a week), but then organized to help in any way we could. In my own community, JCC Center Women coordinators, Sheri Jacobson and Rachel Leslie, quickly ascertained needs in the hardest-hit communities, got the word out via social media, collected six vans full of cleaning supplies, batteries, paper towels, fresh fruit, and more, then dispatched three teams to the Rockaways and three to Staten Island to pre-arranged drop off points.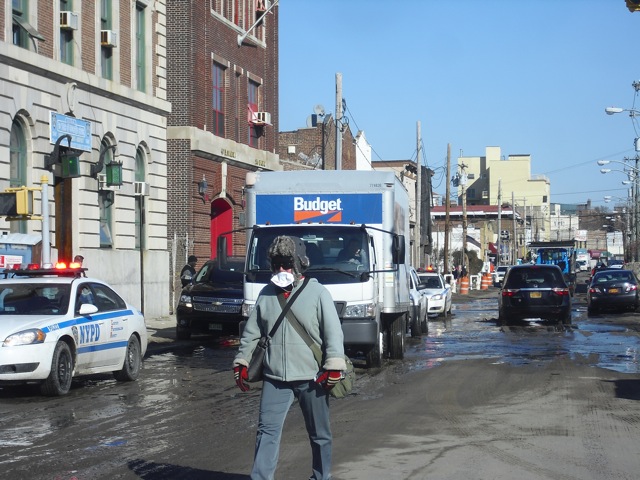 In the process, I took these photos, which show, even 10 days post-Sandy, that much has been done, but much needs to be done. Our drop-off point was St. Camillus Church on 99th St. one block from the beach in Far Rockaway. A mid-day crowd had already gathered to pick up donated food and supplies.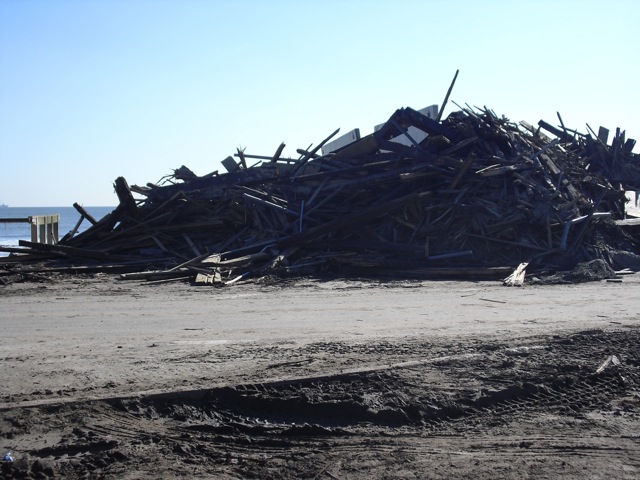 Right after I snapped this picture, a strapping guy wearing a FDNY jacket came out of his house and asked, "Like my sign?" I asked if he still felt abandoned. He told me that he put the sign by the boat last Wed. - the day after the hurricane finally vamoosed, and it had done the trick. Help came that night. Why is the sign still up? "Someone keeps putting it back!"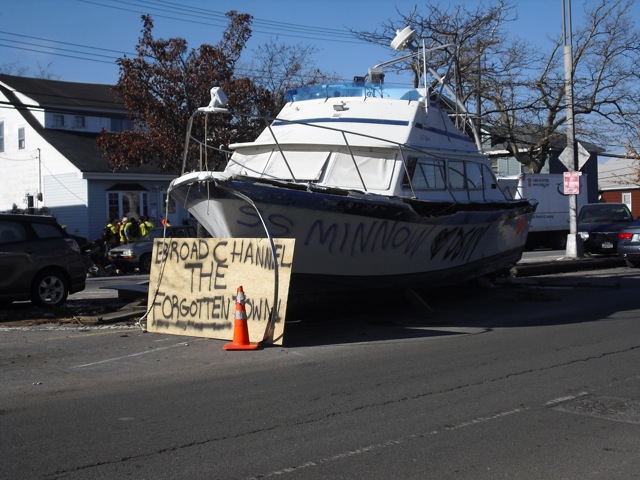 It is obvious that locals are thankful for the help.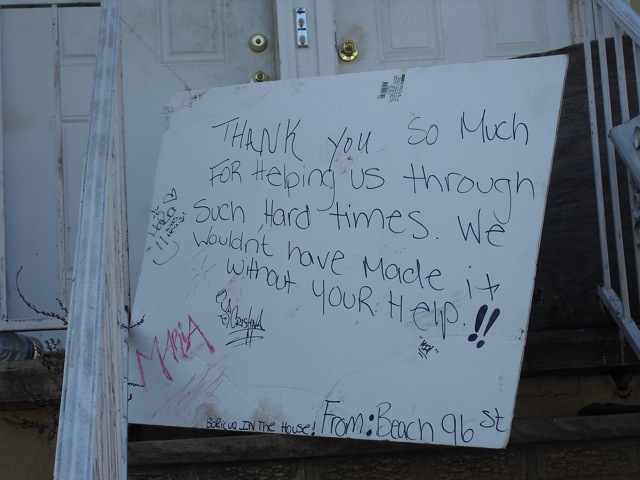 The Rockaway Waterfont Alliance at Camilllus Parish, 99-15 Rockaway Beach Blvd. is collecting masks, rubber boots, water, batteries, diapers, wipes, cleaning supplies, trash bags, food and "anything that produces heat." Contact them at (718) 634- 8229.