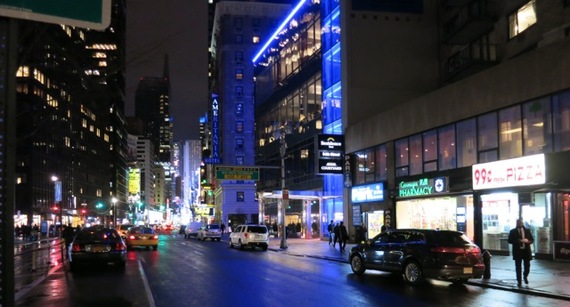 The slice of New York City from Central Park to Times Square down 7th Avenue, and then up Broadway to Lincoln Center, is undergoing the kind of hotel resurgence not seen in decades. Encompassing Carnegie Hall, The Ed Sullivan Theater -- where David Letterman tapes The Late Show in front of a live audience -- along with Broadway shows and Central Park horse and carriage rides, this slim district of Manhattan was just crying out for new and improved accommodations.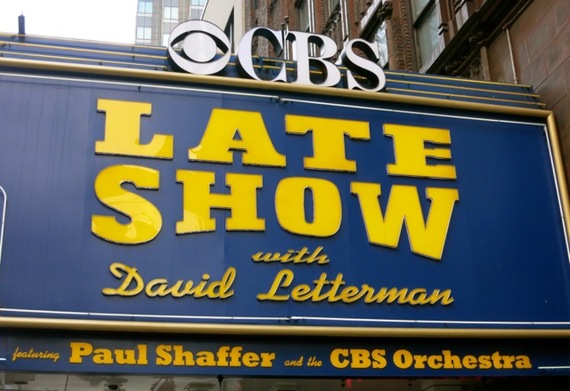 And they all seem to have arrived at once.
Taking its cue from midtown skyscrapers, Marriott has erected the tallest hotel in the United States -- a 68-floor Courtyard/Residence Inn by Marriott on Broadway and 54th St. (though, astonishingly, at a vertigo-inducing 750 feet height, the Marriott is still more than one thousand feet shorter than the new World Trade Center at the foot of Manhattan). Rooms start at $199/night.
On the other end of the Marriott spectrum, its high-end brand, JW Marriott, assumed ownership of the iconic Essex House right on Central Park South and 7th after a Dubai investment group sunk $90 million in renovations in the late 'aughts. Rooms from $249/night.
"Lifestyle" boutique hotels like the currently scaffolded Dream on 55th, and recently renovated Ameritania on 54th and Broadway are attempting to duplicate downtown cool in order to provide fashion-conscious tourists a place to stay within walking distance of The Book of Mormon, Kinky Boots and Dave.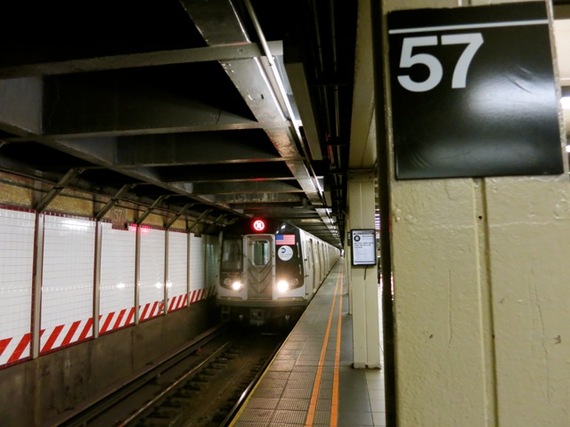 Among this crowd, two of the newest establishments -- one an intimate customer-is-king "home away from home," the other a splendiferously renovated Grand Dame hotel -- merit more than a cursory mention.
WestHouse Hotel, 201 W. 55th, NY, NY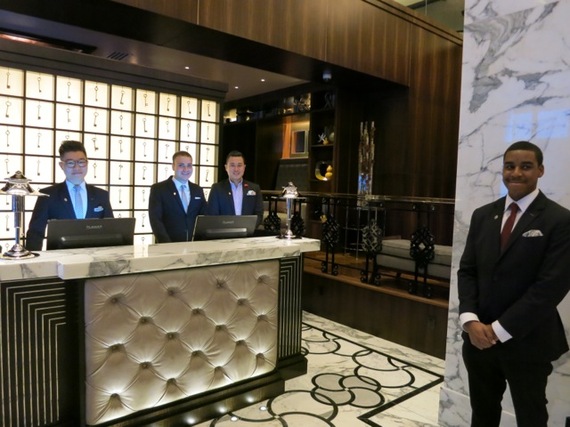 The WestHouse Hotel NYC extends a level of service and keen attention to detail rarely seen in hospitality today. The staff aim to make your stay here as satisfying as possible. Really. It's like walking into Bruce Wayne's mansion and having a bevy of Alfred's (and Alfreda's) at your beck and call. Inspired by a grand 1920s art deco townhouse and envisioned as a "home away from home," this member of Small Luxury Hotels of the World designed by Jeffrey Beers International, fills a particular niche -- that of the sophisticated traveler who craves exclusive, personalized service and is willing to pay for it. Exemplary service here goes beyond the passive "if there's anything I can do for you, just call" platitudes, and into the realm of mind reading.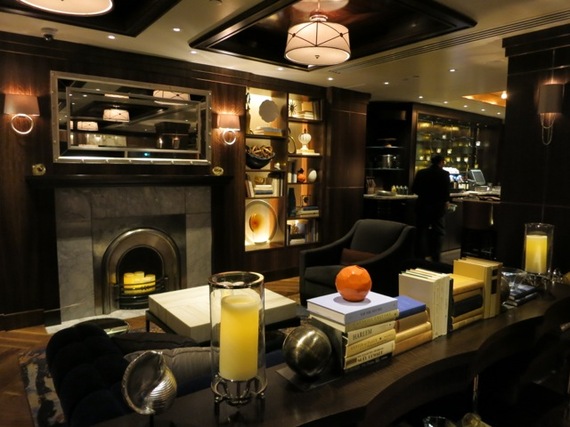 Step off the lobby into the espresso-hued "Den" -- designed to look like a comfy townhouse library -- and you may see a finely dressed luxury attaché discussing a private yacht charter or VIP entrance to Fashion Week in hushed tones with one of the guests. With rates from $375-$950 per night, the 172 room WestHouse fills the higher end of the market between budget and rarified $25,000 per night Plaza suites. An extra $30 per night "Amenities Fee," comparable to executive lounge privileges in a larger hotel, is a perk you can't pass up. The fee includes free room Wi-Fi, yogurt parfait, muffins and crisp croissants from Amy's Bread with French-press coffee each morning, afternoon tea and nibbles, evening wine, cheese and charcuterie, a selection of snacks in your room, as well as coffee, tea, water, soft drinks, beer and wine throughout the day. Given that in New York City, two glasses of wine alone will set you back $30, this is a rare deal. And the fact that it comes with fawning staff is, in this travel writer's estimation, a formula for success. Rooms and suites from $375/night
Park Central Hotel/Park Kitchen, 870 7th Ave. NY, NY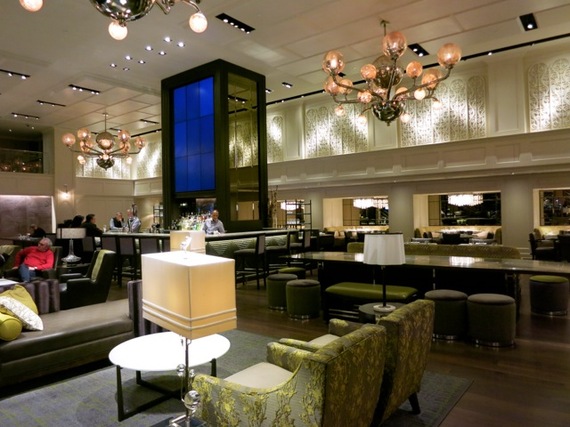 Once the New York City digs for Mae West, Jackie Gleason and Eleanor Roosevelt among other denizens of the media spotlight, the Park Central Hotel morphed into the New York Sheraton and Omni Park Central before reclaiming its name and allure in late 2013. Rooms have been updated in a modern gray palate, with plaid carpeting, judicious use of chrome, and artwork and photographs reflecting Manhattan in all of its moods. Bedding is appropriately divine and the lamps on side tables feature outlets for laptops and phones. Bathrooms are small but eye-catching with textured brick-red wall coverings, a vivid pop-art portrait, and large black and white shiny porcelain tiles (designed like piano keys in homage to Carnegie Hall, across the street). Though at first the marble lobby seems a bit stark, pass behind the reception area to find a soaring gathering space/bar/restaurant (Park Kitchen) - so aesthetically pleasing, it is sure to become a destination unto itself. Plenty of upholstered seating, a couple of wing-shaped communal tables with surface outlets (perfect for laptops), and four humungous chrome and Venetian glass orb chandeliers above: the space invites guests to read, talk, meet, eat and drink.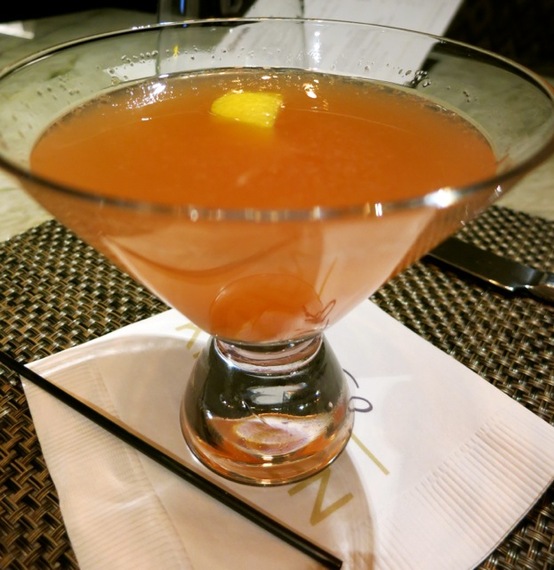 Nick Mautone, formerly of Gotham Bar and Grill, designed the increasingly popular City-centric cocktail list. Other establishments can have their 'tini's. When you drink at the Park Central Bar, you'll take Manhattan -- or at least one of five different versions, among a two-page catalog of creative concoctions.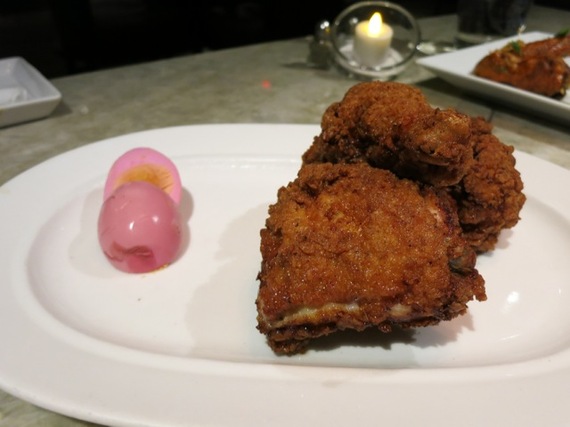 For sure, stay to have Chef Nate Eckhaus's incredible Fried Chicken at in-house Park Kitchen. Eckhaus, who did stints with Danny Meyer and in some of New York's most illustrious restaurants, sees to it that food is up to the standards of the space. Another signature, "PB&J" is actually "Pork Belly and Jelly," and his Burrata Cheese Heirloom Beet bruschetta-like appetizer is a knockout. Eckhaus calls his cuisine "comfort food with thought behind it," and not only is there thought, but also a great deal of competence and innovation. Park Kitchen may be a hotel restaurant, but at this rate, it's bound to be a destination restaurant as well.
Find out more about these hotels and others on GetawayMavens.com, a travel website that curates "the best Offbeat Escapes in the Northeast."