Ask an out-of-towner about the most romantic spot in New Haven, Connecticut at night, and she might reply: "At home, with the locks firmly bolted."
This is the perception many people have about the Home of Yale University and it is remarkably untrue. Sure, there are some seedy areas and folks who don't fit the J. Crew profile, but New Haven, with a spirit of public-mindedness unmatched by other cities, has been reemerging as a culinary wonderland, a cultural center, breeding ground for new theater, a hotbed of cross-promotion, and one of only a few places in the world where you can stand within inches of an intact Guttenberg Bible; all within a very compact and walkable downtown.
And, oh yeah, there's Yale, too.
The most romantic spot in New Haven at night? It's got to be John Davenports - on the 19th floor of the upscale Omni Hotel - with a 360-degree view of the first planned grid city in the nation. It's a great spot to "pop the question," and a Yalie wedding venue, according to staff. Stay overnight, and Davenports is a sun-washed showcase for the Omni's "Art of Breakfast," - a $22 buffet featuring artisan foods like Applewood Smoked Bacon, jams and breads from local vendors, and pastries from the brand new Gateway Community College Culinary Arts kitchens next door.
But the Omni is just following a trend in the New Haven restaurant scene, which has been on the forefront of food for decades. Louis' Lunch, opened in 1895 and still going strong, is purported to be the Birthplace of the Hamburger Sandwich. Many a New York and Connecticut resident has swooned over Pepe's signature thin-crust White Clam Pizza; Frank Pepe originated the "New Haven" style thin crust pie when he opened his first shop in 1925. Registered Nurse Claire Criscuolo, attempting to tackle a rise in diet-related heart disease and diabetes, opened one of the first vegetarian restaurants, Claire's Corner Copia, in 1975. Her motto; "We want people to know what real food tastes like."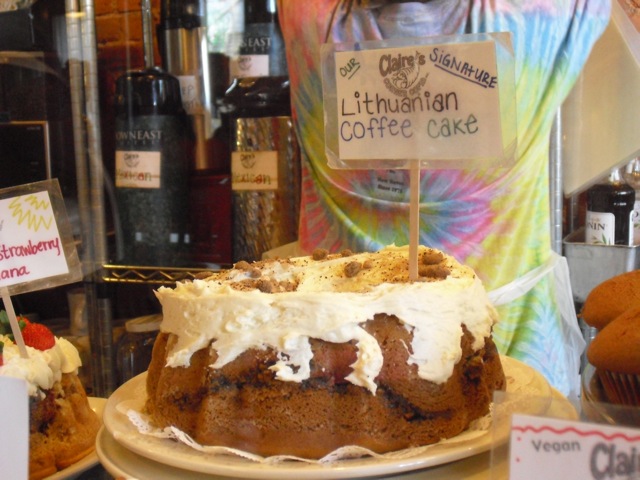 Like Louis' and Pepe's, Claire's has continued to be a mainstay of New Haven life, and year after year, new Yale students "discover it" for themselves. It's known as a low-key celebrity haunt. "Jodie Foster sat at that table in back and tried to sneak a cigarette," Claire said. "I politely told her no." Claire, leader of the Health Brigade, with her exuberance and ageless pixie face radiating goodness, has been a neighborhood advocate from the get go. She displays the work of local artists on Corner Copia walls and insists that 10% of each sale goes to charity. Several years ago, a guy named Elbie Powers, a pecan grower from North Carolina contacted her. "He told me his family business was failing because of NAFTA, and he wanted me to buy his nuts. I gave him a shot, had him send me samples, and they were the best pecans I've ever tasted!" Claire's been buying Power's nuts ever since. She gets her Black Walnut meat, used in her famous Lithuanian Coffee Cake, from a family farm in Missouri. "The shells are so tough, they're used by a sandblasting company," said Claire. "I love the fact that one hundred percent of the nut is used." Claire continues to make New Haven a better place. She's working on a new facility where her Chai and Mexican Hot Chocolate mixes will be made by locals just released from prison, to give them a chance when no-one else will. Claire is just that kind of person.
And Claire is not alone. New Haven is sinking money, time and space into reclaiming shattered buildings, creating business opportunities and generating new ideas.
Community and Business Initiatives
PROJECT STOREFRONTS; designed to address vacant spaces and "creatives with no place to work and no business background," fourteen individuals have gone through the program since 2010 with six already on their own. Applicants must do market research and understand budgeting before applying. Project Storefronts offers free rent and business training with the goal of activating a space, then "getting kicked out" when a business takes off.
THE GROVE; A 4,000 sq. foot idea factory where a collaborative mix of "entrepreneurs, non-profits and change agents" brainstorm in a space designed for "co-working."
MAKE HAVEN; a storefront with tools, this club for engineers is "more than one person can do as a hobbyist." Part of a growing "Maker Movement," inventors come here to share ideas, experiment, create community and put cast-off machinery to use. Cool tools include a 3D printer and Laser-cutter.
It's an exciting time to visit, and if you spend a couple of days in New Haven, here's what to do:
See
Yale University; Take the entertaining tour, and you may want to go back to college again. Rub the bronzed foot of Theodore Woolsey, President of Yale in the mid-1800's. It's purported to bring good luck (though an undergrad I know exclaimed, "Do you know how many guys pee on that thing?" Bring anti-bacterial gel). The circulation desk sits in the alter space and research areas are located in the naves of the cathedral-like Sterling Library. Within its church-like buildings, Yale has the largest collection of secular stained glass in the world. And what about that seemingly out-of-place boxy Beinecke Rare Book and Manuscript Library? Those of a certain age will realize that the building is designed to look like S&H Greenstamps. The S&H owners endowed the building with fortunes made from their giveaway program. During the day, the 1 ½ " thick marble "windows" cast an orange glow on one of the 21 remaining intact Guttenberg Bibles in the world, and on a full hand-painted collection of Audubon's Birds of Prey. Also inside, an early 1900's letter from the Notre Dame football coach to the Yale football coach inquiring about the rules of the newfangled game.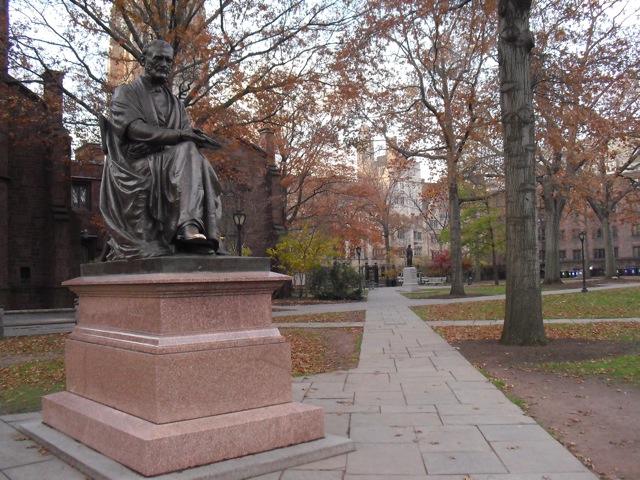 Fine art aficionados shouldn't miss extensive and accessible collections at both the Yale Center for British Art and the Yale University Art Gallery; housed in iconic Louis Kahn designed buildings, both free to enter.
Pay your respects to Eli Whitney and Noah Webster at the Grove St. Cemetery which harks back to 1796, and while prayer is in your heart, head to the Knights of Columbus Museum to trace the history of the largest lay Catholic organization in the world, which began in a New Haven basement.
Catch a Play
Built in 1914, The Shubert Theater was the preeminent "tryout house" for some of the most legendary stage productions of all time; including Oklahoma, the Sound of Music and Carousel. You can take a tour, or catch a traveling Broadway show.
Yale Repertory Theatre; Meryl Streep and Sigourney Weaver got their start in this theater where students, writers and set-designers from Yale's Graduate School of Drama take creative risks that other more commercial playhouses might shun. Coming up, Paul Giamatti returns in March 2013 as Hamlet. A little known fact; his father, A. Bartlett Giamatti, served as Yale President from 1978-1986.
Long Wharf Theater; Located in a food terminal, this hidden gem has premiered Pulitzer Prize winning plays (Wit, Shadowbox, Gin Game) and featured Al Pacino in one of the first productions of American Buffalo in 1980. Kathleen Turner is currently directing and starring in The Killing of Sister George.
Eat
There are dozens of great restaurants in New Haven. Here are a few that have stood the test of time:
Claire's Corner Copia; so popular for lunch, the queue out the door looks like a breadline. You may be encouraged to sample a new recipe, but whatever you do, don't leave until you've had the incredible signature Lithuanian Coffee Cake.
Miya's Sushi; A mastermind of sushi concoctions, Bun Lai is as much a performance artist as cutting-edge chef. He churns out inventively named dishes like "Hot-Headed Cowgirl Roll" and "Ride The Wild Donkey" - lobster, mango, apricots, brie wrapped in sushi rice. If you dare, ask for the "Invasive Species Menu."
Atticus Bookstore; The perfect place to sit, sip, snack and study. An independent bookstore/coffee house, for a couple of bucks you can enjoy a huge muffin or scone then peruse an esoteric array of books
Stay
Omini Hotel; 306 newly renovated rooms in earth tones, traditional furniture and incorporating Yale students art work on walls. The owner of Omni chain also owns Gold's Gym and so the hotel's fitness center is better than most. One big perk - your wrinkled clothing is pressed for free.
Study At Yale; the only boutique hotel on the edge of the Yale Campus. Suites with cozy reading alcoves offer views over the tile roofs and chimney tops of the legendary Ivy League college.