Philadelphia's diverse neighborhoods have been the bastion of artisans and craftspeople since their very beginnings. In the early 1700s, immigrants sought their fortunes in the one colony that didn't require a tithe to the Church -- Pennsylvania. By 1740, Philadelphia was the largest city in the colonies -- an engine of industry. One German observer wrote in 1754: "Pennsylvania is heaven for farmers, paradise for artisans and hell for officials and preachers." This "paradise for artisans" has gone through a rebirth in recent years, revitalizing Philadelphia's flagging neighborhoods and bringing a distinctive creative energy to each.
Old City: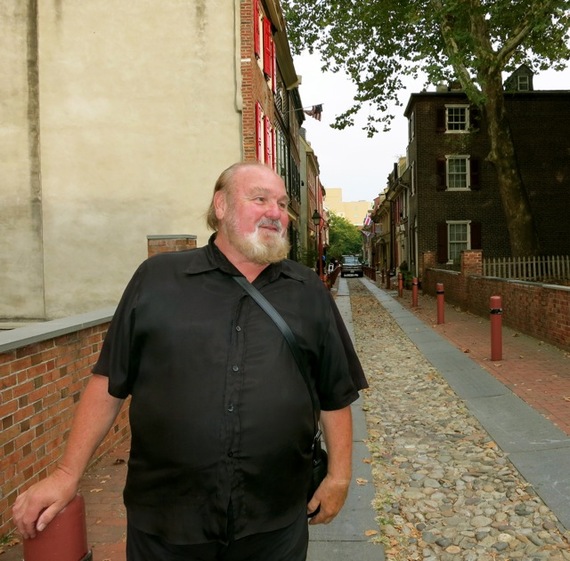 Built in 1702, Elfreth's Alley is known as "America's oldest residential street." Artisans, including a free African tailor, a Jewish furniture maker, German shoemakers, female dressmakers (Mary Smith and Sarah Milton) among others, lived side by side in 32 tiny homes that also served as shops, sales rooms and studios. Spend an hour or so with loquacious Ed Mauger, President of Elfreth's Ally Association for an illuminating tour of the street where Ben Franklin's innovations still remain in use. Tours are five dollars, and they run at noon and 3 p.m., April through December, on Tuesdays through Saturdays at 10 a.m to 5 p.m. and Sundays at 12 p.m. to 5 p.m.
Be A Maker:
Create your own "Narrative Vessel," or other wooden crafts at The Center for Art In Wood -- a museum-cum-workshop. Even if you don't sign up for a four hour, hands-on class, stop in to admire the sensual works of art. Or throw your own pot at The Clay Studio, which offers Saturday clinics and the occasional Friday Night Date Nights with wine and beer, where you can reenact the sexy pot-throwing scene from Ghost -- if only in your head.
Port Richmond Neighborhood: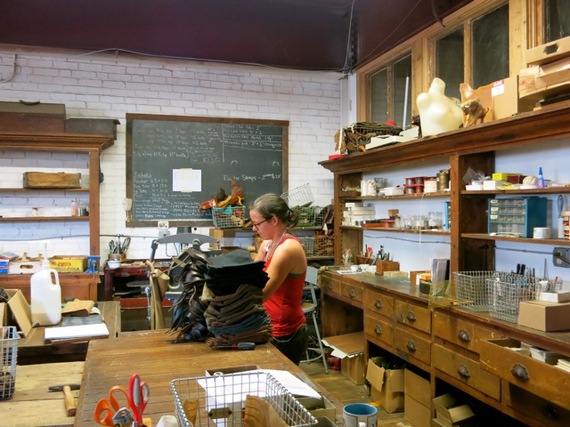 Formerly a Polish immigrant neighborhood, Port Richmond is home to an increasing number of "makers" who have turned warehouses into workshops and studios. Walter and Margaux Kent, a competent and visionary young couple, turned an old coffin factory into base of operation for Peg and Awl, a "repurpose/reuse" home-goods and gift manufacturing company.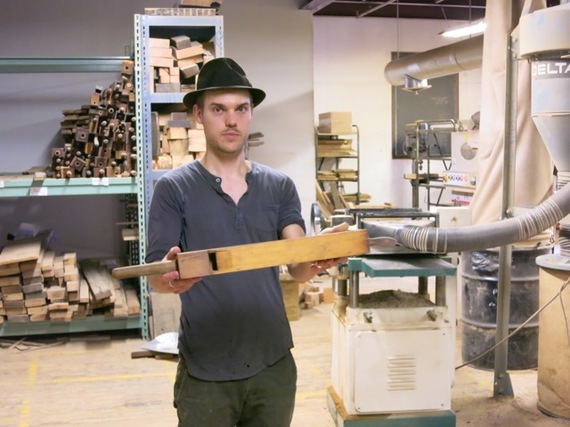 The Kents, who love the "creepy aspect of the building," employ nine craftspeople to dismantle, cut, sew, hammer, weld, solder and otherwise "upcycle" functional wares by hand. WWII gun slings become wax canvas bags, wooden church pipe organs morph into knife racks, reclaimed barn walls form seats for tree swings. "Sometimes we think of something and go on scavenger hunts to find materials for it. Other times, we'll find stuff, and think of something to make out of it," says Walter.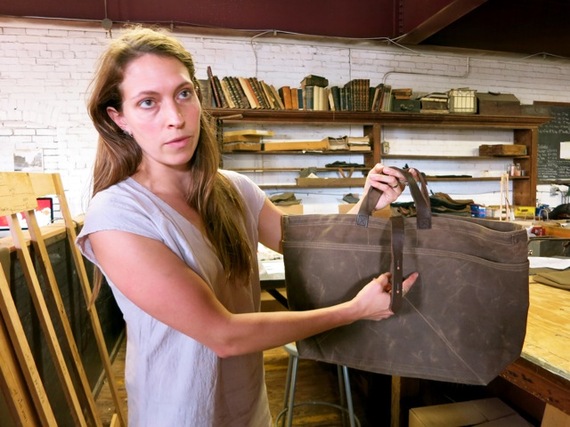 You'll find their jewelry, desk caddies, lunch bags, mini-blackboards, wooden iPad easels and leather-bound journals at Anthropology, Urban Outfitters, The Victoria and Albert Museum in London and in at least one, quirky-high-style Philly gift emporium -- Art in the Age of Mechanical Reproduction.
Graduate Hospital Neighborhood:
Tour, and then build something at NextFab. Founded in 2009, NextFab is a workshop on steroids, a for-profit, membership-based derivative of the FabLab movement. Proclaimed a "gym for innovators," this collaborative workspace and idea incubator is the nationally recognized premier facility of its kind in the Northeastern U.S., and is sure to be an adjunct to much-needed trade schools. For example, there are 250,000 welding jobs in America today that have gone unfilled due to a shortage of skilled workers. Co-operatives, like NextFab, stir interest in and prepare students for these types of technical careers.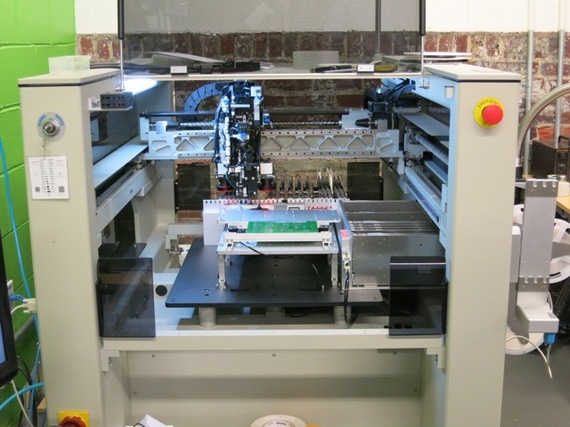 Currently, 300 members pay $1,300 per year to access two million dollars worth of machinery, and be surrounded by experts. On weekdays, the wood shop hums and stays open from 10 a.m. to 10 p.m. Members can purchase material or bring their own. You'll find ARTO, CAD, RINO and expensive software to operate machines for advanced manufacturing. There's a ventilated climate-controlled paint booth and a wet chemical lab. Upstairs, engineers consult and exchange ideas in a bright, sunlit area then help out members and visitors in an electronics lab, photo studio, 2D and 3D printing area, and with the only "pick and place" circuit-board machine for public use in the country. Creatives, like filmmaker Zach Robbin, came to NextFab with the objective of building a specific camera jib. "It costs one sixth the price of one already made, and I can customize it to my specifications," he says. "As a filmmaker, I know nothing about physics, but I can tap into this knowledgeable network for help. It's great."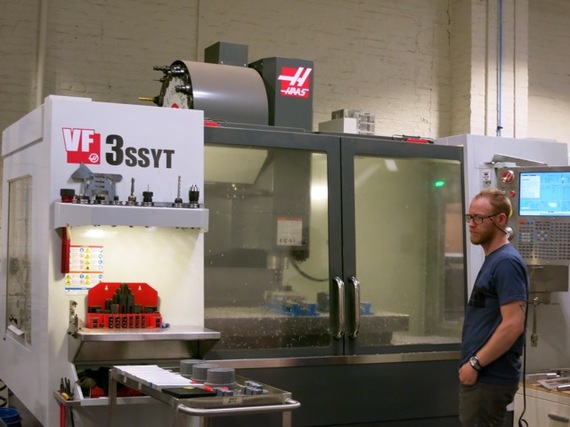 Glass artist, Kevin Huang, created templates for Asian-style chair kits that were used in an Asian Arts Initiative community-building project. In a neighborhood where homeless shelters sit next to luxury apartments, over 100 people came together to assemble and paint hundreds of chairs, then sat on them and ate a meal together. "It gave members of this conflicted neighborhood a platform for conversation," said Huang. Free one-hour tours are offered from 2 p.m. to 6 p.m. daily, and on weekdays or by appointment on Saturdays and Sundays.
Northern Liberties/Fishtown:
In 1682, William Penn offered free acres in the city of Philadelphia, as well as plots on the Northern outskirts of town with the purchase of large tracks of surrounding land. This free land became known as the Northern Liberties. Formerly the location of now-closed Schmidt's Beer, the neighborhood has been re-imagined as a place where people can live, work, shop and eat within a cozy few blocks, exuding a trendy European/founding fathers vibe.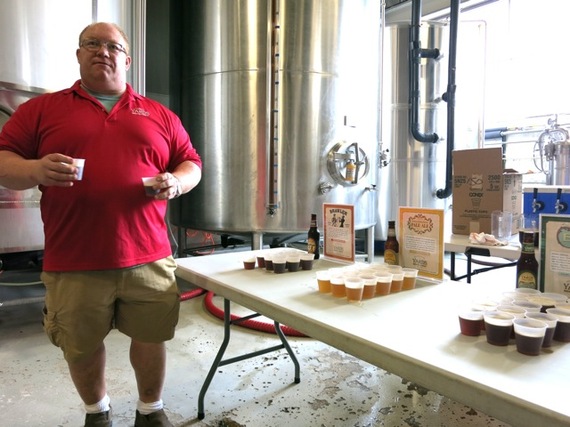 When discussing "makers," we can't leave out brewers. The owner of Yards Brewery, Tom Kehoe, is as innovative as his brews are awesome. "The good thing about the beer biz is that there are so many ways to have fun," he gushes. Kehoe, who exuberantly plunges into projects as a matter of course, asked NextFab members to compete in a Beer Tap Handle design contest and created Pynk: A Tart Berry Ale for Breast Cancer Awareness Month (one dollar per order is donated to research). Yard's "Ales of the Revolution," named for Washington, Jefferson and "Poor Richard" (Ben Franklin Ale already existed) were brewed following our founding fathers' own recipes from the 1700s.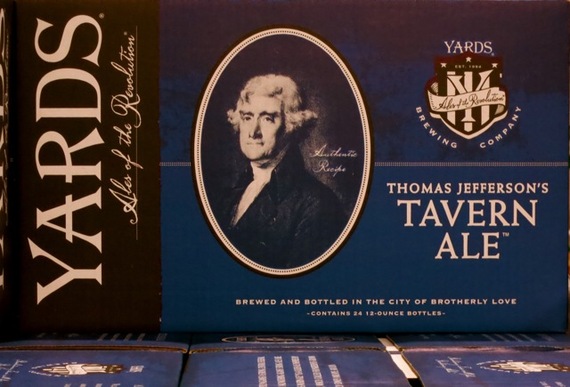 Environmentally conscious, Yard's tasting bar is a recycled bowling ally lane, used grain is sent to local buffalo farmers who in turn send bison meat for Yard's signature chili. From dark, but mild Brawler, to best seller citrusy Philadelphia Pale ale, to "sweeter than most" IPA, Yards turns out 37,000 barrels of beer per year. For now, distribution is concentrated in the mid-Atlantic, but the buzz is growing. Free 30 minute tours run Saturday and Sunday from noon to 4 p.m. -- you get three tastes. The tasting room is open daily, from noon to 7 p.m. Each week, a different food truck is stationed right outside the door, and Yards pairs truck-food with beer for an ultimate lunch, dinner and tasting experience.
You should also check out Palomar Hotel in Philly. Carved out of the former 1929 Art Deco Architects Building (which housed office space for Frank Lloyd Wright among other prominent architects), The Palomar Hotel is Ben Franklin chic. Busts of our country's witty founder in lime green and watermelon pink, greet you at the graffiti-back-splashed reception area. Ask for a walking tour brochure of the hotel, and discover its history and design secrets. Begin in the lobby to gaze on a model of the Hotel crafted out of architectural blueprints. Bronze eagle reliefs on elevator doors are original to the building as are the brilliantly hued Art Deco tile mosaics, covering the second floor foyer. And, of course, you'll find unique contemporary art work throughout.