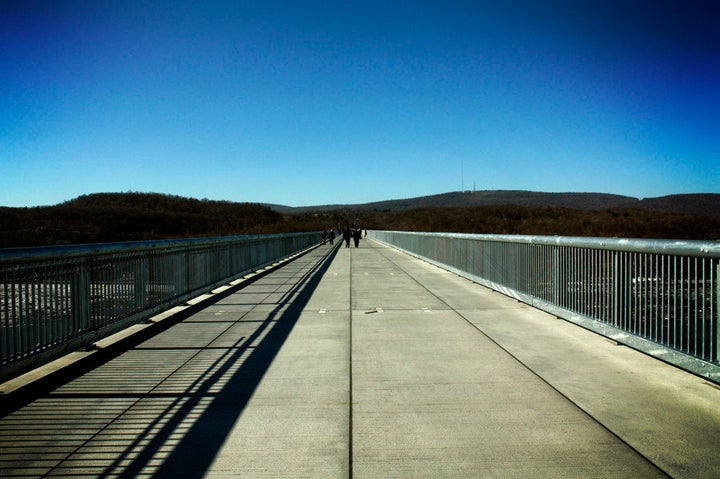 Poughkeepsie has never exactly been a tourist hot spot. This industrial town on the Hudson has seen its share of booms and busts; though lately, mostly busts.
All that is changing, though, thanks to one bridge, a former railroad span crossing the Hudson River that at 1.3 miles long has earned the distinction of being the "longest elevated pedestrian park in the world." For those record-loving travelers who make pilgrimages to the Biggest, Best and Longest worldwide, Poughkeepsie has become a destination.
Here's how to spend your day;
Light Lunch In Town
Begin 80 miles north of New York City in downtown Poughkeepsie, which, like many down-at-heels towns along the Hudson River, is going through an ambitious revitalization. While many storefronts are dusty, empty or shattered, other spaces are coming back to life, driven by graduates of nearby Culinary Institute of America who are seeking underserved, cheap locations to launch a career.
For lunch, try Brasserie 292, a bit of Left Bank on the right bank of the Hudson. Black and white floor, burgundy leather banquets, and gleaming white subway tiled walls imparts a bistro in Pari effect, and the knockout French Onion Soup cements it. Chunks of caramelized onions sweeten broth made gooey rich by a cap of melted Gruyere; this is in my estimation the best French Onion Soup I've ever had. Anywhere. In the world. It's all the fortification you will need before ONE AMAZING STROLL on the Walkway Over the Hudson.
Best Parking Lot
Drive to 61 Parker Ave., pay $5 to park, and begin walking west on a paved pathway. If it's a beautiful day, you will be joining hundreds of others doing the same thing.
Prepare To Stroll 212 feet Over A Historic River
The 1.28 mile Walkway Over the Hudson State Historic Park was once the steel Poughkeepsie-Highland Railroad Bridge that from 1888 to 1974 bore the weight of up to 3,500 freight cars a day. A dominant force in linking western raw materials with eastern industrial centers, the bridge fell into decline after a fire nearly destroyed it in 1974. Transformed into a public park in Fall 2009, the bridge hovers 212 feet above the Hudson River and draws thousands of hikers, dog-walkers, new parents pushing strollers and tourists each year.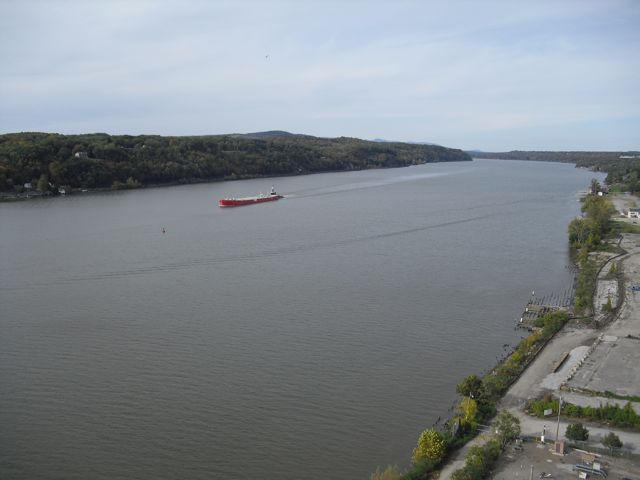 Before crossing the water, the bridge towers over crumbling neighborhoods where green mesh "privacy screening" protects some homes from prying eyes. Snappers of odd photos will want to look for this small sign on the eastern end of the bridge; "In memory of Robert J. Lay who passed away July 2nd, 2010 on the walkway." A bit of research uncovered that Lay, who was in his 70's, was a local advocate of the walkway, though if anyone has more information, I'd love to include it.
Views up and down the Hudson River from the bridge are what you'd expect from a river valley that launched a whole school of art; magnificent. Your pace will be slow, as you'll most likely wish to take pictures every few steps, especially if freighters are gliding towards or under you. Though there are other bridges where pedestrians can cross the Hudson River, this one is unique in that you are not sharing the crossing with noisy cars or trains. The only sounds you will hear are of the wind and excited conversations. If you are a habitual eavesdropper, the Walkway Over the Hudson is nirvana.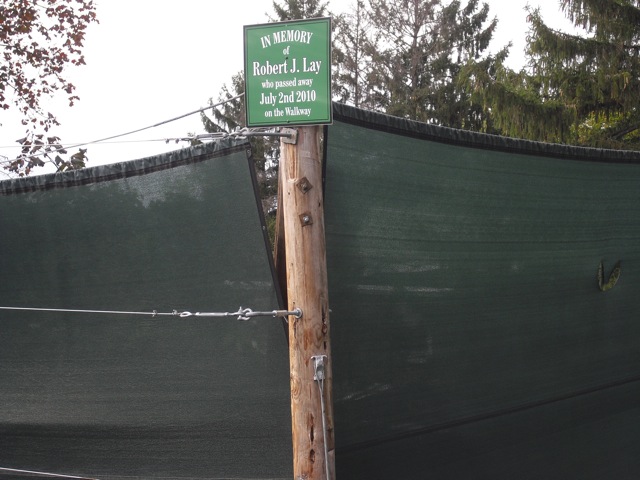 End With Small Bites and A Glass of Wine at an Upscale Restaurant Under the Walkway
If you pace it correctly, you'll walk across the river and back in time to descend the first set of stairs to Washington Street. At the foot of these stairs, you'll find two terrific restaurants; Lola (a casual sandwich shop that closes at 4pm), and Crave - a cozy, upscale, votive-lit restaurant that just so happens to open at 4pm. Crave is the perfect place to sip a glass of Merlot and graze on goat-cheese stuffed mission figs or other inventive small or large farm-to-table bites while contemplating the beautiful treasure at Poughkeepsie's door.
Sure, Poughkeepsie has a long way to go, but I love catching a small city in an early stage of Renaissance rather than after it's become a full-blown tourist trap. Stumbling on a Parisian-style bistro in the midst of crumbling buildings or a candlelit cafᅢᄅ beneath a railroad overpass is what serendipitous travelers live for.