In the late 1980's, while weekending in New Hope, PA, I ducked into the main street door of a tarot card reader on a whim. Most of what she told me is long forgotten. But then she offered to answer my most pressing question.
"Will I ever have children?" I asked, because my husband and I had been trying for years and I was sad and frustrated and really believed that it would never happen.
The Tarot expert turned over a couple of cards and remarked, "I see two boys sitting on your lap."
Four years later, my two sons, born twenty months apart, were sitting on my lap.
Sure, it's entirely coincidental, because who really believes in such things? But still...
There's something about New Hope, and about the mojo of Central Bucks County in general, that lends itself to magical, powerful, creative thinking. George Washington felt it. Henry Mercer felt it. James Michener felt it.
Come for a few days, and you may just feel it, too.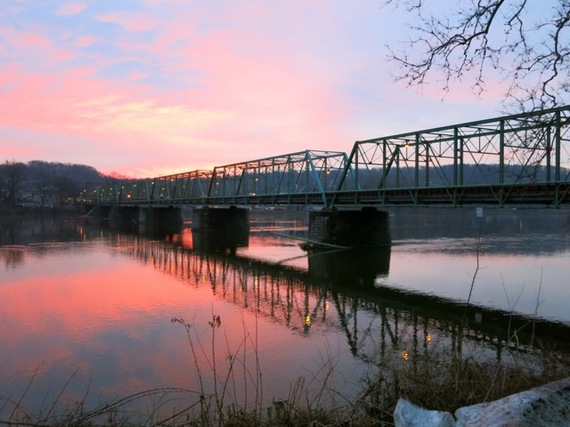 Six Great Attractions in Central Bucks County
Henry Mercer, born in Doylestown in 1856, was an artist, archeologist, writer and lawyer. He loved medieval castles, extensive cave systems, Irish fiddle music, and the arts and crafts movement and apparently hated the way fires consumed homes and buildings of the time. So, before the advent of cement mixers, Mercer combined all of his loves and fears and built three free-form concrete structures you can still see today.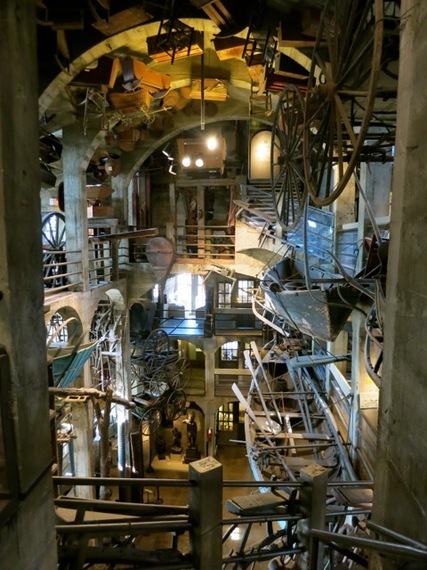 Fonthill. As Mercer's primary residence, he adorned the stark grey walls with "Storytelling" Moravian Tiles: colorful 3-D relief, sculptural clay creations that depict biblical tales, discovery of the New World and motifs of nature and ordinary life set right into the concrete. A man of the world, he collected tiles from all ages and foreign lands, including Deft from the Netherlands, Damascus tiles in Arabic installed upside-down, Chinese roof tiles, Persian tiles and four Babylonian cuneiforms - Temple receipts for sheep and goats- from 2100 BCE that Mercer purchased for $79. Take the one-hour trek on labyrinthine pathways through the home to see Hobbit-like guest rooms, Mercer's art-studio/sun flooded library, and some of the 32 curving staircases. Moravian Tile Works. Tour Fonthill then see how those great Arts and Crafts tiles were made by hand. Afterwards, buy a few - or more if you plan to decorate your home a la Mercer. Mercer Museum. Opened in 1916, this was the third concrete structure built by Henry Mercer strictly to house his collection of 40,000 pre-industrial artifacts. Thousands of tools, representing sixty crafts and trades, either hang from six floors of walkways or are crammed into display cases: boats, plows, stove plates, antique buckets, wagons, musical instruments, and a 9-ft high hangman's gallows on the 7th floor, used to execute a murderer in 1914.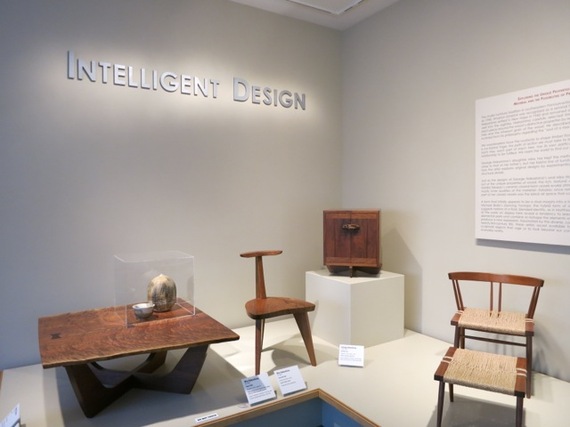 James Michener Art Museum. The man who wrote Hawaii, The Source, Alaska and others had roots in Bucks County, though dirt poor ones and despite that, collected art even as a child. When the Bucks County Prison closed in 1984, and a movement was afoot to repurpose it as a world-class art museum, Michener was pressed to lend his name as fundraising draw. Now considered "The Art & Soul of Bucks County," the Michener Museum features the largest collection of Pennsylvania impressionists, thanks to a donation of 68 paintings from Gerry and Margaurite Lenfest in 1999. In addition to paintings, the Michener showcases some of the most unusual modern and Japanese furniture in open, floodlit galleries. One exhibit is devoted to the "Father of American Craft" movement, American-Japanese furniture designer, George Nakashima whose beautiful organic grained wood pieces are absolutely captivating.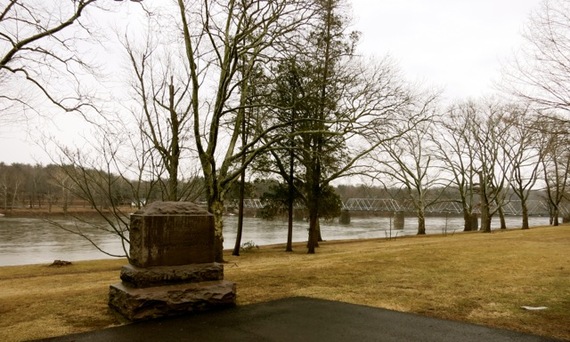 Washington Crossing Historic Park. "These are the times that try men's souls," wrote Thomas Paine, about the defeats and scarcities that George Washington and his Continental Army had experienced by the winter of 1776. Over 11,000 men had dwindled to 4,000 by the time Washington and his troops retreated to the Pennsylvania side of the Delaware River. But something spurred them on to action, and on Christmas Day 1776, Washington and 2,400 soldiers crossed the river, marched to Trenton, NJ and won the first of many victories. Remember that famous rendering of Washington Crossing the Delaware? Painted in 1840, it was never meant to be an actual snapshot of what happened on that fateful Christmas Day in 1776, but a symbol. Washington would not have been brandishing an American flag, which was commissioned six months later by the Continental Congress. Take the one-hour tour that begins in the newly expanded Visitor's Center then heads outside along the riverbank to learn about this and other particulars of that fateful night.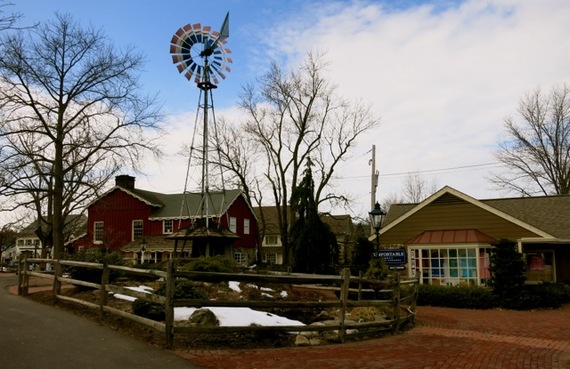 Peddler's Village, Lahaska In 1962, local farmer Earl Jamison, inspired by Disneyland and Carmel in California, converted a set of chicken coops into the Cock and Bull Pub and since then, his Village has spread to 42 acres, with 70 shops and restaurants and one inn, the Golden Plough (now undergoing renovations). Earl did much of the landscaping and brickwork and though he passed away in 2002, Peddler's Village is still family owned and operated. Annual Festivals like Apple in November, Strawberry in May bring in locals and guests by the thousands. You can pick up a fun Ceramic Heart ($30-$36) at Artisans Gallery, infused olive oil at Casa Casale Italian Shop, and monogrammed toilet paper ($7.95) and decorative home hardware at Knobs and Knockers.
Best Places to Eat in Central Bucks County PA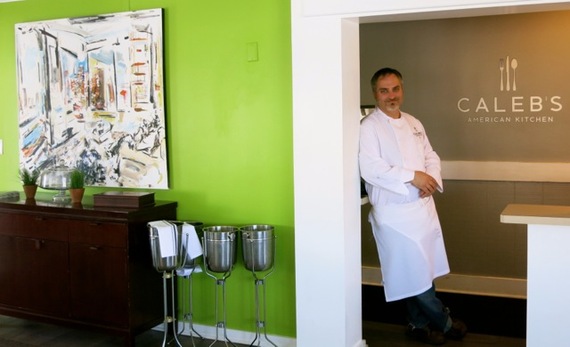 Caleb's American Kitchen, New Hope. Formerly top chef at Marsha Brown Restaurant, Caleb Lentchner just opened his own place to great acclaim, embracing "Regional American Cuisine" for a local clientele. Patrons are effusive in their praise of décor everything that comes from the kitchen. A departure from most traditional Bucks County eateries, walls of bright lime green are festooned with contemporary art, and circular lamps hang over grey tables and white chairs. Lentchner sources his raw ingredients from the best: olive oil from a "ranch in California," antelope from Texas, and tweaks dishes like New England Lobster Roll, scooping chunks of lobster on Brioche rather than hot-dog buns. "Big Salads" and a variety of burgers are $10-$13, dinner entrees in the $20-$27 range.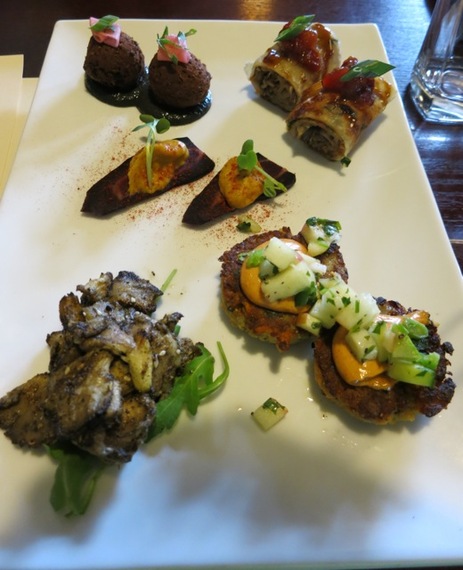 Sprig and Vine, New Hope. Over half of his patrons aren't vegan or even vegetarian, says chef/owner Ross Olchvary. The all-plant based food here is that good. Of course, the menu changes seasonally, but if available, go for Olchvary's Grilled Oyster Mushrooms ($9), Black-Eyed Pea Sweet Potato Griddle Cakes ($10), Green Onion Pancake Roll ($9), and a result of molecular gastronomy, the PB&J French Toast ($7) sprinkled with peanut butter powder that turns creamy in your mouth.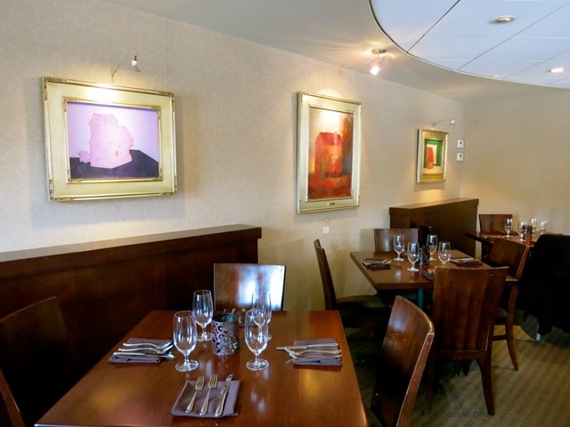 Earl's at Peddler's Village, Lahaska. Named in honor of its founder after his death, general manager David Zuckerman and chef Bill Murphy, lightened the design, purchased saturated color paintings from a neighboring artist (Al Lachman), and brought truffles and micro-greens to the table. A selection of 170 wines has won Earl's the Wine Spectator Award of Excellence six years running. Start with the first-rate Chop-Chop Salad ($8), spring for the 18oz Cowboy Steak ($42) or toothsome Bolton Farms Chicken with Truffled Polenta and Shaved Brussels Sprouts ($24).
Marsha Brown. Dine on Creole cuisine in a soaring 1800's former Presbyterian Church. The main floor was renovated in a funky whimsical way and upstairs it's all soaring, arched ceiling, white linen and crystal dining. Gumbo Ya Ya Soup ($5, $8), Eggplant Ophelia- shrimp and crabmeat topped with grilled eggplant ($15) and Po' Boys join steaks and chops as signature items.
Great New Hope, PA Inns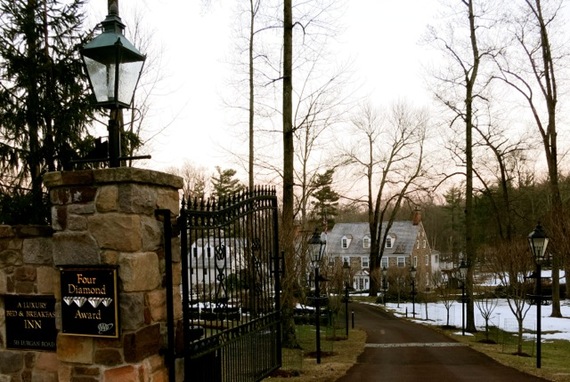 Inn at Bowman's Hill. "Coming through the gates of our property," says Mike Amery, owner of Inn at Bowman's Hill, "is like entering another world." A Four Diamond lodging, it's no surprise that even locals book the extravagant eight rooms and suites for special occasions, or just to hang out by the mist-sprayed pool. Two new suites decorated in early Lord and Lady of the Manor are larger than most New York City apartments. Enormous marble bathrooms sport double and triple glass rain-showers, golden fixtures and Jacuzzi bath. Newlyweds or hopeless romantics will want to stay in the Penthouse Suite, one of two multi-level chambers, this one with a very unique feature in the bathroom. Above the corner Jacuzzi is a trompe l'oeil twinkling-star night sky: the perfect accompaniment to champagne and chocolate dipped strawberries. Rooms ($405-$495) and suites ($505-$625) include multi-course gourmet breakfast (using straight-from-the-chicken eggs), free wi-fi, lots of snacks, bottled water, ice-cream by the pool and parking.
The 1870 Wedgwood Inn of New Hope: Carl and Nadine Glassman wrote How to Start and Run Your Own Inn, and operate the country's oldest apprenticeship program for aspiring innkeepers. So it's no surprise that the Glassman's own 18-room B&B, The 1870 Wedgwood Inn of New Hope, stands out in the business. Though common rooms sport all the cushy appointments of a Victorian B&B, you need not leave your room or suite (with double-Jacuzzi tub facing a fireplace) at all. Gourmet breakfast will be delivered right to your bed. And in the evening Carl's own home-brewed Almond Liqueur waits for you at bedside along with two shot glasses and chocolates. Rooms $95-$275 include breakfast, baked goods on arrival and Carl's famous Almond Liqueur.
Photos via Malerie Yolen-Cohen
You'll find more information about traveling to Bucks County and other destinations in the Northeast on GetawayMavens.com.