It's almost 1 a.m. on a Thursday night in March and Sally Struthers has us all in stitches. She's midway through an eight week stint in the musical 9 To 5 at the Riverside Center Dinner Theater in Fredericksburg, Virginia, and if this evening is any indication, Struthers is bawdier, more energetic and funnier than ever. She has enough steam in the wee hours, after an outrageous, physically demanding performance, to hold court at a small party in the basement of a local brew pub, send us into crying fits of laughter, and help clean up.
Struthers -- known to Boomers as Edith and Archie Bunker's daughter, Gloria, on All in the Family, to Gen X'ers as Babette on the Gilmore Girls, and to Millennials as the very unfairly drawn caricature of herself in South Park's Starvin' Marvin episodes -- is a staple on the regional theater circuit. This is her second time performing in Northern Virginia, and while temporarily living here, she's turned into quite the Fredericksburg enthusiast.
Yes, there's more early American history in this area of the country than almost anywhere else, but the region of Virginia just south of Washington DC is undergoing a renaissance of sorts as an arts, crafts, foodie, drinkie and shopping destination as well.
Most tourists skip the part of Virginia between Washington DC and Williamsburg - a 2 1/2 hour drive, but you'd be missing authentic "Old Towns" and surprisingly enjoyable experiences if you did. You can (and should) spend four or five days exploring the best of Northern Virginia in Alexandria, Manassas and Fredericksburg - each destination with a personality all its own.
Just use these 25 Top Things to Do in Northern Virginia as a starting point, or CLICK ON HERE for another 27 great things to do in Northern VA, updated for 2016. Don't forget to check GetawayMavens.com for much more on these destinations and others in the Northeast USA.
ALEXANDRIA VA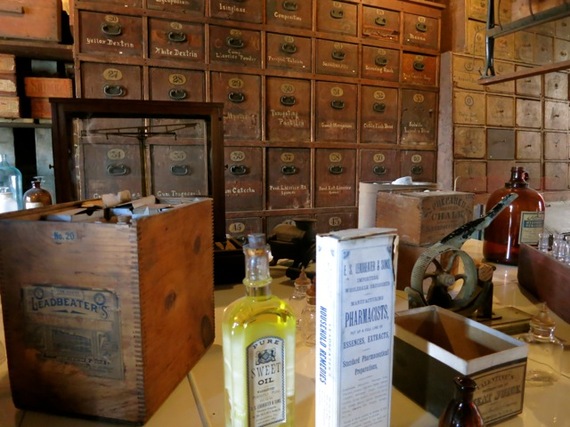 1. Take a riveting 45-minute tour of the Stabler-Leadbeater Apothecary Museum, the pharmacy that served Martha Washington and Robert E. Lee. Opened in 1792, this Colonial and Civil-war era drugstore is considered the "Oldest Best Preserved Pharmacy Post Revolutionary War." Nearly all of what you see on the shelves and in storage was what was left here when it closed in 1933. Upstairs, a dark storage room crammed with wooden drawers full of roots, herbs, saps and leaves, hasn't been touched in nearly 100 years.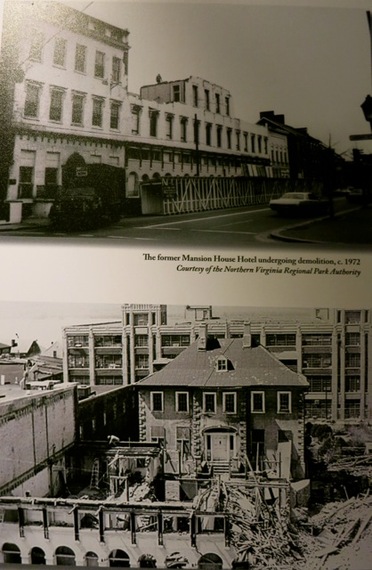 2. Tour the Carlyle House. This 1751 home of wealthy merchant, John Carlyle, was,incredibly, rediscovered as an intact, free standing home when the hotel surrounding it was demolished in 1972. George and Martha Washington were friends and neighbors, and friendly enough to ask the Carlyle's for their harpsichord, so that the Washington daughters could take lessons at home.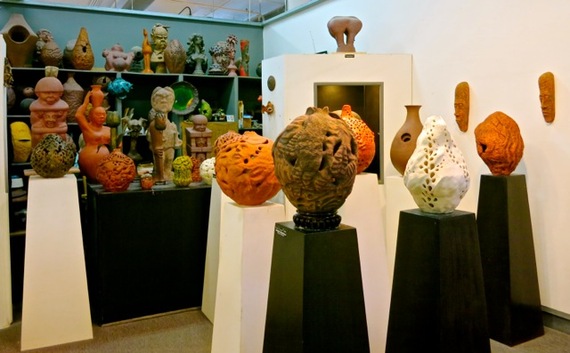 3. Watch over a hundred artists at work in their studios at the Torpedo Factory, a former torpedo plant built in 1919 on the banks of the Potomac River. The Arts Center now houses 160 artisans of all kinds in 82 studios and galleries. You can while away the good part of a rainy day watching artists create and then purchase directly from newly discovered talent.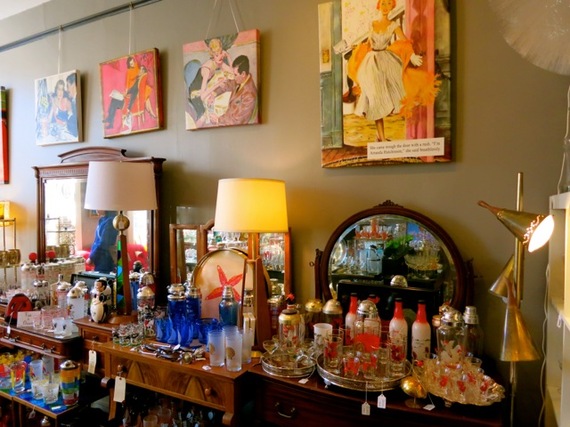 4. Shop the indie boutiques on King Street and its offshoots; not a chain store to be found. And for sure, don't overlook The Hour Cocktail Collection. Evoking the elegance and style of glamour years, 90% of what's displayed on two floors is vintage from the 1920's to '70's. Owner Victoria Vergason has been collecting bar glassware sets for 27 years, amassing a whopping number of frosted, etched and pop-art assemblages. Just walking through the door is a kaleidoscopic feast for the eyes.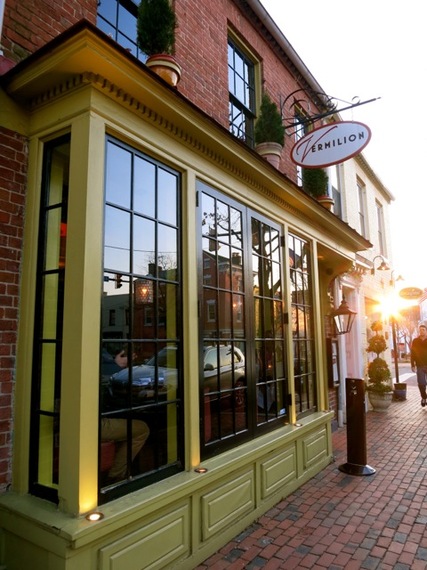 5. Plan to dine at an Obama favorite, Vermilion. This pretty, low-lit place was the President's choice for a Valentine's Day dinner, and yes, the food is fresh, innovative and delicious. But Vermillion is also affiliated with non-profit Arcadia Farm in Fairfax County, which delivers food to underserved communities and is teaching farming skills to veterans. Or try the intimate Restaurant Eve, fine enough for an Obama anniversary celebration.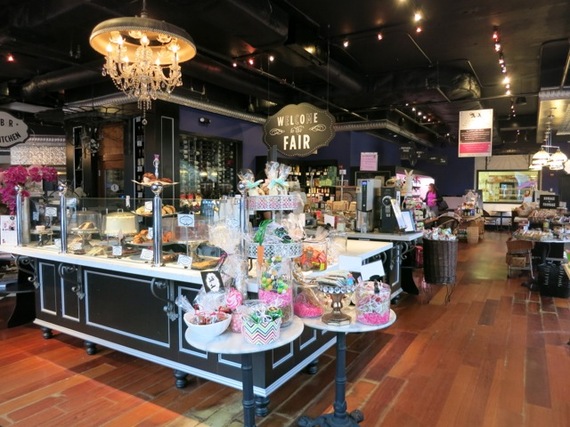 6. Buy a decadent baked good at Society Fair. Meshelle Armstrong conceived this vibrant, playful butchery, bakery, wine shop, café as a place for locals to hang out, enjoy great food and get social. Where else can you purchase a Zombie cake pop in honor of the Walking Dead Alexandria Safe Zone?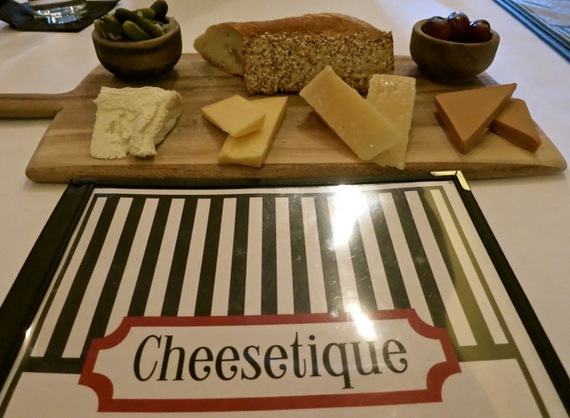 7. Don't miss the groovy Del Ray section of town, where you'll find the award-winning Cheesetique. Owned by software developer, Jill Erber, who obviously veered off on a very different career path, Cheesetique is a destination cheese shop/ restaurant for District diners in the know. Food and Wine Magazine named the Mac and Cheese one of the Best in the USA in 2012, and the accolades keep piling up.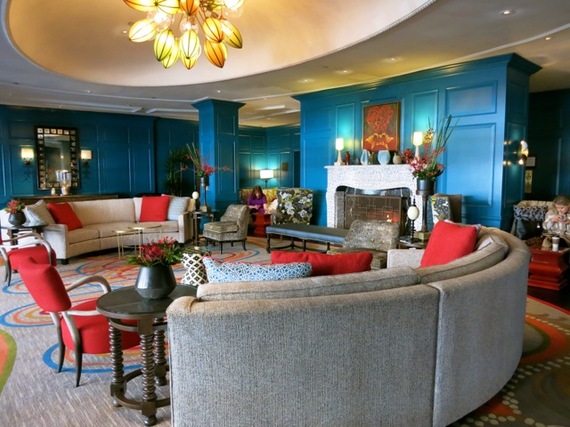 8. Stay in Alexandria Old Town at one of three snazzy Kimpton Hotels, all with the quirky, exemplary service that brand is known for. The Monaco just emerged from a hefty renovation with its lobby - a vibrant mélange of tweeds, teal, reds and eclectic furniture - gestalting in that whimsical Kimpton way. Bring your dog (any size), and Charlie - the furry "Director of Pet Relations" - will make him/her feel at home. Yes, the Monaco, like the whole town of Alexandria, is very pet friendly. Federal style Morrison House, with only 42 rooms, has won awards for design and service. The more contemporary Lorien Hotel and Spa is on King St. right by the Metro Stop.
MANASSAS AND PRINCE WILLIAM COUNTY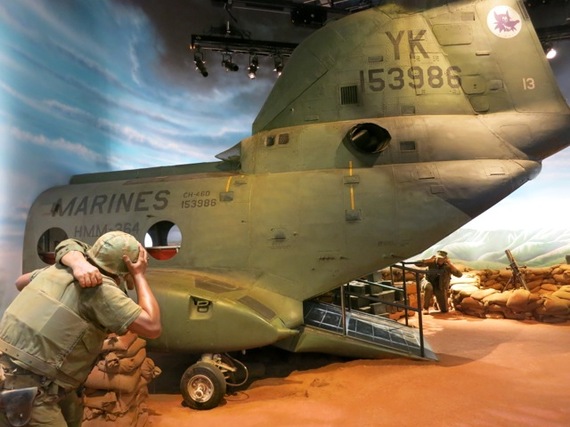 9. Plan to spend a few hours at the captivating National Museum of the Marine Corps. Actual marines were cast in plaster to form the life-size statues in every stirring diorama, so it's possible that you'll see a few doppelgangers walking through the exhibits. Funded by the Marine Corps Heritage Foundation, the museum encompasses exhibits on US-involved wars from 1775 to Vietnam (a new expansion is bringing the exhibits up to date). Hear FDR's famous "Date that will live in infamy" speech, experience the moments before landing on Iwo Jima, and see the actual U.S. flag raised in Joe Rosenthal's famous photo, Raising the Flag on Iwo Jima.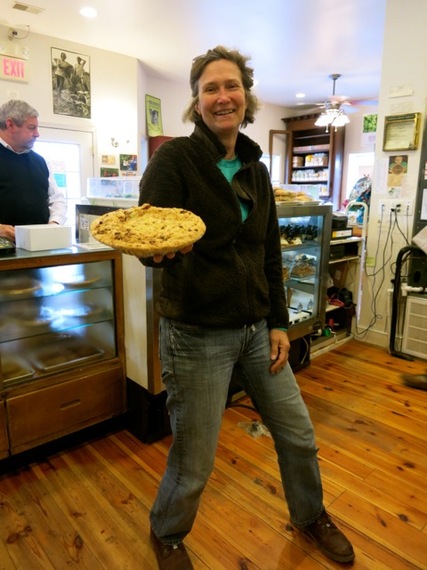 10. Shop the cute stores in tiny Occoquan - and don't miss Mom's Apple Pie. Family owned and operated, Mom and Dad - Avis Renshaw and Steven Cox - create consistently ethereal pies - the perfect souvenir for foodies and foodie friends. Crowds come in daily for the preposterously flakey raspberry, blackberry, pumpkin, rhubarb, sweet potato and apple pies that emerge hot and fresh from multiple ovens. Pie-making skills are apparently genetic. Daughter, Petra "Peete" Paredez, just opened her own pie shop, Peete's Pies, in New York City.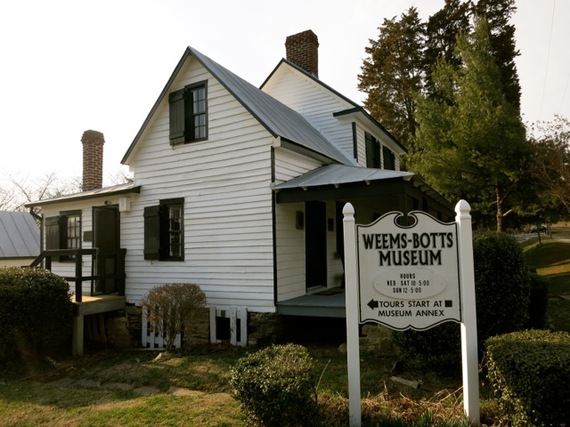 11."Meet" the man who made up the story about George Washington and the Cherry Tree on an engrossing 1 ½ hour tour of the Weems-Botts Museum and Park in Dumfries. Built in 1749 as a vestry house for the Quantico Church, Parson Weems, a minister at George Washington's Church, purchased the building as writing studio and bookstore. You may not recognize his name, but Weems wrote the first biography of George Washington, forever brainwashing the populace into believing that our number one president could "Never Tell a Lie." This modest home was also owned by Benjamin Botts, a lead attorney in the Aaron Burr treason trial. The tour also brings the boom and bust Colonial history of Dumfries to life in a way that will capture the attention of even young children and teens. Highly worthwhile.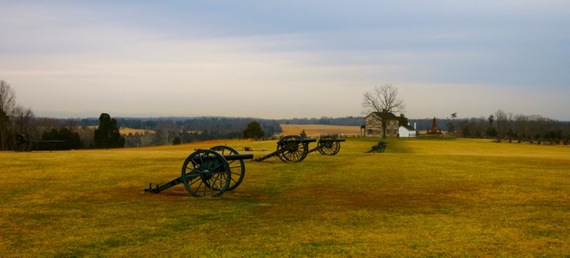 12. Discover how "Stonewall Jackson" got his nickname at Manassas Battlefield aka Battles of Bull Run. Two battles were fought here- both Confederate victories.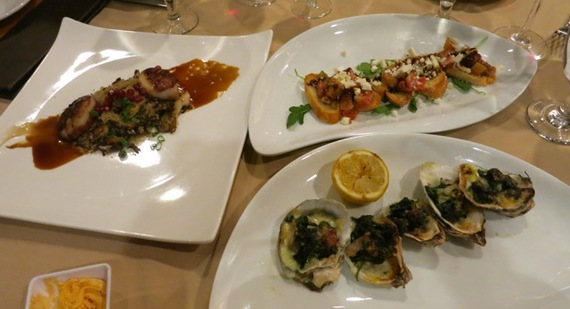 13. Plan to spend an afternoon and night in Old Town Manassas, nary a Big Box Store or Chain Restaurant in sight. Formerly Manassas Junction, this railroad town, where two lines crossed, was strategically important during the Civil War. Just 17 miles from Dulles Airport and 23 from downtown DC, get off I-95 and drive a couple of miles to where business used to be done, and still is, by the guy or gal who sits behind the counter or waits your table. Dine at the fine Portuguese restaurant, Carmello's or adorable casual-Italian restaurant Monza.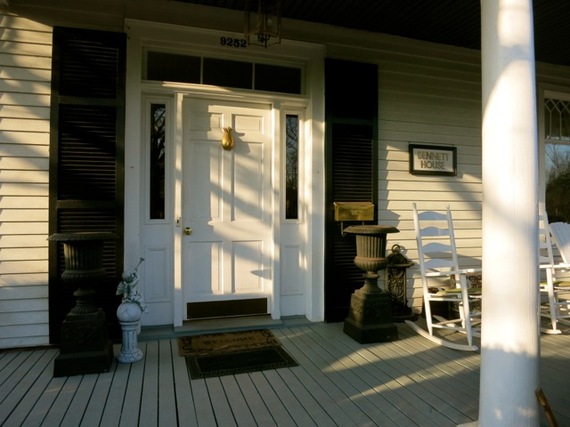 14. Stay at the 2-room Bennett House B&B in Old Town Manassas five blocks downtown and within a few minutes walk from the train station ("an hour and $18 roundtrip to DC!"). Amiable couple, Jean and Curtis Harrover outline the many reasons it makes sense to stay in Manassas and take daytrips into Washington DC - no city parking woes, relative quietude, cost - and to top it off, Jean's wonderful breakfasts are included in the room rate.
FREDERICKSBURG VA
15. To get the most out of a visit to Fredericksburg, childhood home of George Washington, home to widowed Mary Washington (George's mom) and Betty Washington Lewis (George's sister), and "Gateway to Freedom" for slaves during the Civil War, it's best to call in the experts: Hallowed Ground Tours. If you just have a day to explore, you'll want to enlist the formidable skills of Scott Walker, "Tourmaster." He will custom-design an itinerary for your tastes and entrance you with four centuries of Fredericksburg history.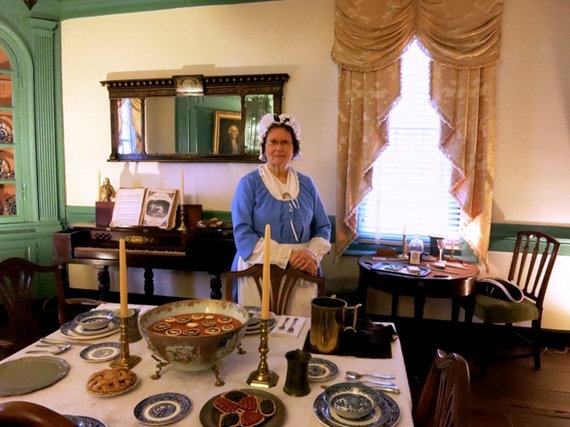 16. Learn all about Colonial tavern culture on a rousing 45-minute Rising Sun Tavern tour. Historic Site manager, Jo Atkins, channels female innkeeper Elizabeth Frazier, in the home originally inhabited (in 1760) by George Washington's youngest brother, Charles, and then turned into a Tavern in 1792. It was a place where ladies could enter and "not loose their reputation," with a restorative sitting room in which they could "repair damages to their appearance after a bumpy 50 mile carriage ride."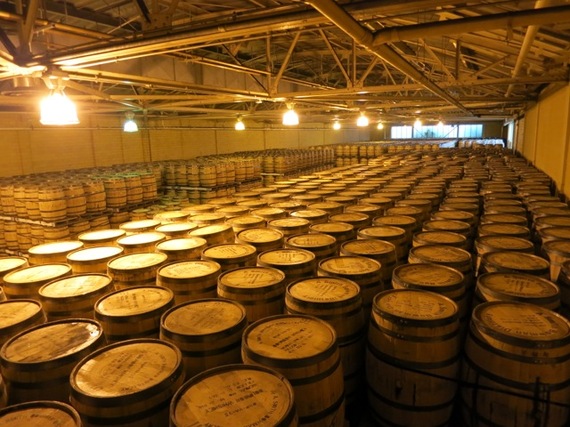 17. Tour one of the regions best small-batch distilleries - A. Smith Bowman Distillery. After a one-hour tour in this repurposed cellophane plant (FMC closed in 1970's), you'll know all there is to know about the history of this company and the distilling and aging process. And of course, you'll get to sample the goods.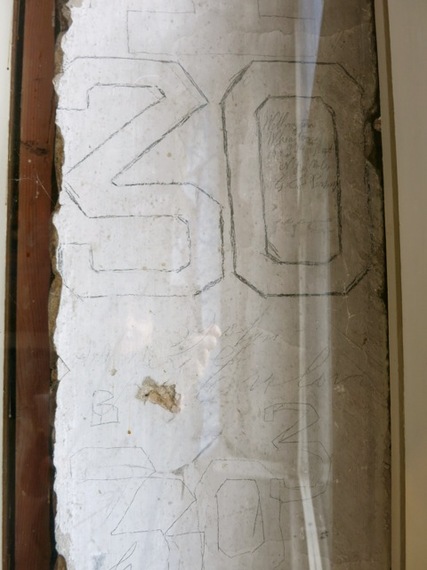 18. See original Civil War graffiti at Chatham Manor, notable for having hosted three Presidents - Washington, Jefferson, and Lincoln. Like all large homes and buildings of the day, Chatham became a Civil War hospital, where Mary Edwards Walker, the second female medical doctor in the country (and first to receive a Medal of Honor), healed wounded soldiers. Walt Whitman also served as nurse here. His poem, The Wound Dresser, draws graphically and poignantly on this experience.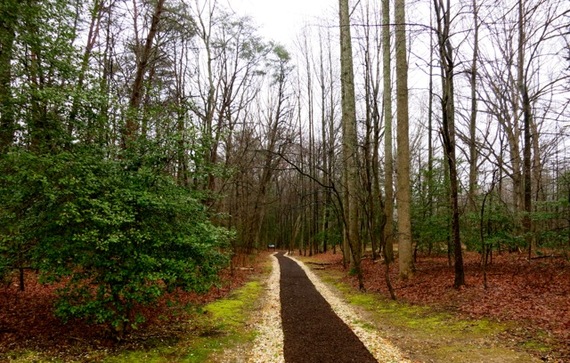 19. Stand where Stonewall Jackson was mortally wounded at the Battle of Chancellorsville NHP and Visitors Center. One hundred thirty thousand Union soldiers faced off against 65,000 Confederates over 2 ½ weeks in May 1863. It was here that Stonewall Jackson met his fate, but not before his arm, subsequently buried in its own grave, was amputated at a field hospital miles away.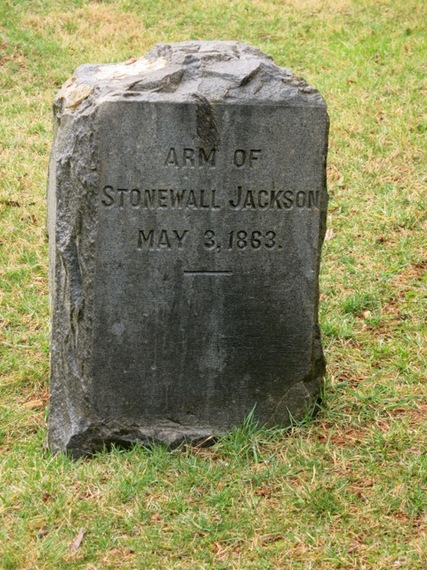 20. Visit the Grave of Stonewall Jackson's Arm (at Ellwood Manor). There's nothing weirder than a burial site for a limb - even though the owner of said limb was a famous Confederate Civil War General.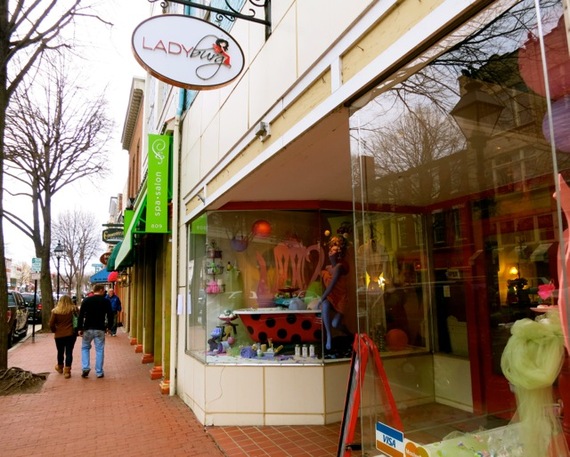 21. Custom blend Your Own Salt Scrub at Ladyburg. Owned by aesthetician, Crystal Wellman, Ladyburg, a smell-good, vibrantly colored shop, allows you to release your inner creative and renders the purchase of custom scented soaps and lotions an interactive blast. Afterwards, spend some time window shopping along Caroline Street - a wondrous assemblage of boutique stores.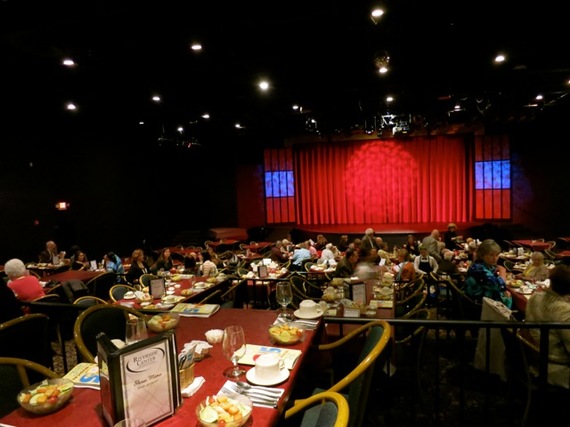 22. See a Show at Riverside Center Dinner Theater. This is not your grandma's dinner theater. It is, thanks to Producing Artistic Director, and former Broadway actor, Patrick A'Hearn, the next generation of regional theater. In 2014, A'Hearn produced the original Music of Andrew Lloyd Webber, which garnered a "huge response." Lately, he's been pushing the envelope on traditional dinner theater fare, with Spamalot, Steel Magnolias, and currently, 9 to 5 (until May 3) starring the bawdy Sally Struthers along with a great, mostly New York based cast. Coming up - A Tribute to Frank Sinatra followed by The Wedding Singer.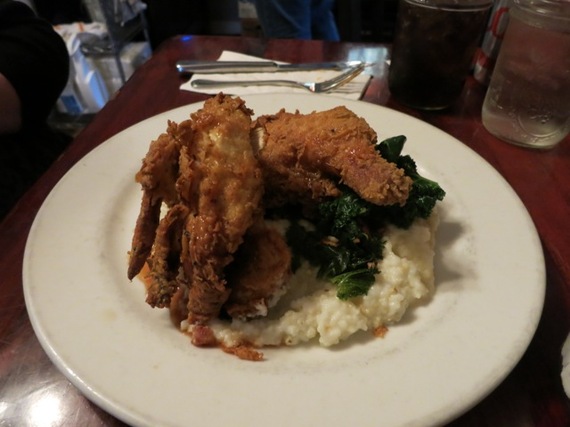 23. Though Fredericksburg is turning into a culinary destination with a slew of worthy restaurants, if you are here for only a day, find Foode. Pronounced "foodie" this unassuming counter service spot, helmed by Top Chef, Joy Crump (and co-owned by Beth Black) serves some of the best meals in the region: no pretention, just excellent locally-sourced food.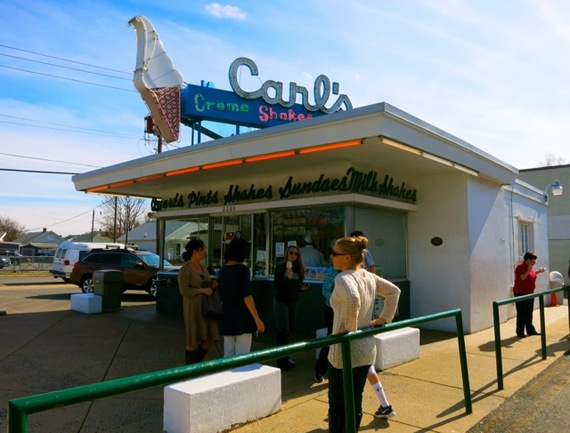 24. Walk up to the iconic Carl's Ice Cream stand for a traditional frozen custard cone. Carl's is cash only and a summer favorite.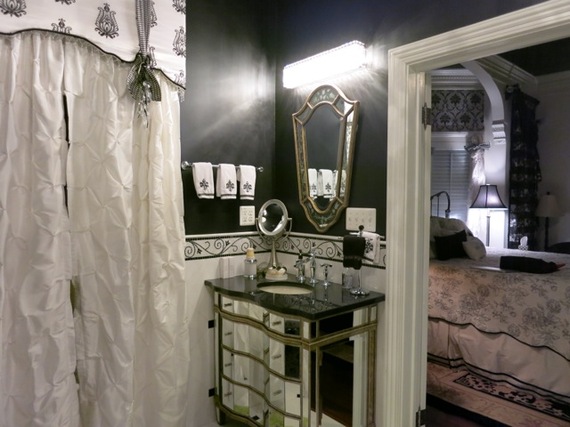 25. Stay at the 1890 Caroline House. Right at the edge of the cute-boutique section of town, this opulent, three-room inn balances 1920's chic with 2010's kick. Room one features crown moldings, bay window, black and white pallet, high tech jet tub, glass shower, wrought iron bed, gas fireplace, mirrored vanity desk, dark walls. Stunning. Wonderful amenities, like complimentary bourbon, welcome cookies and dynamite gourmet breakfasts counter the inconvenience of having to park and take breakfast a block away at sister property, The Richard Johnston Inn, a second in-town luxury property with a more traditional bent.