The thirty-mile swath of farmland West of Philadelphia that comprises the Valley Forge Region of PA contains more than its fair share of eccentrics. There's Valley Forge National Historical Park, of course, and the Largest Mall in America in terms of size - King of Prussia Mall. But you'll also find some pretty intriguing homes and collections open to those who are tempted by the unsung and obscure, among them a wealthy industrialist's estate that includes a Medieval Cathedral, a Three Stooges Museum, the largest collection of Band Organs and Nickelodeons in the country, the unique home of a beloved craftsman/architect, and more. It's worth spending several days here - in addition to or aside from the Mall and Valley Forge - to learn of an America beyond commerce and war.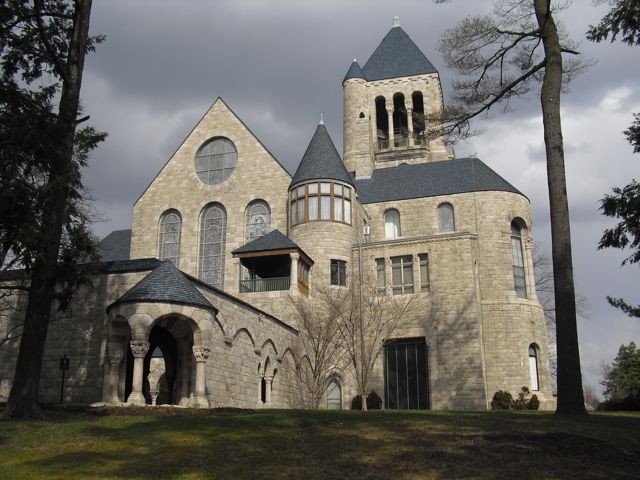 The Homes and Cathedral in Bryn Athyn Historic District. Most Industrial era tycoons endowed their considerable wealth to build museums or amass art, but plate-glass inventor, John Pitcairn helped found a branch of Christianity, going so far as to install a Medieval Cathedral on his 550-acre estate. Built from 1913-1919 in a style that would fit perfectly in France, The General Church of the New Jerusalem, currently referred to as The New Church, is remarkably contemporary inside, and just one of several buildings you can see on an eye-opening day-long tour. Pitcairn hired Ecole des Beaux-Arts trained architects, John Carrere and Thomas Hastings, to design his large-scale country house, Cairnwood, and next door, son Raymond built a Gothic castle, Glencairn in which to raise his nine children and house the largest collection of Medieval stained glass in private hands. Each of these three museum-quality buildings would be enough to draw anyone interested in World Religion, Architecture, or even American History, but all together, it's a fascinating glimpse into the life of a family that managed to fuse extreme opulence and privilege with love and spirituality. Keep in mind that The New Church is still in operation with services Sunday mornings as well as for weddings, funerals, and other religious events. Grounds are open daily; Church tour daily from 1-4pm, Cairnwood tours daily at 11am, Glencairn tours M-F @ 2:30, Sat. 1, 1:30, 2:30 and 3.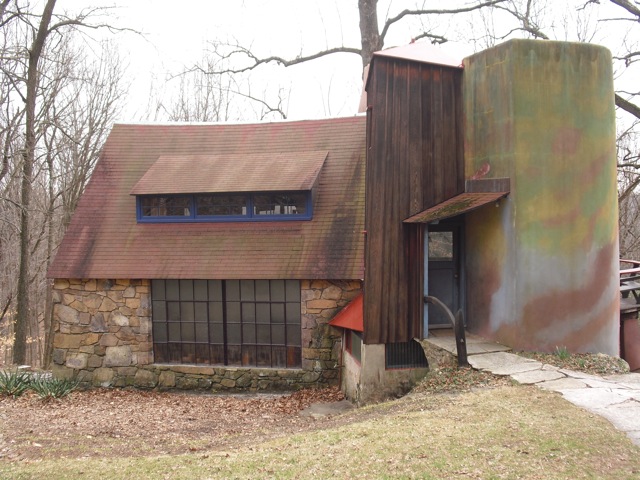 Wharton Esherick Studio Museum; A little bit Gaudi, a little bit Frank Lloyd Wright, Wharton Esherick, artist, sculptor, furniture designer, and "Dean of American Craftsman" is hardly known, but should be a household name. Asserting that the T-Square had no place in building design, nothing in Esherick's home/studio, built in three sections over 40 years, is straight, square or ordinary. Roofs of both his garage and studio skew concave or convex, and walls lean just a tad. In 1926, Esherick built a stone studio uphill from his farmhouse, added a wood portion in 1942, and then a silo he encased in mixed pigment stucco in 1966. You access three levels via steps bolted into tree trunks; heading up to Esherick's bedroom, you'll grasp a sensually smooth Mastodon tusk handrail. The artist's clothes are still neatly folded in the chest of drawers beneath his raised bed. Curved drawers in the Hobbit-sized galley kitchen swing open, the organically shaped wood dining table is bolted to the wall, and the outside deck overlooks pastoral forest. "It's a space that changes lives," says curator Paul Eisenhauer. "People who came as kids bring their kids. There's just nothing like it."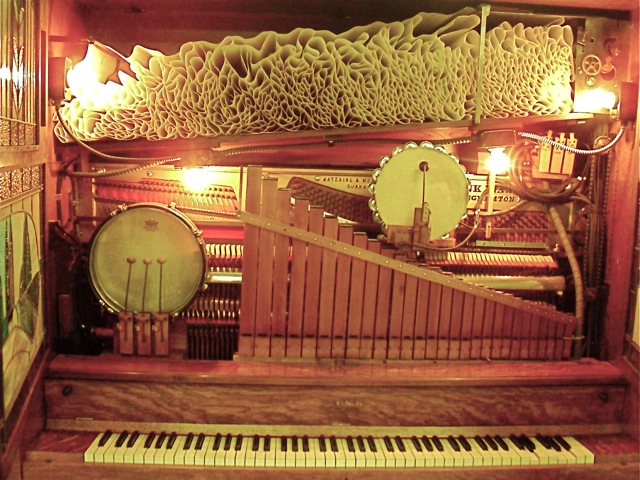 American Treasure Tour; You have no idea how fascinating and varied Band Organs and Nickelodeons from 1900-1926 can be until you get a tram-ride gander at the most extensive collection of Mechanical Music in the world. Yep, right outside of Philly, situated in 10,000 sq. ft of the former BF Goodrich Tire Factory, you'll find the collection of one media-shy man obsessed with Mechanical Music and animatronics, or "automatons" used for department store window displays in the 1900's. As you glide along, your guide will use his IPad to turn on the various Wurlitzer's and toys. It's thrilling to hear the groaning wheeze of band and circus organs, beautiful banjo and violin Nickelodeons, and the delicate plinking of precisely crafted music boxes. It's no wonder that kids beg to stay longer then their little attention spans usually last; they, and their parents, want to hear each and every machine. $15, call or check the website for tours.
The Stoogeum. If you can't get enough Moe, Larry, and Curly (or Shep, depending on the year), this compact but excellent homage to the trio is a must see. But, for now, to see it, you've got to come on Thursday from 10am-3pm or not at all. Founded by the grand-nephew-in-law of Philadelphia's own Larry Fine, there are enough posters, personal artifacts (Shep's 1945 IRS tax return; he earned $14,016.66), art, historical exhibits, continuously running clips and Yuk-Yuk-Yuk's to fill three floors within 10,000 square feet of space, plus, an 80-seat movie theater. Michelle Squiccimara, MA Museum Collections and Erin Thomson, MA Specialty Archivist have "serious jobs in a very silly place." Their presence points to the fact that this museum is bona fide, professional, and highly entertaining. ($10 adults, $8 kids).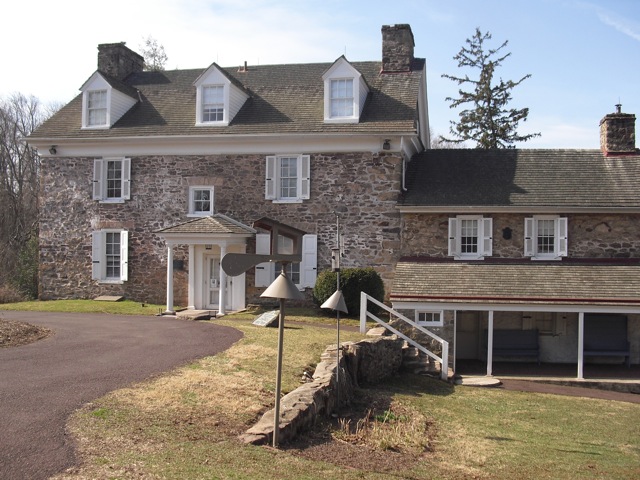 John James Audubon Center @ Mill Grove. Like any wealthy Dad trying to keep his teenager safe, James Audubon's father dispatched his 18-year-old son to the States to avoid conscription in Napoleon's army. Thought Audubon was English? Wrong. He was French, and born a bastard child to a maid on his father's Haitian Sugar Plantation. Thought he was kind to animals? Wrong again; he was a hunter and killed every bird he drew. Not quite an "eccentric" attraction - you'll learn these offbeat facts about the man whose name became synonymous with Animal Protection and Conservation long after his death. This was Audubon's first house in the United States and where he met his wife and learned to sketch. But he only lived here a few years. Come for the quirky history and an up-close mind-meld with one of the most sociable (live) Barn Owls you'll ever meet.
Skippack Village. George Washington and the Continental Army may have marched through here, but you'll want to stick around the eighty or so individually owned stores and restaurants that bring heart and quirkiness back into the shopping experience. Find authentic Native American drums at Southwest Trading Post, fragrant homemade wax melts at Sam Rickry Candle Shop, smoked olive oil at Land of Olive Oils, Balsamics and More, you know what's at Sinful Cupcakes, and toys from your childhood at Heart's Desire among many more. It's like discovering a complete village in the middle of a farm-field.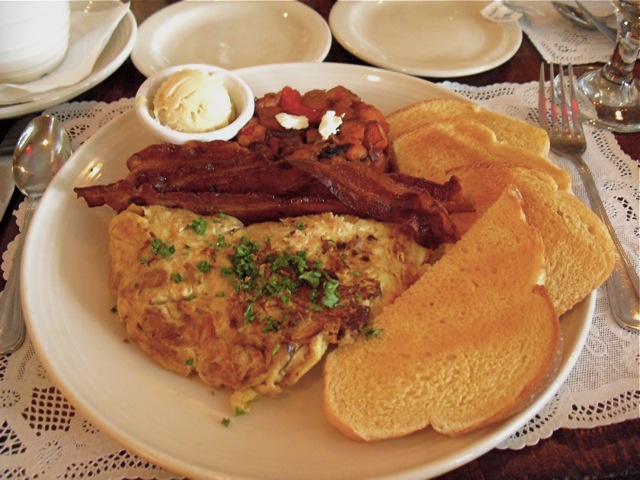 STAY: Woodside Lodge. The Woodside is a 9-room comfort food of an inn with a lobby like Cheers, where, if everyone doesn't know your name, they will by night's end. Originally built in 1920's for Philly city folk who came to "the country" for recreation, owners Rick and Gayle Buckman sunk $1.5 million and lots of heart into the place and reopened it in 2012. Room décor is unfussy Craftsman style and you'll be coddled to sleep in some of the softest cotton sheets to ever encase a mattress. In the morning, fill up on a full plate the likes of caramelized onion egg omelet, bacon, sweet potato hash with goat cheese, and fresh bread with honey butter - or anything else your morning heart desires - that comes complementary with the room. The Buckmans also own next-door Spring Mountain - a beginner ski slope and summer zip-line, ropes course- BMX Adventure Park.