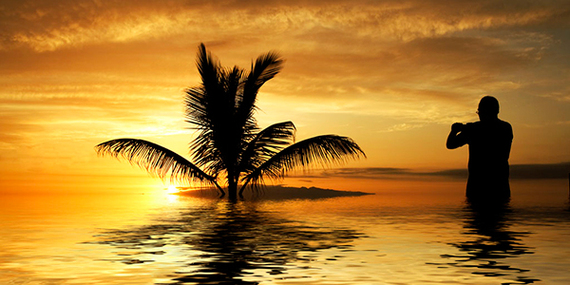 If I get another travel journal this year, I may possibly gag. Get me anything off of this list, though, and I'll have to wife/husband you.
Putting pedal to the metal is tough stuff and requires tough arsenal. These are all products we've managed to get our little grubby hands on and, well, just love to bits. For instance, I can't imagine life without my travel towel or vacuum-sealer bag for dirty clothes. It sometimes requires crazy-looking gadgets at the risk of having other people look at you like you're crazy. But in truth, its the little things that makes traveling eons more comfortable. Who said flying 50,000 miles a year was fun?
This post originally appeared on Map Happy.
Some of the products we haven't managed to do a full, in-depth write up yet but based on our preliminary hands-on usage and impressions, we have already quite thoroughly taken to.
Jump quickly to a section:
Baggage | Accessories | Technology | Adventure | Services | Fun Stuff
Baggage
Muji Hard 30L Suitcase
The Muji suitcase is an extremely stylish spinner carry-on hard case complete with a wheel lock -- all for under $200. Throw in a TSA lock, drop dead gorgeous looks and some major props to it durability after I've banged it up some and I think we've got a winner here. Move over, Tumi.
Cost: $175.50 on Muji
Osprey Farpoint 40
Osprey is famous for producing durable, quality stuff and the Farpoint 40 is no exception with its convertible form factor. The shoulder straps can be tucked away and should meet carry-on requirements for most airlines. It's also got a great suspension system for long-term comfort, an absolute must when you're being forced to wait around.
Cost: $105 on Amazon
Lo & Sons O.M.G. Bag
The ultimate girl biz bag. It looks like a purse but carries storage spots for your laptop, tablet and shoes complete with an attachable shoulder AND luggage strap. (That's just the tip of the iceberg.) It's fairly easy to clean with its nylon and dapper stylings and has enough room to put a long weekend's worth of clothes inside. This is the all-in-one bag.
Cost: $192.50 on Lo & Sons
There's a lot of crappy bags out there in the $80-90 range ("$95 sacks," Karina calls them). This is the best of the bunch for a short-to-medium trip away and offers the most organization in terms of functionality and versatility. It does lack a separate shoe compartment but it makes up for it in almost every other way in terms of a dude bag.
Cost: $89.99 on Amazon
Accessories
Bellroy Travel Wallet
There's space for your passport, a small pen for customs, a double billfold for two types of currencies, slots for four to seven cards and holy Christ, even a pouch for an extra SIM card. The best thing is that it's super slim, made of leather and most of everyone we showed it to instantly loved it. As a gift? Done.
Cost: $119.95 on Amazon
TravelWise Packing Cube System Durable 5+ Weekender Set
Boy, do these guys change the packing game. The system is simple and genius: organize and sub-pack the contents of your suitcase so everything is easy to pack, find and grab. For anyone who means business with their packing--or wants to be that way--these are a necessity.
Cost: $32.95 on Amazon
Travelon Mini Independence Toiletry Bag
Care about having a good, durable suitcase that packs everything well, so why not give your toiletry bag the same consideration? It is luggage for all your little bottles, after all. This mother of a toiletry bag is the only one you need and it's ready to go everywhere with you and store it all.
Cost: $38.99 on Amazon
likemary's Shoreditch Merino Wool Shawl & Oversize Scarf
This piece is all about fashion and function when traveling. The chic, well-made scarf instantly pulls a haphazard travel outfit together. (Pro tip: it's sold for both the ladies and the dudes.) It also works as your own personal travel blanket and is far, far better than any scratchy thing that comes waiting on airplane economy seats. Consider it your cuddle buddy.
Cost: $64.95 on Amazon
Technology
Satechi Travel Router
There's power adapters and there's power adapters. This power adapter lets you convert to all the major plugs out there, has an added slot for USB charger and GET THIS, even turns into a router. Because when you get into the hotel, chances are you'll have more than one doodad that needs a little bit of Internet juice. Just give in.
Cost: $49.99 on Amazon
Thumbs Up UK Dual Sim Case
I'm sad there isn't an option for Android phones out there. The Thumbs Up UK case is available for iPhone 4/4S or for the iPhone 5 and enables someone to pop in two SIMs with a switch on the back to toggle between them. Downside? The phone still needs to be powered on and off in order to switch carriers but given the price, there's a lot of bang for buck happening here. (Beats buying a second phone or a dual-SIM phone.)
Cost: $33.83 on Amazon (iPhone 5)
Jetsetter Digital Luggage Scale
Who knew a digital luggage scale could look so good? This sleek piece is designed super well and is not just aesthetically pleasing but ergonomic and easy-to-grab. The engineering is tops, too. It's unfailingly accurate, not to mention durable and can handle a lot--up to 110 pounds to be exact. Fear not about it conking out on you, either, because there's a lifetime guarantee.
Cost: $18.97 on Amazon
Books are really, really heavy. Send everything--from your books to your guidebooks--to your Kindle Paperwhite instead. While most tech critics think the Voyage, the latest iteration, does a great job, the Paperwhite still offers the best price-to-value ratio. I only need to charge it about once a month to get me going for the whole time. Added bonus: You can buy any English-language book from the Amazon store at any time, whether you're in Brazil or Japan.
Cost: $119.00 on Amazon
Adventure
Vapur Eclipse Collapsible Water Bottle
Staying hydrated is, like, so great and such an underrated activity until you hit your 30's. Cut down on space with the Vapur Eclipse, which can be rolled up and stowed away until you need to fill it up. Great for yoga, the bus ride or the Andes. I've brought it to all three.
Cost: $10.14 on Amazon
PackTowl Ultralite Travel Towel (Extra Large)
Douglas Adams said it best that a towel is the best tool in your arsenal to have. Step it up a notch with travel towels that dry effortlessly in hours and take up less space than your T-shirt. Do I need to remind you of the fact there's a whole day devoted to it?
Cost: $23.06 on Amazon
Point It Book
I don't have the patience to try to learn every language out there, though I often try to do my best. Short of being a language Houdini, bring this book of pictures along for the ride because it's got pictures to connote anything from your desire to stay in a four-star hotel or the fact you feel like eating some chicken.
Cost: $8.66 on Amazon
GoCup
It's a cup! It's a pill box! It's... both. Superman would love having this collapsible cup on the run while he jets from place to place. It's awesome for camping, glamping or just having the flight attendant refill for you on the plane if you get suddenly thirsty.
Cost: $10.85 on Amazon
Services
(Josh Hallett / Flickr)
ExpertFlyer Subscription
If you've got a million miles to burn, you're probably looking for the best way to spend it all. This is where ExpertFlyer steps in: search for availability on most, if not all, of the major airlines so you can figure out the best timing to score that seat in Singapore's suites. It's worth being a little crazy sometimes if that means I can figure out when to book my free round-the-world ticket.... why hasn't someone bought me this yet?
Cost: $99.99 on ExpertFlyer
Gogo Internet In-Flight Pack
Give the gift of in-flight Wi-Fi. Sure, it's cheaper to buy ahead of time but it is even cheaper to buy in bulk for the holiday season. Gogo is offering two all-day passes for $24 or four 60-minute passes for $16. For some quick math, two all-day passes would cost $32 if you purchased them individually so you're saving up to 48%. For what it's worth, Gogo services almost all of the major airlines in the U.S. so it's perfect for domestic travel. This deal only lasts until Dec. 20 and the passes are only valid for use Dec. 20 to Jan. 4, 2015.
Cost: $16 or $24 on Gogo
World Nomads Travel Insurance
I do some crazy shit but that doesn't mean I'm batshit crazy and I still like having all my affairs in order. Things can always go wrong. I particularly like World Nomads because of their transparency and the terms are often spelled out clearly (as the best any insurance provider can do). Note: it doesn't retroactively cover any deposits or incidents that have happened before you bought it.
Cost: Depends on World Nomads
Give the gift of expedited TSA screening this Christmas. (If you ask me, that privilege is priceless.) This magic AmEx-looking card is a free pass for holders to cut the security lines at nine major US airports, with more set to come.
Cost: $79 for 6 months on CLEAR
Fun Stuff
Luckies of London Scratch Map
Maps are a dime a dozen but the Luckies of London is a scratch-off map that is something you can truly make your own. Scratch off where you've been--either by country or region--like a lotto ticket to reveal a burst of color underneath. Mine hangs on my wall, taunting me about the places I haven't been yet and reminds me that the world is a big, big place. (Really big.)
Cost: $19.34 on Amazon
Mobile Foodie Survival Kit
Personally, I don't like eating out all the time. The Mobile Foodie Survival Kit is for the serious gourmand and is perfect for vacation rentals, extended trips or even just cooking at another friend's house. Need some oregano and cumin on the fly? No problem.
Cost: $26.00 on UncommonGoods
Handpresso Hand-Pump Portable Espresso Machine
This handheld portable espresso machine is a godsend for those people who need the guarantee of good espresso on the road. (We get it.) It's muscle-powered, requiring no batteries or outlets and is compact and light. Just add espresso and hot water, pump and you've got a quality caffeine jolt.
Cost: $100.23 on Amazon
SnapandGo Selfie Stick
Let's be real: We all take selfies and we're going to keep on doing it. The best bet? Suit up with a selfie stick, which actually means you get more in the picture than a distorted arm and close-up of a face. This adds an extra arm's length to photos. It folds up too, so it packs easily. And if you see anyone eying you oddly when you're using it, they're just jealous.
Cost: $19.95 at SnapandGo