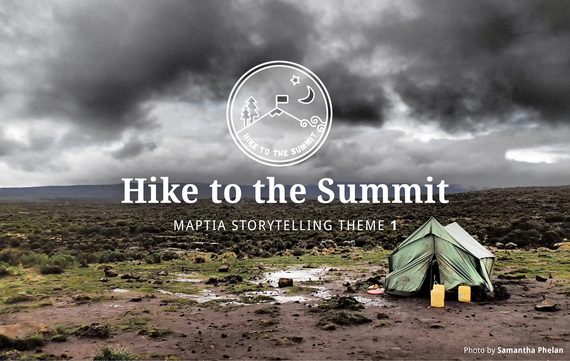 Have you ever marvelled at the scale and magnificence of those great, immoveable giants of nature, the mountains? Have you ever felt the cool caress of a snow-scented breeze from distant peaks, or seen the first long sun rays of dawn dispel shadows as light creeps up to the heights? Have you ever stumbled, half-delirious with fatigue and joy, onto the summit of a mountain?
From the inaugural Storytelling Theme on Maptia, we bring you the inspiring tales of thirteen mountainous adventures from all over the world. You can see them laid out on the map below.
Each of the featured stories touches on a different aspect of hiking, whether it is the mental and physical endurance required, the sublime feelings of insignificance evoked by the majestic surroundings, the relationships forged through adversity, or the jokes and laughter shared along the way.
"The mountains are calling and I must go."
—John Muir
There is both stunning photography and remarkable narrative to be savored in the stories below, and we hope that you will be inspired to get out there and start exploring. It's time to don your cold weather jackets, and settle down for a series of gripping and adventurous tales from mountains all over the world.
1 | A Personal Everest
5 min read · By Cindy Fan · Read the full story on Maptia
Cindy Fan regales sublime moments on the steep path up to Kala Patthar, peppering her beautiful narrative with existential musings and honest reflections, as she fought above the clouds to reach a shimmering peak in the Everest Region of the Himalayas.
"Sunlight begins fighting its way through. Stronger it grows, dissolving the mist, vanquishing the clouds. As if curtains have been thrown aside, the world is suddenly revealed."
—Cindy Fan

2 | Mountain of the Crescent Moon
7 min read · By Yoav Bar-Ness · Read the full story on Maptia
Set in Tungnath, which literally means 'Lord of the Peaks', Yoav Bar-Ness captivated us with this visceral account of his ascent along a winding pilgrim's path. Interspersed with reflections on planetary equinoxes, lunar companions, and sacred mountains, this story recalls his hike to pierce the clouds that cloak the jagged peaks of India.
"It was the first Himalayan peak I had ever visited. Emotionally, I was pulled in three ways. I could not quite balance awe, reverence, and disgust: sublime terrain, sacred religion, and human pollution."
—Yoav Bar-Ness

3 | The Changing Arctic
10 min read · By Duncan Geere · Read the full story on Maptia
Duncan Geere followed his curiosity all the way to a polar research base nestled in Sweden's highest mountains. He recollects the days he spent in these still pristine and breathtaking landscapes, weaving a story with a sobering message that inspires you to care about our fragile Arctic ecosystems. It is a powerful reminder that no matter how much we think we understand climate change on an intellectual level, there is no substitute for seeing the changing planet with your own eyes.
"The undulating waves of green and purple light hang in vast curtains across the sky... watching them dance, you get a compelling sense of how special this part of the world is."
—Duncan Geere

4 | Summit Day
11 min read · By Dean Fischer · Read the full story on Maptia
Not many can claim to have been the highest people on the planet, yet even if just for a short moment Dean and Dorothy (two of Maptia's co-founders) were the highest of humans in the world as they reached the summit of Mount Aconcagua. This thrilling, nail-biting story of their journey to the top will have you catching your breath as they reach the summit. Dean also deserves special credit for carrying his guitar up to Base Camp at 4,300m.
"I carefully tied my boots, knowing that I could not take them off again until I had either made it or I had failed."
—Dean Fischer

5 | With our Heads in the Clouds
3 min read · By Jason Brewer · Read the full story on Maptia
Many of us wish to travel with a child's view on the world. To be filled with curiosity, to see the world around us without preconceptions, and to feel as if we are experiencing everything for the first time. Jason Brewer's account of climbing up to the highest point in Texas with his 5-year-old son is a wonderful example of this. We challenge you to read his story through and not be left with a warm, fuzzy feeling and an ear-to-ear grin.
"This would be my son's toughest hike to date, but a challenge that he greeted with excitement, The Adventure Boys were back in action."
—Jason Brewer

6 | Conquering Kilimanjaro
5 min read · By Samantha Phelan · Read the full story on Maptia
We mentioned in a previous post over on the Maptia Blog how our sense of time is often warped whilst travelling and we imagine that the five hours and 25 minutes it took Samantha Phelan to summit Kilimanjaro must have felt like an eternity. Sam's story is a gripping account of how grit, determination, and a little adrenaline can get you through the toughest of times and help you achieve that which, at moments, seemed impossible.
"It was undeniably one of mother nature's best kept secrets; conjuring up emotional responses in you that you didn't know you could conjure up!"
—Samantha Phelan

7 | Trekking Nepal's Langtang Valley
7 min read · By Kristen Zipperer · Read the full story on Maptia
Leaving Kathmandu behind her, Kristen Zipperer fell down a rabbit hole and into a Tibetan wonderland filled with snowy cathedrals, ancient monasteries, and carefree yaks. Her story requires a slow read, you will first need to grasp the outline of the Langtang Valley in your mind, and then you will be able to appreciate the marvellous details that colour her journey.
"Kyanjin is the last settlement of any kind at that end of the valley—beyond it lies wilderness and the Tibetan frontier."
—Kristen Zipperer

8 | Dwarfed by Towering Peaks
9 min read · By Colin Henderson · Read the full story on Maptia
Not only will you be seduced by Colin Henderson's glorious photography of the surreal Patagonian landscapes, this heart-in-mouth account of his expedition to find the finest view of the Fitz Roy Massive will have you gripped.
"Perhaps it was the uncommon lack of wind and the resultant silence, or more likely my jangly nerves, but the further I walked into this deep glacial cirque the more the surroundings began to affect me."
—Colin Henderson

9 | Snowed in at 5,000m
13 min read · By Dorothy Sanders · Read the full story on Maptia
Caught in the extremes of unpredictable weather, Dorothy and Dean (two of the co-founders at Maptia) spent nearly a week in the Cordón del Plata mountains building up their high altitude experience, sometimes in blazing sunshine, and at other times in a raging blizzard. Surrounded by towering peaks, snow-dusted and craggy, they were in true glacial country.
"There was no wind in that moment, and in the stillness a great shining moon hung like a glowing orb in the sky, surrounded by thousands of stars. A shining king among his courtiers."
—Dorothy Sanders

10 | Lost on the Roof of IndoChina
9 min read · By Marc Surchat · Read the full story on Maptia
No one ever said that hiking was meant to be easy, but Marc Surchat demonstrates real stoicism as he navigates through dense jungle with inaccurate maps and along abandoned trails. Dodging the fog in search of an unforgettable view and a thoroughly earned sense of personal accomplishment, Marc tells the tale of his expedition to the summit of Phan Xi Păng.
"Mike Horn's teaching had left a strong belief in me. Giving up had never been an option."
—Marc Surchat

11 | Three Days in Yosemite
3 min read · By Julian Bialowas · Read the full story on Maptia
We were lost for words to describe these evocative, sun-tilted photos that Julian Bialowas took while hiking in Yosemite. That is until one of our community members coined the term 'wondermazement', and the elusive word which we had been grasping for materialised. Julian's beautiful photos make us want to head for the hills with a tent, and seek that moment of stillness as early morning mists lift above valleys and peaks.
"We slept atop mountains..."
—Julian Bialowas

12 | Vast Wilderness in the Great American SW
5 min read · By Kat Carney · Read the full story on Maptia
We had never seen an 'entrenched meander' before either, but it turns out that they can be rather spectacular. Kat Carney's photo essay of vivid memories hiking in the wilderness of the Great American Southwest provide twelve wonderful reasons to explore what's just around the bend.
"The sun rising in the Grand Canyon was one of the coolest things I have ever seen...as the sun peeked around the corner, shining its first rays throughout the entire canyon."
—Kat Carney

13 | Colorado's 14ers—Pikes Peak
8 min read · By Justin Wild · Read the full story on Maptia
Justin Wild and his fiancé have embarked on a bold mission, to climb every single one of Colorado's peaks above 14,000 feet. Each peak presents its own unique challenges, scenery, and beauty. Join them on their journey as they climb their 22nd peak, with the tantalising smell of those famous Pikes Peak doughnuts spurring them on.
"At about 13,200 ft, we take a rest near The Cirque, a 1,500-ft deep bowl that looks like it could hold the Moon."
—Justin Wild

We hope that you enjoyed this collection of hiking adventures from the inaugural storytelling theme on Maptia—originally published over on the Maptia Blog. If you feel suitably inspired, please do tweet this post and @mention any mountain-loving friends who you think might also enjoy perusing these stories.
For Huffington Post readers who would like the chance to become a founding storyteller on Maptia, drop us an email at stories@maptia.com with a 200-word snippet and a photo for the first story you would like to tell on Maptia, and we will shuffle your invite right to the front of the queue. To learn more about our vision and about storytelling on Maptia, take a look at our recent illustrated launch post and our about page.