I like to call him the Mayor of Mayfair because there are more restaurants in Mayfair that have been scooped up by this handsome and debonair man who started out in the "schmata business," Yiddish for the rag trade. Richard Caring now owns Harry's Bar on South Audley street, and George, the lovely private dining club, on the corner of Mount Street and South Audley. (I had never been to George until my most recent trip to London, and only went after hearing interesting stories about it from a good friend of mine who is a member. Evidently, my friend was a well-loved fixture when he lived in London, according to my sources, hostess Sybil and maître d' Francesco.)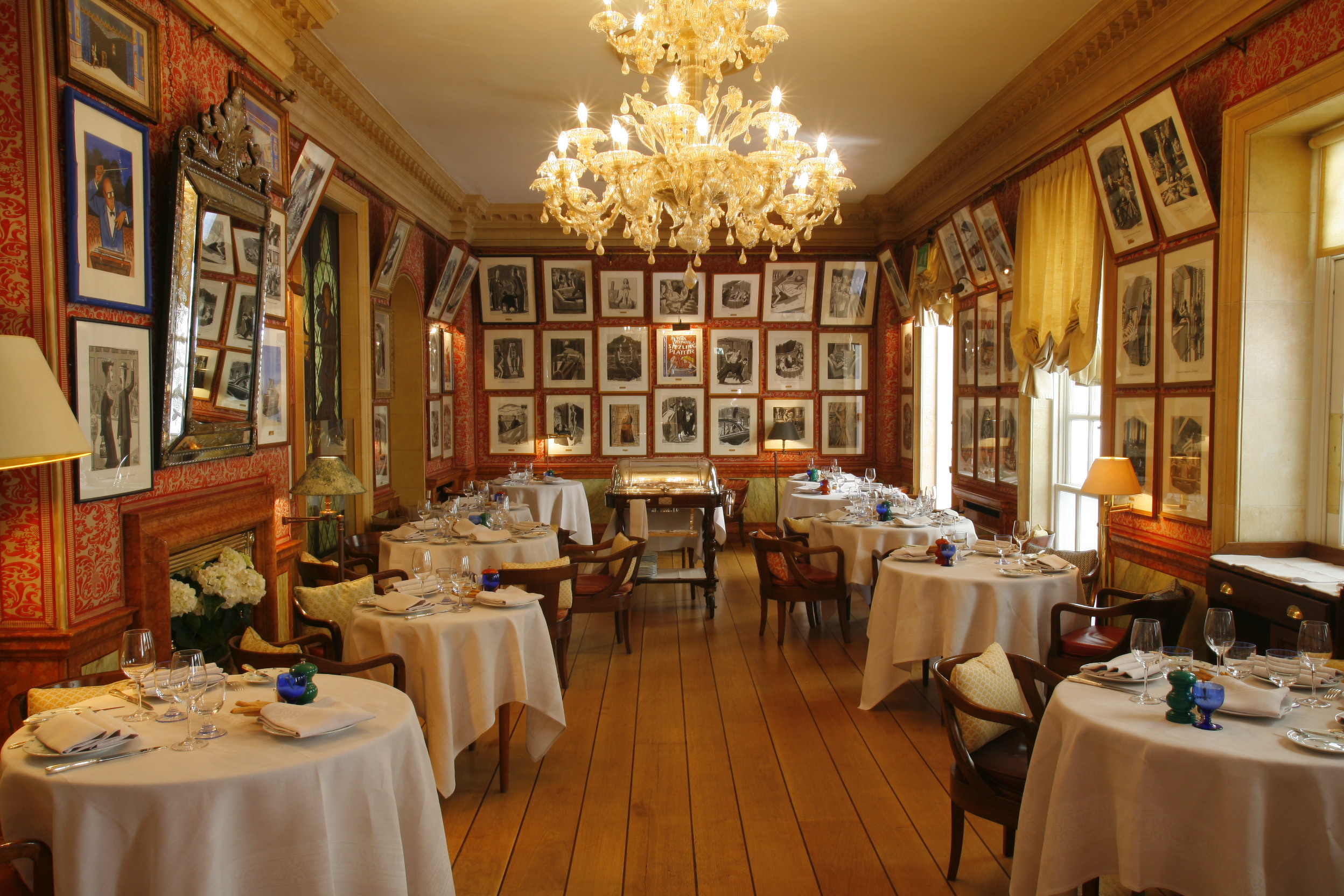 Harry's Bar
The seafood restaurant Scotts is just across the street from George and The Mount Street Deli is down the street. Around the corner on Berkeley Square, is the incomparable Annabel's club. Just outside of Mayfair is Le Caprice and Cecconi's whose Los Angeles counterpart opened in the former Mortons (my brother's restaurant). In the theater district is The Ivy, where I indulged in my first sticky toffee pudding, which "sticks" in my memory as being the best I have ever had. My favorite of the group, and also in the theater district, is J Sheekey. In New York, Caring opened an outpost of Le Caprice and partnered with the legendary restaurateur Keith McNally in Pulino's. It is rumored that McNally and Caring will open a NY-style brasserie in Covent Garden. Caring also owns 80 percent of the Soho House Group with clubs around the world and outposts of his London restaurants in faraway places like Dubai.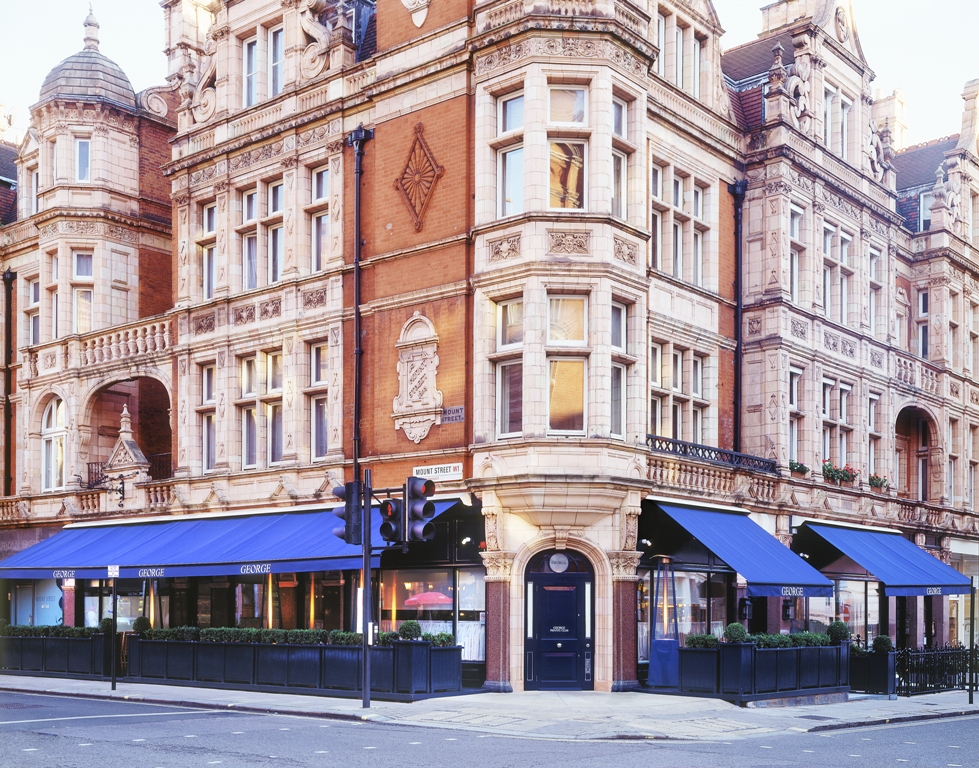 George
I met Richard Caring by chance. Just after Cecconi's had opened in Los Angeles, I sent him my book, Everybody Eats There, because three of his restaurants are in our London chapter. He emailed me to send his thanks and asked if we could get together for lunch or dinner the next time he was in LA or NY. I was very flattered, but I never did get the opportunity to break bread with him. Then, on my birthday in 2009, I had told a good friend of mine, Sam Blount, a talented interior decorator, that we should check out the soon to be opened Le Caprice at the Pierre Hotel before dinner because I was told that the interior was supposedly amazing. I had second thoughts knowing that if I were to detour to meet Sam, I would end up being late getting to my own party so I decided to forfeit the stop. But, as I was sailing down Fifth Avenue in a hurry to get to Harry Cipriani where I was giving the party, my phone rang. It was Sam, and he said, "Oh my God, this place is drop dead gorgeous! You have to come in to see it, even if it is only for just a minute." I couldn't resist, regardless of the fact that it would definitely put me behind schedule.
As I was about to enter the hotel, for some reason I turned around to look back at the street. I saw a black SUV pull up and watched as three good-looking men exited the vehicle. One of them looked vaguely familiar, from photos I had seen. I called out, "Richard? Richard Caring?" He said, "Yes." I told him that I was Mara Gibbs and before I could say anything else, he hugged me and said, "Finally we meet!" He said that he would like to show me his new restaurant. I told him that I was just about to sneak a peek when he appeared. He is even better-looking in person and radiated a warmth and charm not expected from someone like him. He kindly invited me to the opening of the restaurant and that was it. He had a new member of his fan club. If you want to read more about Le Caprice in New York you can go to my story about it which I wrote for this online journal.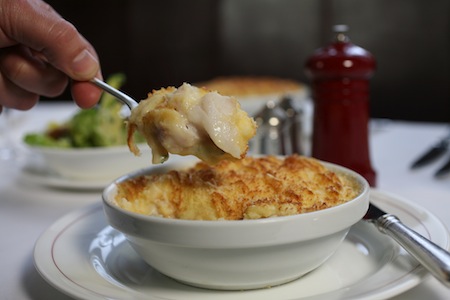 J Sheekey's Fish Pie
There are definitely similarities in each of the restaurants that are part of the this vast empire. Some of the same dishes turn up at Scotts, George, The Ivy, J Sheekey and Annabel's though each offers up a few dishes that the others don't have, like the delicious lobster and Amalfi lemon risotto at George or the sinfully rich Sheekey fish pie. But their decor and ambiance couldn't be more different. George is a more masculine version of Annabel's and the location cannot be beat. Scotts has more flash and a lot of cash dining there, J Sheekey is English to the core, dark woods, and leather booths. Then there is Annabel's, where no detail is overlooked. It was always my favorite late night haunt, elegant and feminine. If a party were to be given at Annabel's, you knew it was going to be special. Yet the menu is very down to earth. On my last visit to Annabel's where I dined with two very good friends, both in the hospitality business, Amanda Cronin from Amanda's Kitchen, and Marco Cillia the young Italian general manager of Blakes Hotel. Being it was late, we decided to try to keep it somewhat on the lighter side ordering just a few different appetizers. The first was a Welsh rarebit. YUMMY! We almost ordered another one to go with our fabulous bottle of red burgundy but opted to move on to the terrine of fois gras which we proceeded to devour. Returning to our original plan, we finished with a delicious salad of baby artichokes and mushrooms a la Grecque.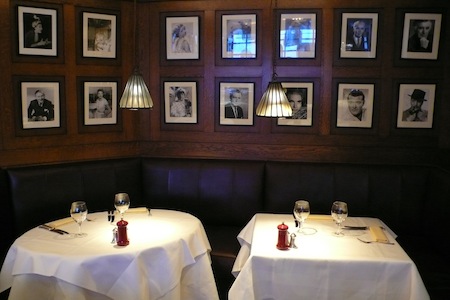 J Sheekey cozy corner table
Caring's establishments all have what my co-author Bill Stadiem and I have said are the prerequisites to becoming a legendary restaurant, the three Fs: fame, food and fun, not necessarily in this order. All of Caring's restaurants attract famous people, the food is good, and they are all lively and fun places even if some of the fun is derived from the great people watching.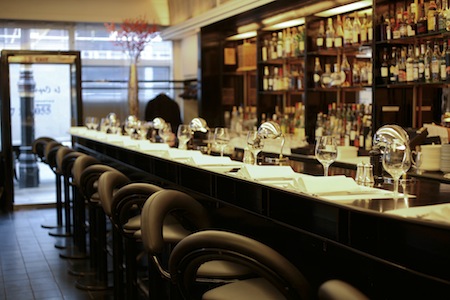 Le Caprice's long bar
Richard Caring's love for restaurants is awe-inspiring and reaffirms my own passion for this world. Restaurants are live theater, we the customer are the actors bringing life to the production. That makes Richard Caring one of the great executive producers in this business. He is to restaurants what Harvey Weinstein is to movies. Hey... now Harvey invests in restaurants too!
I was not able to print a photo of Richard Caring, but there are many to found if you Google him!
The Soho House Group
Annabel's
Cecconi's - In London and Los Angeles
George
Harry's Bar
The Ivy
J Sheekey
Le Caprice - London and New York
Mark's Club
The Mount Street Deli
Scott's
and more