Here we are in 2011, the world markets are falling apart, riots are breaking out in the most civilized of nations, and yet, one tradition is still standing among the ruins of what once was in Jolly ol' England. Teatime. Yes, teatime is still a tradition that the Brits and their copycats fight to keep safe and sound. In the heat and in the cold, that warm cup of tea comforts like nothing else. When I was invited to take tea in The Promenade in The Dorchester Hotel in London, I hesitated. I am not a tea totaller. I am a coffee connoisseur. I am the kind of person who, after brewing a pot of strong freshly ground coffee, dumps the pot if it has been standing more than 20 minutes, the time it takes for coffee to go bad. Tea was never my thing except before sleep, when I make myself a tisane of decaf mint green tea, chamomile and freshly squeezed lemon juice.
Much to my surprise, this little tradition has its merits, especially when the tea is as delicate and interesting as the teas I tasted in my mini tea tasting at the Dorchester. I really learned something about tea. Who knew that the larger the tea leaf the weaker the tea -- or is it the smaller the tea the weaker the tea? Oh hey, it was a sobering experience nonetheless, and one that revived me for my evening's extravaganzas!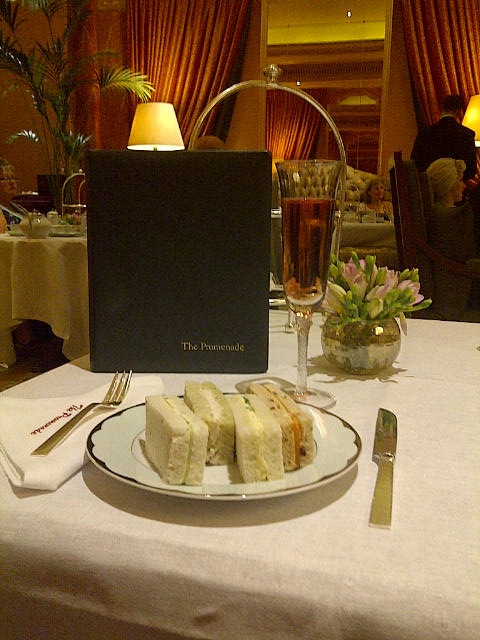 Glass of Laurent Perrier Rosé Champagne with tea sandwiches
I opted for the Laurent Perrier Rosé afternoon tea (yes I know it was suppose to be sobering, but couldn't resist). I love this champagne, so easy to drink and a lovely accompaniment to the yummy tea sandwiches that were brought first to my table. Cucumber with cream cheese on caraway seed bread, egg mayonnaise with shiso cress on white bread, chicken with wholegrain mustard mayonnaise on basil bread and buttery smoked salmon on granary bread.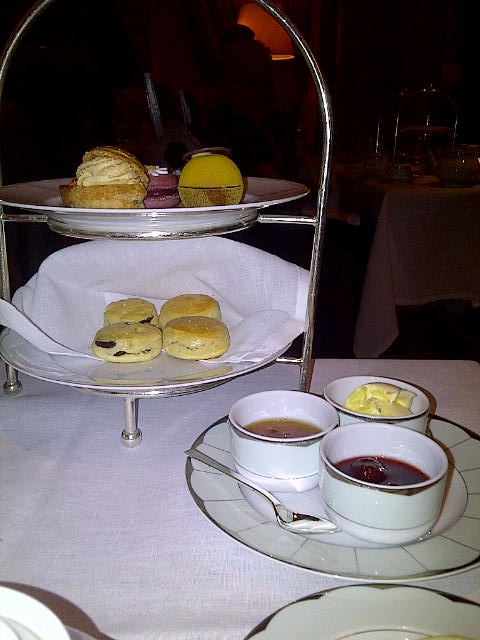 Warm homemade scones, pastries, clotted cream and scrumptious strawberry and seasonal jams made in the hotel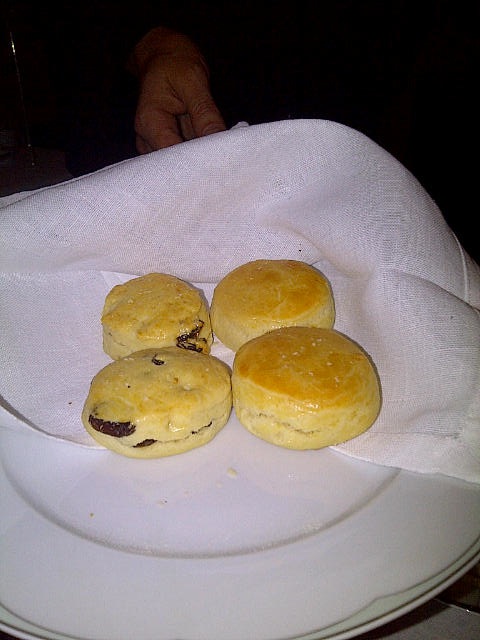 Warm scones up close and personal
Then came the main event, the teas. The Dorchester has 24 varieties of teas to choose from. I decided to do a tasting of a few different teas. My waitress, or tea sommelier, Martine, was adorable and definitely knew her teas. I started with the more delicate teas, Arabian mint garden, green tea rolled into little balls, with a hint of peppermint leaves that evolves when placed in the teapot. It was the perfect tea on a warm summer afternoon. Next I tasted two different darjeeling teas. I went from the lightest to the heaviest. The lightest being the Queen 1 Puttabong St Flush Darjeeling tea which is cultivated between 1,500-6,000 feet above sea level. This is a very light tea renowned for its excellent quality with a rich, fruity character and a hint of green apples. I finished with the Namring 2nd Flush Darjeeling which is grown in the picturesque surroundings of the Teesta Valley and initially planted in the Victorian era, in 1855. It is bright yet pale in color with excellent floral aromas and fruit notes. I was advised to use lemon not milk with these three teas.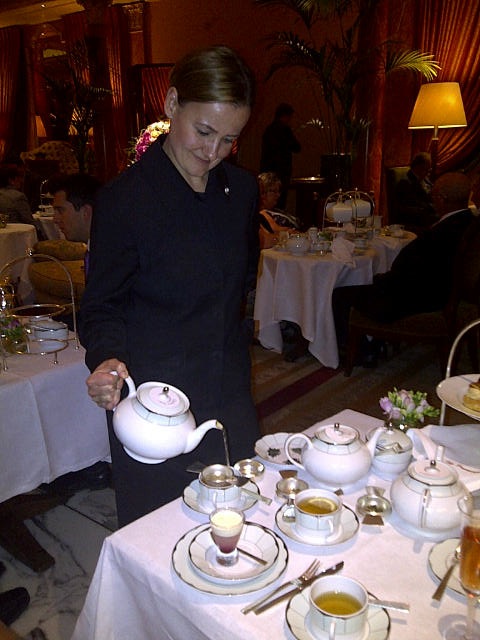 Martine, my tea sommelier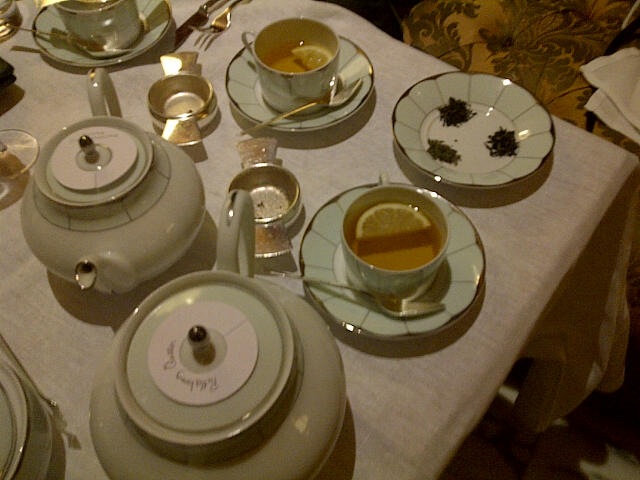 My tea tasting
Then came the moment I had been waiting for, the arrival of the warm raisin and plain homemade scones served with the most wonderful strawberry jam made in the hotel, a seasonal jam and Cornish clotted cream. How I have always loved warm scones and strawberry jam. As I write this, I am beginning to crave them once again and ohhhhh that marvelous strawberry jam. I think the Dorchester should package it and sell it on the open market. It is truly one of the best I have ever had.
The pastries arrived last, but frankly, I was satiated yet not full. I could have kept on going, but didn't want to spoil my appetite for dinner which by this time was only a couple of hours away. I felt revived and my feet rested after a day of walking the streets of London town. I was ready to be on my merry way. Before I rose from my table, I took in the beautiful surroundings, the elegant table settings, the gorgeous flowers, and the well dressed people. Teatime is such a nice tradition. It slows us down and at the same time gives us back the energy lost during a full day of work whatever it may be that you do.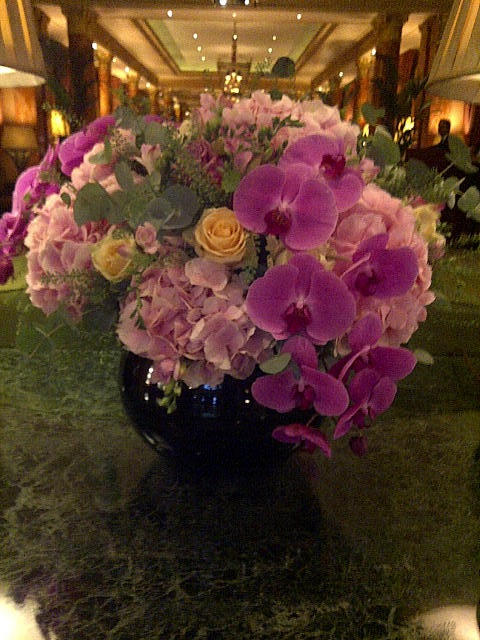 Flowers
There are two great quotes on the bottom of the cover to the teatime menu. The first is from Bernard-Paul Heroux, "There is no trouble so great or grave that cannot be much diminished by a nice cup of tea." The second is from Honoré de Balzac, "Great love affairs start with Champagne and end with tisane." I agree with both, wholeheartedly!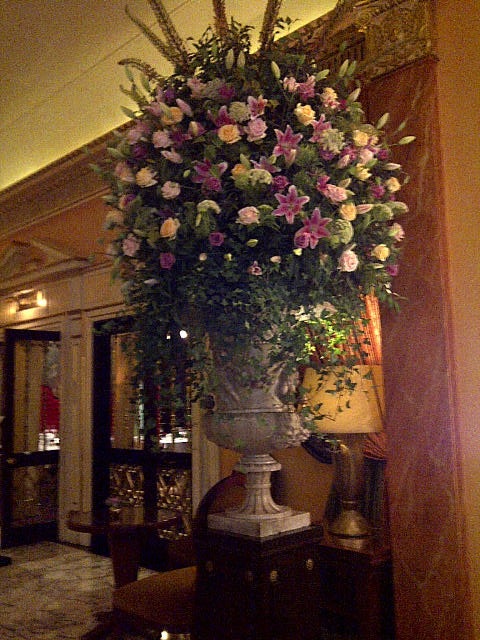 More fabulous flowers
The Promenade in The Dorchester Hotel
53 Park Lane
London W1 England
Tel:+44 20 7629-8888