I thought she was joking when my friend Ann Lawlor, a fashion and beauty PR representative and photographer, told me to look for the house cat upon checking into Hotel Le Bristol in Paris. She is a practical joker and I never really know when she is pulling my leg or telling the truth. Not wanting to be laughed at as some kind of fool, I never said a word about a cat running around a hotel because in America it would be illegal.
Then late one evening when returning to the hotel after another amazing dinner, (this time at Michelin three-starred Arpege), there he was, Fa-raon, this big, gorgeous, white Burmese pussy cat laying across the steps that descend into the lobby of this absolutely lovely hotel on the Rue St Faubourg St Honore not far from the Elysee Palace and American Embassy.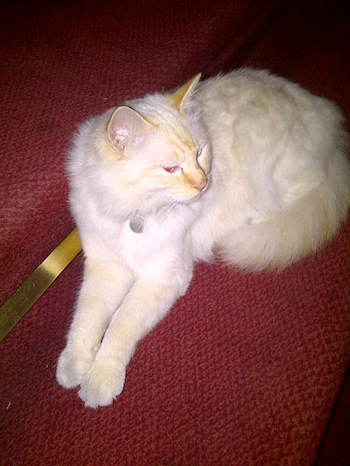 Fa-aron, the house cat at Le Bristol, lounging on the steps to lobby.
The kitty cat is only one of the elements that add to Le Bristol's reputation as being a family hotel as well as a home to the greats of fashion, finance, politics and movies.
Le Bristol was the backdrop for the most recent and well-loved Woody Allen movie Midnight In Paris. I like to use Woody Allen as a barometer of taste because it seems that everywhere he goes to sleep and eat I follow and love. (No, I am not stalking him just using him like a kind of cinematic Zagat Guide.) He was right on the mark with his choice of Le Bristol.
I came to Le Bristol for a three-day stay and never wanted to leave. From the moment I arrived, I felt like I was home. It is so rare to find a staff in Europe that has the ability to be formal and professional at the same time as exuding a warmth and sensitivity to guests needs. And believe me, I can be a real pain in the A!
Take for example my first morning at the Le Bristol when I ordered my coffee. Phillippe from room service brought it to me that morning. I asked him to wait while I had my first taste. Coffee, is like wine for me. I like to smell the aroma, then taste it. It was too weak.
I told him in French that though I was American, I preferred to have my coffee fuller-bodied and strong. "Just like your men?" a friend asked me. He said, "no problem, I will return with a better pot of coffee for you."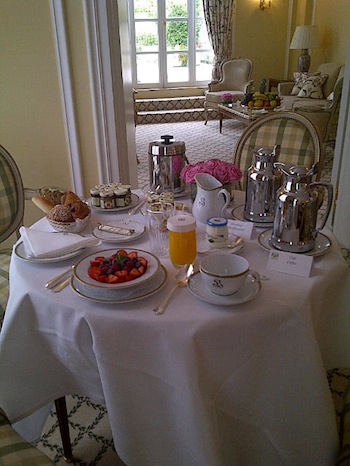 Le Petit Dejeuner with Philippe's fabulous coffee
Within less than 10 minutes, there he was, all proud and smiling holding a fresh pot of coffee in his hands waiting for my approval. He poured out a little into a cup and waited while I went through my song and dance routine. "I am so terribly sorry, I don't know what to say, this coffee is still too weak for me."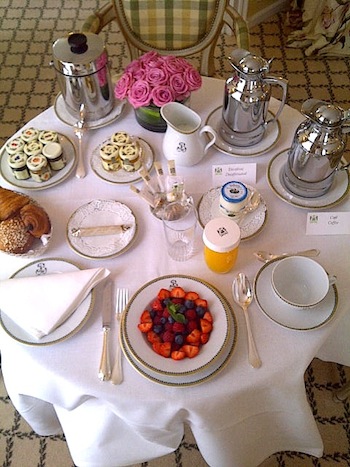 Looking over the pretty breakfast table
"Pas de problem, Madame Gibbs." He left and said he would be right back with what he was sure I would like. Sure enough, the third pot was the charm. It was espresso, but in France, the espresso is not as strong as it is in Italy, therefore it was perfect.
From that morning forth, Philippe personally brought me my coffee!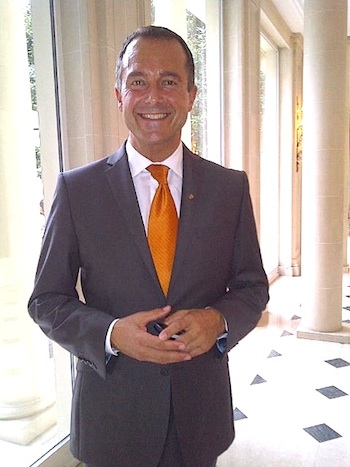 The very handsome Guest Relations Manager Jean-Marie Brulot
Phillippe is not the only one to cater to eccentrics like me. There is Jean Marie Brulot, the extremely handsome and elegant guest relations manager, who plays host, concierge and "shrink" all wrapped into one person.
Don't want to forget Eric Regnier in reception who was my initial contact at Le Bristol and who couldn't seem to do enough to make sure that everything went smoothly during my sojourn. Upon checking out, I combed the bill finding a small error. He never argued and quickly corrected the mistake. I am sorry, but where on earth do you find people that work in hotels like this? Yes, they do exist, but are for the most part a rarity. It is good to be reminded again and again what it takes to be considered one of the worlds most luxurious and great hotels.
Ok now let's get down to basics. I have seen every level of room in this hotel and there is not a bad one to be had. Maja Oetker who also owns among other great hotel properties, Hotel du Cap Eden Roc in Cap D'Antibes, personally takes charge of the decoration of the hotel. Each room and suite has been well thought out and designed individually.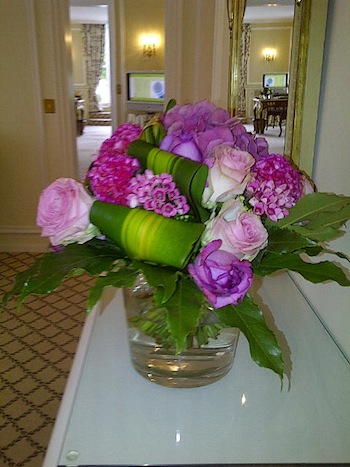 Flowers everywhere... my bedroom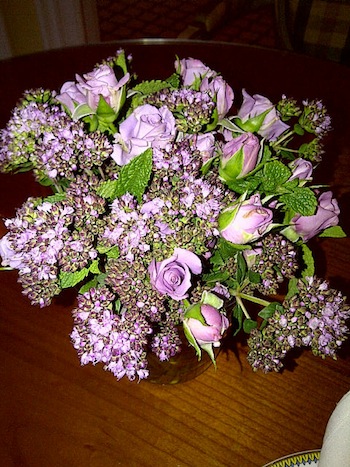 Flowers everywhere... in my bathroom
Flowers are everywhere in the hotel and my charming suite had a different bouquet in everyone one of it's three rooms and two bathrooms, as well as a bouquet in the gigantic private garden I was privy to have and which I thoroughly enjoyed.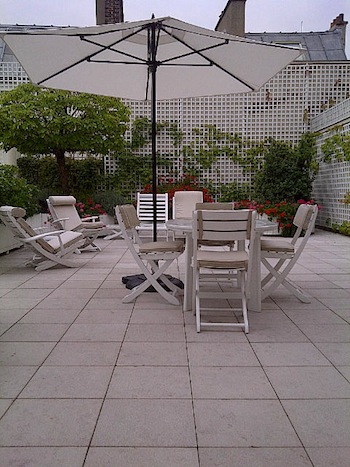 My private garden filled with flowers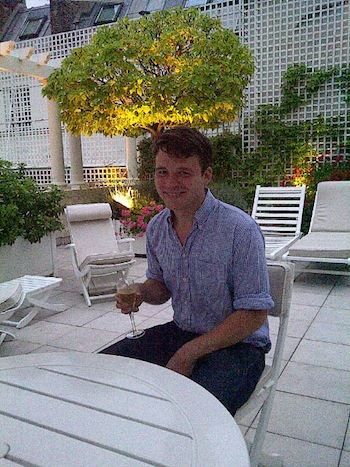 My young culinary student friend Teddy Rogers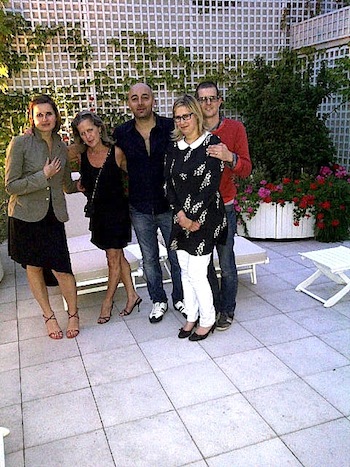 Me and my Italian pals enjoying my garden
The spa is being refurbished, so during my stay it was not available to use. Therefore the manicure and pedicure that I desperately needed had to be done in the room. Never mind, what a luxury to have this beautiful garden where we were able to enjoy the lovely weather while getting my fingers and toes presentable once again. My friend Ann told me that she had her hair blown out in the beauty salon and she wanted to kidnap the stylists to bring back to New York. I unfortunately never had the opportunity to try the salon, but will on my next visit to Paris.
My last night in Paris and in Europe happened to coincide with Bastille Day, the French equivalent to the 4th of July... They even have parades and fireworks. I remember six years ago when I was in Paris doing research for my book Everybody Eats There, being awakened by the sound of fighter jets flying overhead. I jumped out of bed in a panic thinking that World War III had begun, only to be told it was all just part of the Bastille Day festivities. Nothing changed this year, only Le Bristol's rooms were sound-proofed to the flyovers.
I had organized to dine my last evening in Le Bristol's fabulous three-star gastronomic restaurant where the Executive Chef Eric Frechon creates some of France's classic dishes with a twist all his own. I did want to see the Bastille Day fireworks as I missed Independence Day this year. Not to worry, all I had to do was ask. In between courses, my friends and I were whisked upstairs to an empty suite where we all stood mesmerized by the blazing skyline surrounding the Eiffle Tower.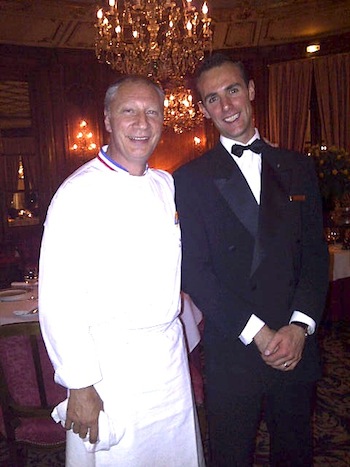 Eric Frechon the executive chef at Le Bristol
Back to dinner and the macaroni stuffed with fois gras, the hen served two ways and three desserts, which we all took turns tasting. I don't even want to attempt to describe the flavors of the food because I know my words cannot do it justice. You only have to know one thing, this food is what put France on the map as being the culinary giant it has been for centuries.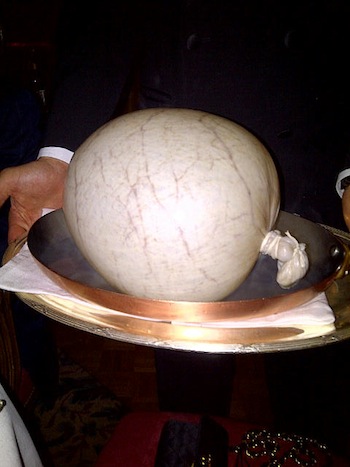 No it is not a ballon, but the hen.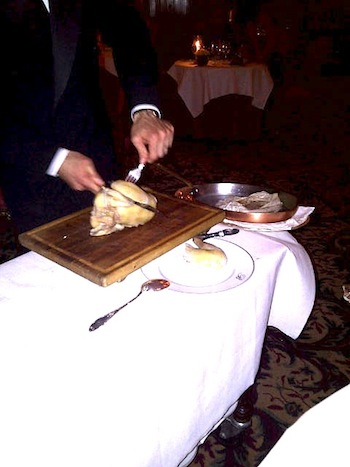 Preparing the hen two ways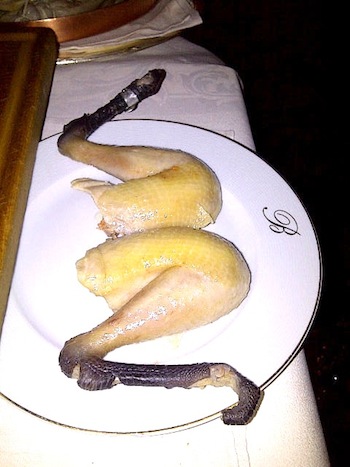 The legs of the hen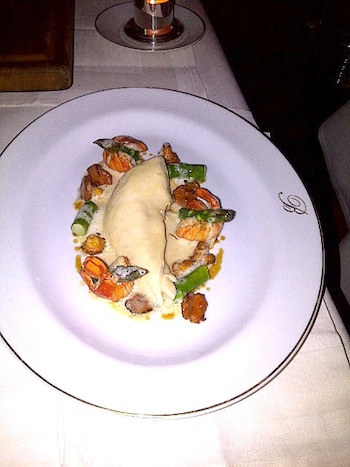 The finished product... Hen! Yum!
I would like to experience this same dining room with its beautiful chandeliers and dark wood walls during breakfast if i could ever get myself out of bed in time. I understand that this is quite the scene for breakfast in Paris. Well, it is just a hop, skip and jump from the seats of power so it has to be expected. Personally I prefer to have my petit dejeuner in the privacy of my own room and since this is a luxury hotel, room service is quite perfect.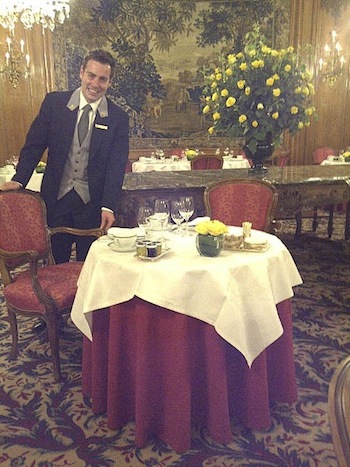 If only I could get up for the power breakfast...
On my last morning in Paris, the sun was shining and the temperature couldn't have been better. I asked the waiter if he wouldn't mind setting up my breakfast outside on the table in my sweet garden. I went to take a shower and when I returned everything was laid out beautifully ready for me to dig in!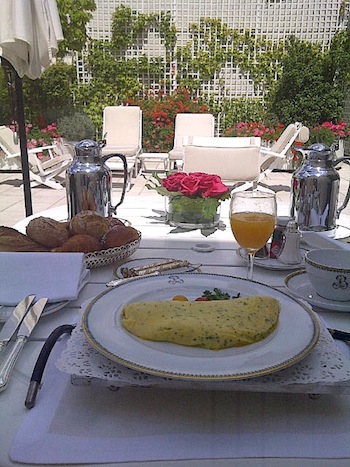 Mon dernier petit déjeuner au Bristol
As I do in every hotel in France, I order an omelette aux fines herbes at least once durning my visit. This was my last supper, so to speak, before the horror of airline food. Everything tasted delicious -- freshly squeezed orange juice, the perfect omelette, the thick fruity jam atop the flaky croissants and buttery brioches and the heavenly little pain aux raisins.
As I sat there looking up at the clear blue sky, taking a last sip of Philippe's good strong coffee, I had this overwhelming feeling of how very wonderful life can be. I will hold these marvelous sensations in my memories forever. Fortunately, there is always Midnight In Paris to revisit when I feel a bout of nostalgia coming on!
Addendum:
Returned to Le Bristol on 9/11/11 to see all the pals of whom I became quite fond. I took my partners in fine drinking and dining, Teddy Rogers and Augustin Passard. We went to have a promised margarita which I introduced to Augustin in New York City. My friends call them Mara-ritas.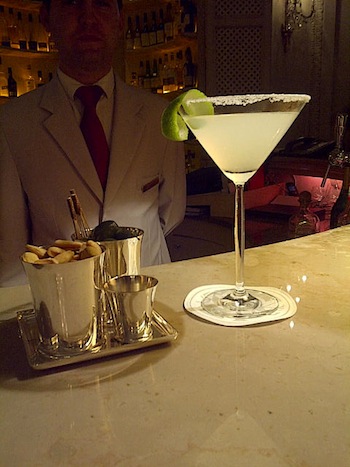 Mara-ritas at Le Bristol
It is three parts tequila, a reposado is best, one part cointreau, and one part freshly squeezed lime juice. Shake well and pour into a martini glass with ice on the side. I gave this recipe to the terrific bartender, Emeric Aguilar. After a round of these, we asked what were some of his specialities, and he proceeded to whip up a few. My favorite by far was La Dolce Vita -- champagne, puree of raspberries and lemoncello.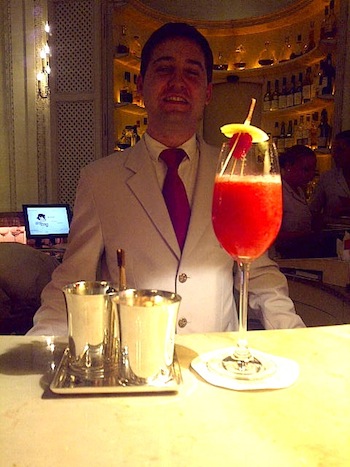 La Dolce Vita
Federico Fellini would be happy, and so were we! If any name for a drink represents the feeling I have every time I step through the doors of Le Bristol, this is it!
Hotel Le Bristol
112 Faubourg Saint-Honore
75008 Paris France
Tel:+33 1 53-43-43-25