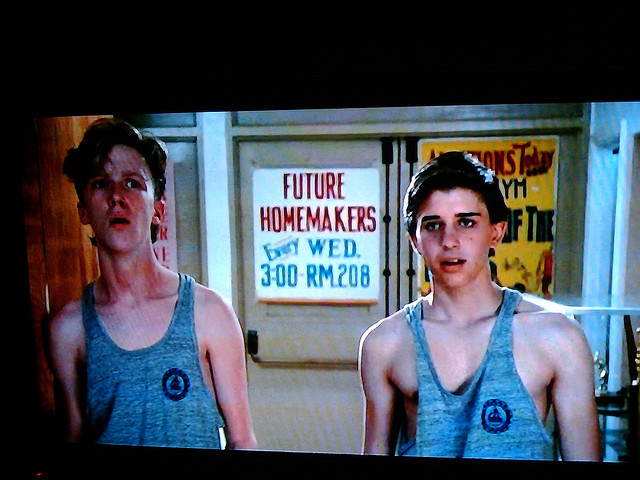 Just when you wonder if all teenagers are hiding their bongs and posting pictures of themselves on Facebook with their tongues out, you meet a group of teens who remind you that they're not.
Last week, I was invited to talk about social media to a group of teenagers who are participating in an entrepreneurship program at the Jewish Community Centre. To be honest with you, I was a little bit nervous. Me, an old lady, going in to talk to a bunch of savvy teenagers about the Internet? Yeah. They were probably chomping at the bit to hear my pearls of wisdom.
I made sure to wear waterproof clothing in case they brought their rotten fruits to throw.
I showed my presentation to my son before I went into the fray. He chuckled at my Simpson's cartoon, but otherwise remained straight-faced. I felt like I was doomed. So I wore my hippest footwear and set off bravely.
I was slightly nervous when I knocked on the door. I really wanted these teens to like me, to listen to what I had to say and to understand that I was there for them, to learn from them and to help them to achieve their goals. I know. Not a tall order or anything. But, I figured, if these kids had signed up for a two-hour weekly business class they weren't going to tie me up and graffiti 'nerd' on my forehead.
I was right.
They were incredible.
I loosened them up by telling them that I was the mom of teens (they widened their eyes at that piece of information because obviously they thought I was a hipster), that I was a blogger and that I was aware that they probably knew more about the Internet than I did. After they nodded their heads and punched each other, we got down to business.
They listened. They asked me intelligent and well thought out questions. They did not heckle me (well, they did mutter under their breaths when it was obvious I had forgotten to hyperlink my links.) Nor did they laugh at my jokes (do you know what it's like to be stared at by five teens after delivering the punchline?)
Two of these kids, at 15 years old, had already written a business plan for their app that helps kids to organize their educations. Well. When I was 15 I was... umm... whatever. This isn't the time or the place. Needless to say, I was impressed.
There were two best part of the evening (besides the moment the sole girl in the group asked for my blog URL so she could check me out. THAT is the definition of success, my friends.)
Best part #1: Watching their eyes light up when I brought Pinterest up on the screen. They had heard of Pinterest, or so they said, but had never seen it in action. They were mesmerized, and I could see the wheels turning as they figured out how to make it cooler and steal it away from the moms who make up 85% of it's audience.
Best part #2: When Coolboy (I can't remember his name. I'm terrible with names. It's an affliction) put up his hand and pointing at his notebook, said,
I want to tell you the three, no four, things that I learned from you tonight.
Wowza. I smiled while trying not to faint. The instructor told me that Coolboy never ever takes notes, never puts up his hand and never ever ever admits that he learned something.
As I was packing up, two of the other boys put up their hands.
Yes? I asked them?
Can I ask you a question? They both said at the same time.
Sure. I replied, still floating on the laurels of Coolboys accolades...
Are you one of those understanding moms?
I like to think so. I replied, smiling at the first young man. Looking to the other, I invited his question.
How old are you anyways?
So much for hipster...
Moral of the story: Don't underestimate teenagers and their ability to put aside their swagger to learn. Oh, also, don't try to make them laugh.
Originally published on momfaze.com