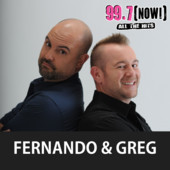 Podcasting takes all kinds but there are some "purists" who despise the growing numbers of terrestrial radio shows that are maximizing their reach by offloading their radio programs shortly after broadcast into the podwaves. Whatever works, as the saying goes, and the Fernando and Greg Daily Podcast, has been popping up with rising numbers on comedy podcast charts all over.
I sampled this past Monday's show, which originally appeared last week on the air in San Francisco, on KMVQ 99.7 FM. That's where radio's first openly gay duo (according to Wikipedia), Fernando Ventura and Greg Sherrell, holds court every weekday morning before slicing and dicing their program up for podcast consumption (they're not allowed to leave the music they play in the podcast version without paying steep fees or fines, whichever comes first...)
The main guys (along with straight producer Jason Dahlstedt) hit the ground running and fire out a pace from start to finish with the "morning zoo" rhythm so familiar to radio listeners for years, but with what can only best be described as a gay spin. They read news, take listener phone calls, do sports features - "If they're playing with balls," goes their blurb, "I'm all over them!" - as well as rag on movies and celebrity gossip.
The absence of music makes the show move superfast, at a pace "regular" podcasts would be hard-pressed to match. What Fernando and Greg may lack in podcast quirkiness is more than made up for with caffeinated, high energy, radio hijinks.
--
Also listening to: Monster Party: Horror Hosts; Not Too Deep with Grace Helbig: Epi4 Chester See
--
This review originally posted as part of This Week In Comedy Podcasts on Splitsider.com. Marc Hershon is host and executive producer of Succotash, the Comedy Podcast Podcast.