Deconstructing episodes of TV's The X-Files, cancelled over a decade ago, just got very meta with episode nine of Kumail Nanjiani's The X-Files Files new series, because he brought in the first series alumnus.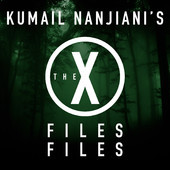 Fellow comedian and actor Dean Haglund, most famous for playing long-haired, bespectacled Langley, a member of The X-Files conspiracy theorist trio The Lone Gunmen, sat in with Nanjiani for this episode. The reason being that they discussing/dissecting E.B.E., the first season episode featuring the debut of the Gunmen.
Nanjiani's fanboy excitement is palpable at times as Haglund spins out tales from behind the scenes of the episode. And there are a few Easter eggs revealed that fans of the show never knew to look for before. Such as the style of Langley's black hornrimmed glasses varied in the first few episodes because the prop master pulled them at random out of a bag of eyeglasses each time. And that the band The Ramones were such big fans of the show that they would time their appearances on stage during nights the show was on so they would be done in time to catch every episode.
This podcast is so focused on the subject matter of The X-Files that the two guys don't even mention the fact that Haglund has been co-hosting his own podcast, the Chillpak Hollywood Hour, for over seven years. Maybe Dean should have Kumail on his show sometime to deconstruct HBO's Silicon Valley.
Other podcasts I'm listening to: Improv Nerd, Strange Times
This review originally posted as part of This Week In Comedy Podcasts on Splitsider.com. Marc Hershon is host and executive producer of Succotash, the Comedy Podcast Podcast.