As we round on the end of another year, it's worth noting that podcasts are drawing guests of increasingly notable status. (True, a number of them think they're doing a radio interview but, that aside, the pool is getting deeper and more interesting.)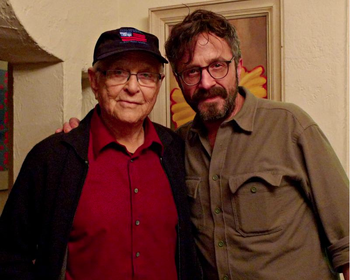 For his 555th episode of WTF this week, Marc Maron ventured forth from his garage to sit with television and film comedy legend Norman Lear. The creator of such historic and hysterical fare as All In The Family, Maude, and Good Times, at the age of 92, has a lot to relate and Maron guides him thorough telling us some great highlights.
As his guide, the host of WTF is using Lear's recently published memoir, Even This I Get To Experience, and it's great to hear some of the behind the scene stories brought to life. Like when, as a comedy writer, he received a gift from his then-boss Jerry Lewis back in the comedian's heyday, only to be abruptly dismissed the next day. Or how executives from NBC had to sneak into CBS Studios in Los Angeles to watch a presentation of Sanford & Son because Lear's home network passed on the project. Then there were the first two pilots he shot of All In The Family WITHOUT Rob Reiner in the role of Mike "Meathead" Stivic...
Great stories within a great conversation.
And one of the best things about Norman Lear being on a podcast? More legends will likely want to start doing them, too.
--
Also listening to: The Kundalini Files Redux; and Taco Tuesday Epi 16: The Lost Boys of Killeen.
--
This review originally posted as part of This Week In Comedy Podcasts on Splitsider.com. Marc Hershon is host and executive producer of Succotash, the Comedy Podcast Podcast.