David Feldman is a sterling example of a comedian and writer who, despite his success in mainstream media -- he's won a trio each of Prime Time Emmys and Writers Guild Awards, has written for a pile of TV shows, like Roseanne and Real Time with Bill Maher, as well as for the Academy Award, the Emmys...the list goes on and on -- since 2009 he's had The David Feldman Show out there as a podcast (and also a radio show, as of the past few years) to keep him honest.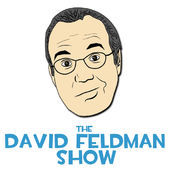 Not satisfied to maintain the status quo, his podcast has shifted formats over the years. Starting out as a live show that harkened back to the days of old time radio with a cast of comics, to nowadays as more of a straight ahead interview show. His guest going into last weekend was Larry "Bubbles" Brown, a longtime fixture in the San Francisco comedy scene dating back to the early 80's; about the same time Feldman got his start there, too.
This episode is a rambling conversation, filled with remembrances, comic moments, a few serious asides, and a handful of dead hooker jokes. It also features an attempt to display Brown's amazing ability to recall the details of plane crashes in the US by being given just a date. In this case, he's only able to pull out a couple of correct answers but then even the best psychics have their off days.
For a few brief moments, Bob Rubin, another S.F. comedy scene alumnus, joins Feldman and Brown but technical snags prevail and he's aced out of the chitchat.
There's no agenda or pressure to get anywhere in particular in this interview, and part of the fun is that it can go anywhere at all without notice. Butter.