Louie Anderson has a solid, decades' long foundation as a headlining comedian, in addition to his other resumé items, such as game show host, TV guest star, and even poker player. It seems only fitting that he now adds podcaster to his arsenal.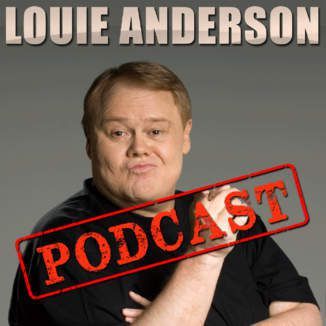 In the first handful of episodes of The Louie Anderson Podcast, the format has been an interview style show, with guest comedians like Frank Caliendo, Carrot Top, and Harry Basil. For his fifth outing, the interviews continue but in this case they are relatively short chats with fellow comedians on one subject: Robin Williams, and how he is best remembered by some who knew him well in the early years, some who met him in passing, and those who hung with him in his final days.
The episode is bookended with a couple of memorable Robin bits from his albums and TV specials. In between Anderson engages quite an interesting lineup of comics, some of whom today's younger comedy crowd may not even have heard of, such as Jeff Altman, Tim Thomerson, Blake Clark, and Harris Peet. They all were working the Comedy Store when Williams first blasted onto the LA scene.
Eddie Brill remembers him from his times in New York and on the Late Night with David Letterman show, where Brill was a talent booker for years.
Then from his San Francisco circle, Anderson chats with Steven Pearl and Mark Pitta, who spent time with Williams just a couple of weeks before his death.