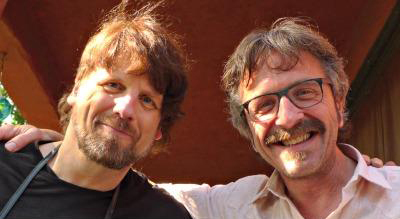 It wasn't my intention to cover Marc Maron's WTF podcast so soon after the last time but that's before I knew he was going to have the Amazing Johnathan on this episode. Not only was Johnathan an outrageously original comedy act to catch live - he explains on the show why he's recently retired from performing - but I can vouch for a number of the stories he shares with Maron (and a number that he didn't) because I was there.
A big break he talks about was a game show that Merv Griffin produced with him as the host. Or it should have been a big break - 65 episodes later, it never got national distribution and was dead in the water. And so was the staff, including the head writer...me. (You can catch bits and pieces of Ruckus on YouTube if you're curious.)
Rumors have floated around in the comedy community for the past few years of Johnathan's "heart troubles" and in this revealing conversation that gets pretty deep at times, we learn it's true. The wild comedy magician has a heart condition that is severe enough that he is required to wear special gear and his prognosis from doctors is not sunny, giving him limited time left to live.
He speaks to Maron openly and unapologetically about his drug use: "I knew what I was getting into - I'm sort of surprised I made it this far!"
He's had a rollicking life, both onstage and off, and if you never had a chance to see him live, here you can at least listen to him give some of the highlights of a life brightly lived.
This review originally posted as part of This Week In Comedy Podcasts on Splitsider.com. Marc Hershon is host and executive producer of Succotash, the Comedy Podcast Podcast.