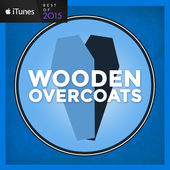 Wooden Overcoats
S2E1: The Ghost of Piffling Vale
The delightfully funny and fast-paced soundcast sitcom Wooden Overcoats is back. It's been months since its first season concluded but given the rich production value and the tight writing, Season 2 looks to be worth the wait if the kickoff episode is any indication.
Things pick up essentially where they left off -- Rudyard Funn and Eric Chapman, owner/undertakers of two rival funeral homes are competing for the dying denizens of the tiny Channel island village of Piffling Vale, which is scarcely big enough to support one of them.
Rudyard's sister, Antigone, has been made a partner in the business; their way-over-qualified assistant Georgie is still...assisting. And the whole series of misadventures is narrated by Madeline, the mouse with dreams of publishing her memoirs.
The episode that opens the second season is Halloween-appropriate, in that the sitcom-wacky plot involves Rudyard and his staff having to put on a séance in order to summon the spirit of a customer's deceased brother. That was the condition by which Funn Funeral Home was able to snatch the business away from Chapman's but, unfortunately, things don't quite go as planned and hilarity ensues.
(For more on the new season of Wooden Overcoats, I interview series creator David K. Barnes and Tom Crowley, who plays Eric Chapman, in the latest installment of Succotash, my Comedy Soundcast Soundcast. Available on the Laughable app, iTunes, SoundCloud and Stitcher.)
• • •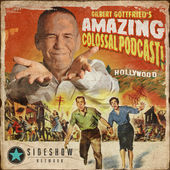 Gilbert Gottfried's Amazing Colossal Podcast
Dana Gould
This installment of Gilbert Gottfried's Amazing Colossal Podcast jumps the rails almost as soon as it leaves the station, so you know it's going to be especially good.
Guest Dana Gould is on equal footing with host Gottfried when it comes to being a storehouse of arcane knowledge about movies, television, and a host of other topics both popular and obscure. Both guys have also been doing standup comedy forever so share that background and friends. Gould has his own soundcast, The Dana Gould Hour, wrote on the The Simpsons for seven years and a number of other projects, including the upcoming Stan Against Evil, which debuts next week on IFC.
The reason things take a weird turn from the jump on this show is that Gottfried, reading from a written intro for his guest, mistakenly refers to Dana as "she" at one point which then leads to him joking about his guest's "neatly trimmed" private parts and then both men tagteam their way down a spiral of off-color references on the same theme.
Fortunately, co-host Frank Santopadre is there and, through extreme effort of will, is able to get the runaway train hurtling back down the right track, more or less.
They talk about old fashioned Hollywood fixers (ala Showtime's Ray Donovan), a legion of character actors almost nobody knows, how the movie Mars Attacks! could have been more successful,and ponder how Sean Connery's James Bond was more than just a tad "rapey."
Gould gets his dead-on impressions of Adam West and Don Knotts in there, and both he and Gottfried perform the song Something Stupid as dueling Vincent Prices.
I know, I know -- how can you not listen?
• • •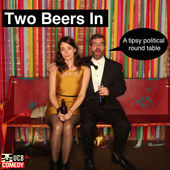 Two Beers In: A Tipsy Political Round Table
Joan Walsh, Desi Lydic & Ashley Nicole Black
Given the tone of this wacky election cycle, it seems quite appropriate that this year has brought us Two Beers: A Tipsy Political Round Table. Hosted by UCB comedy vets (and married couple) Cody Lindquist and Charlie Todd, the podcast invites a variety of guests on stage in front of a live crowd to "chug two beers" and discuss the politics of the week.
Put up at the UCB Theatre East, this week's show features a trio of female writers: Ashley Nicole Black (Full Frontal), Desi Lydic (The Daily Show), and Joan Walsh (The Nation).
As the presidential race gets down to its last days, the docket of four women and one man plows pretty heavily over Donald Trump's mounting series of gaffes, errors, and misdemeanors. Hillary Clinton isn't let completely off the hook, but does get off pretty easy.
The panel goes after the lame duck Senate and their obstructionist ways in stalling out over the appointment of a ninth Supreme Court justice. And there's a lot of discussion around what the aftermath of the election might look like in the Senate, the House, and the country at large.
At times the tone turns serious (how can it not with what the U.S. is facing come November 8th?), but then it veers wildly back into oncoming comedy. And with phrases like, "I think Paul Ryan is a spineless f__k. He could have stood up to Trump and been King of S__t Mountain for life," popping up some 40 minutes in, it's clear where political discourse has been beerjacked.
At only two brews per guest, the show never goes completely south, which is food for thought: Perhaps long-running political panel shows like Meet The Press might be well-served by introducing an open bar to the proceedings.
• • •
Podcasts I'm also listening to this week: Slate's Culture Gabfest -- Beige Goo Edition; and Wrestling with Westworld -- Epi104: "Dissonance Theory"
• • •
In addition to his weekly contributions to This Week In Comedy Podcasts for Splitsider.com, Marc Hershon is the host and executive producer of Succotash, The Comedy Soundcast Soundcast, featuring clips from comedy soundcasts (née podcasts) from across the Internet as well as interviews with podcasters, soundcasters, comedians, and assorted show biz folk.