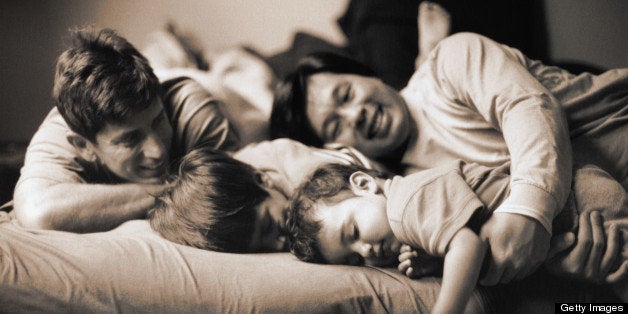 A couple of weeks ago, I found myself outside a Starbucks in downtown White Plains, New York. I arrived clutching an insulated cooler bag, as did the woman I was there to meet. We planted ourselves on a bench near the entrance, where she pulled back the zipper of her soft-sided satchel to reveal countless six-ounce Ziploc bags of liquid gold... breast milk!
My husband Lin and I are in the final countdown to daddy-hood. By June 20th at the latest, our surrogate, Jeanne, will give birth to our twin boys. It's been an exhilarating, frustrating, inspiring affair that's spanned two years. Now, with the interminable lead-up drawing to a close, we're attending to final preparations, and getting ready for the real work to begin.
Living in Brooklyn, jammed as it is with attachment parenting and lactation consultants, got us thinking early on about how we'd feed our newborn boys. The general consensus is that breast milk is the best choice, as even the labels of formula canisters alert you to. And though a friend told us that in "extreme circumstances" men have been known to lactate (which I am able to confirm thanks to a traumatizing YouTube video), we expected we'd require some help.
I'd heard talk of a Brooklyn Breast Milk Bank, where generous women with prodigious milk supplies could share with other babies in need. Only, when I looked online, this magical milk bank appeared instead to be mythical -- no trace of it. My search led to several other websites, each of which was arranged more like a commodity trading desk than a donation clearinghouse. Lots of milk was available, each with its own listing describing the health and eating habits of the mom, and information about shipping. But this wasn't an exchange based on the gift economy. At about a dollar an ounce, we were looking at more than $200 each week for the twins. Still somewhat reeling from the financial exigencies of gestational surrogacy process, there was no way we could pull it off.
We figured that if at least we could secure the super-charged initial breast milk, called colostrum, from Jeanne, that formula feeding would have to do after that. Overall, formula seems to be much more advanced and nutritious than years ago, and kids who never have breast milk seem to grow up perfectly healthy and strong. We resolved that this would have to suffice, and tried not to fall into a pre-birth parental inadequacy spiral.
I get a weekly email from an outfit called Food Renegade, which is usually dedicated to opposing GMO foods and companies like Monsanto. Most of the time I don't delve very deep into each week's topics, but six weeks ago, an article caught my eye. "What to Do When Breastfeeding Isn't An Option." It was a goldmine, and discussed, among other topics like homemade formula,
how to locate donated milk.
They article linked to several groups, among them Human Milk 4 Human Babies and Eats on Feets, each of which has location-specific Facebook pages dedicated to facilitating milk donation. That day, I wrote a little bit about our story on both pages, and waited to hear back. The women who run each site responded to me, then re-posted what I'd written. Shortly after I started receiving messages on Facebook.
A week later there I was in front of that White Plains Starbucks. It's a funny thing, meeting a woman for a brief moment (made briefer as the milk needs to get back into a freezer as quickly as possible) and collecting from her this rare, precious thing. So far, I've also collected milk donations in Park Slope, Brooklyn, Staten Island, and the Upper East Side of Manhattan. Each time, I've been taken by how altruistic and generous these women are. Certainly there are more desirable uses of a new mom's free time that coordinating a milk exchange with a stranger; yet there they were. Each of them said the same thing; they didn't want the milk to go to waste. But I wonder if they realize just how amazing it is that they took the additional step to actually do something about it?
Before my first milk mission I headed to Lowe's in search of deep-freezer to store the bounty. I found one at a good price and I had it delivered the next day, signaling the first dissonant design note in our soon-to-be permanently cluttered living room. Now, the freezer is full. FULL. I'm not sure exactly how much we've collected, but it seems to be about 2,000 ounces, all told. That's enough to feed our twins for between two and three months! What seemed like a fantasy has suddenly become very real.
With our baby shower over and the nursery complete, all that remains is for the boys to arrive. It's been an epic lead-up, and we're feeling ready. More than that, we're even a little impatient -- the places the mind wanders in anticipation of a huge event like this may be more fraught than the reality. Bring 'em on, we say! And with the help of our new friends, our kids will be off to a great start nutritionally, and they'll know in time the great generosity that their arrival inspired, not just from friends and family, but from strangers with hearts of gold.