First, a few details you should know about. The first NYC BigApps BigBuild was on Saturday, May 17th at the NY Media Center, 30 John Street in DUMBO, which for the uninitiated is the acronym for Down Under Manhattan Bridge Overpass. The event was scheduled to run until 9pm. I left Manhattan at 7:45am. I'm one UI designer on a large team taking on the BetaNYC-SmarterCities IBM challenge to build a systems dynamics model for NYC that will attempt to measure affordable housing in New York City. I'm also working with a smaller team to design an interactive app that maps and filters day care options for NYC parents.
Oh, btw the weather. Got to mention the weather. Wet. Really wet. The rain the previous night: Epic. Lakes at every street corner. Was planning to take in the classic Mae West/Carey Grant film at Anthology in the East Village along with some short reels about the "old" Bowery but the weather obliterated that plan so instead had to fight for a dinner table with everyone else fleeing the sidewalks. Ran into some friends. I can count on my hand the number of times someone I know has been seated next to me. What are the odds? There was no reason to stray so far off topic...
The next day, on the way to the BigBuild the conditions along the the East River bikeway might as well have been a swamp. I snapped this picture at the T junction of grunge and Pike Slip on the Lower East Side: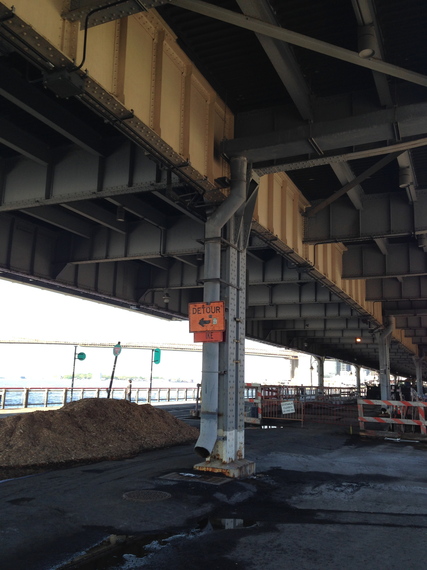 This got me thinking about design. For the user interface engineer approaching a project is so often a case of having to work with the cards you're dealt. Sure it would be nice to have the God eraser, reshuffle the deck, start anew, but hey if misery loves company we would cease to have any friends. Right? We make do, bitch a little or a lot and get on with it. We make it work. Sometimes I don't like designing. Sometimes I don't like people. Neither are true, most of the time.
In the late 1950's, American urbanist Jane Jacobs, wrote in The Death and Life of Great American Cities "It may be that we have become so feckless as a people that we no longer care how things work but only the kind of quick, easy outer impression that they get." She was referring to how machinery at one time served a dual purpose. To help complete a machine task and to instruct users how to use, configure and repair the machinery. Construction and maintenance were integral to design. Maybe this is the essence of craft. Maybe legacy should be embraced not feared.
Jacobs based much of her theories on keen observations of how people actually used their space. She was skeptical of the renewal schemes of her time, calling them a "mad spree of deceptions and vandalism and waste". Architects and planners with portfolios who impose their vision. In the urban landscape such as New York City we are so often dealt a moveable feast of external threats, sensory inputs that we are forced to internally map and then navigate. It's through this trial and failure that we assemble the working interfaces and then inform others. A continual organic process of iteration and documentation. A kind of mental state of just-in-time versioning and deprecation.
My point is, much of our physical and virtual space is mapped by the familiar in the midst of the utterly confusing. Take our detour sign. One could fashion a week long symposium about it. A proverbial deep dive. The detour sign is authoritative but with a twist. A contract based on trust --> The Arrow. The expectation is that the route designed by the road engineers will safely direct us around a hazard. However a detour is more often than not placed within a confusing or foreign landscape. With trust diminished the traveler advances at their own risk. Without the knowledge of place, without time to investigate, a detour is an uneasy but necessary path back.
Be it designing out of the chaos of legacy code or a clean slate, expect diversions, expect a few to get lost, get pissed, or just plain ignore guidance altogether. But please be generous and leave behind ample breadcrumbs and more than just a few comments of poorly written documentation. As designers, are we not teachers as well as builders?
Btw, I made it safely over the Manhattan Bridge and into Bklyn.