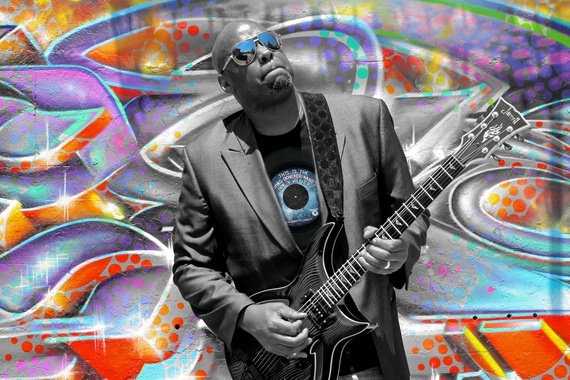 Tomás Doncker has been part of the national and international music scene for some time, traveling to places like China, Japan and Ethiopia just to name a few, promoting his Global Soul message. All of this has not been a solo ride for him, for he has had a tribe of talent -- past and present -- by his side. Along the way, Doncker was fortunate in making the right connections and cycling back to those connections. If you ask him where home is: He most likely will say: "Anywhere from Brooklyn to Ethiopia and everywhere in-between. I'm a citizen of the planet." In the past, he was part of the N.Y.C. bohemian scene, working shoulder-to-shoulder with James Chance (and others) and cementing the No Wave movement's goals. Currently, he is the founder of the True Groove label which focuses on his genre inclusive movement, Global Soul. Recently, he linked up with The Orchard, which should be instrumental in propelling his efforts on a larger stage.
How did it all begin?
Tomas Doncker: I got my start 1978-79. I auditioned for a band, the Contortions (AKA James White And The Blacks). The band was made by James Chance -- who is a legendary saxophonist and singer and the founding father of the N.Y.C. No Wave Punk Funk scene. He influenced tons of people from the Talking Heads to the Red Hot Chili Peppers. James Chance gave me my start. And from that point, I've been full board doing music. I had credibility at the top from the start of my career. If you get to meet the right people and play with the right people, then go for it. You can be very talented, but it's all about whom you know.
Fast forward -- we have recently signed James Chance to True Groove Records. And we recorded a single that is going to be released within a month. It's a cover of a James Brown tune called "I Don't Want Nobody To Give Me Nothing (Open Up The Door)." It's a classic James Brown song that James Chance has been playing for years. So, it's nice that my career has been moving forward, while it's coming full circle. We're working on a full length album with him as well as a documentary of his career. The Pixies have a documentary called Loud Quiet Loud, and they were another band that was influenced by James Chance as the leader of N.Y.C.'s No Wave scene. And I think that the documentary on James Chance is going to be equally as important to the history of music and culture. The True Groove label's been in existence for three years or so. As of recently, we've signed a [global distribution] deal with The Orchard. That's a big deal. The whole focus of the label is Global Soul. It's genre inclusive. The one prerequisite is that you have to be banging.
Explain the No Wave movement.
It was a reaction to Punk. The energy of Punk came out of N.Y.C. Brian Eno produced an important record called No New York. It was one of his most successful productions as a young producer. James Chance was a featured artist on that record. The No Wave movement was spirited by James Chance. Out of that whole thing there was a level of musicianship that James demanded. No disrespect to a lot of the other bands -- Punk was mostly about the energy and not having any level of musicianship. James required that you have the same level of energy, but you better be able to play your ass off. The Punk Funk scene came out of the No Wave movement. There is a movie documenting that, Downtown 81, which stars Jean-Michel Basquiat -- the legendary artist who was also a friend of mine -- Debbie Harry, King Kreole and the Coconuts, and Arto Lindsey. It's a documentation of NY at its most bohemian. I grew up in that whole scene. A typical day would start off with a rehearsal then an art opening then having a Jazz session at the art gallery and then going to a gig. It was a very vibrant community. Jean-Michel Basquiat was an important part of the artist side [along with] Keith Harring, Andy Warhol, and then on the [music] side of it you had Laurie Anderson, James Chance and the great Bill Laswell.

What is the Global Soul message?
We put together a manifesto. It's on our website. [Global Soul] is genre inclusive, the best that we have to offer from Brooklyn to Ethiopia. Somebody may say "That's a very tall order. Can you live up to that?" And I'm like, "There's nothing to live up to. It's what we believe in." I'm not the first guy to come up with something like this. The people who have done this before are from another time, for example, Sharon Jones and The Dap Kings. People love them. Why? They love them because they are true to what they do. It's simple. Good songs. Good singing. Good band. We are here to play the music. It's soul music. It's nothing that Motown Records hasn't done. It's nothing that Stax Records hasn't done. It's nothing that the original Atlantic Records hasn't done. You gotta remember all these labels were at one time independent labels.
How did you get involved with the Shanghai World Expo?
A former colleague of mine went to a conference with a couple of my CDs. He arrived on a Monday, and on Tuesday morning he called me from France. He was going crazy like "Oh my God, you are not going to believe it, these Chinese people want to bring you to China." We played nine shows in eleven days, in front of over 300,000 people. We did four shows at the Expo -- which is like Times Square on New Year's Eve. Frankly, that's small for China. It's impressive, but really it's possible to play for even more than that in China. They love music. The people were very warm. Very receptive. And the language barrier has nothing to do with it. There was no language barrier. By the second verse of all of our songs, everyone was singing along with the chorus. And that made me cry. When we were doing one of our songs -- "Lucky Day" -- there is a video clip of us performing it. The person who filmed it got a close up on some of the Chinese people singing along, and I was like "How do they know my songs?" They haven't even heard it one full time yet. It was because they came to be a part of a musical experience. They weren't looking at their cell phones. They came to see the land of America. And that's what they were doing. Just to be in that environment was so refreshing. It was simply the power of music.

What country was the most enriching experience for you?
Inspiration is where you find it, if you are opened to receiving it. I travel inside of my head every day. I can put on a piece of music from anywhere in the world and just imagine being there. It's in my head. It's my world. There's always interest in seeing new faces or hearing different languages. Just the sound of different languages -- they have different rhythms, different tonalities. I lived in Japan for four years, and I learned how to speak Japanese. A lot of my Japanese friends were amazed at how quickly I picked up the language. And let me tell you Japanese is a hard language to speak. Honestly, as good as they thought I spoke the language; it's a very musical language. Half the stuff is about the intonation of how you say certain words. And that was easy for me to get because I am a musician. I can hear the rises and dips in the tonality. I just copied that. I don't know if I can speak great Japanese, but I can mimic the sound of it because it's musical. There's music in language. There's rhythm, there's melody. I like feeling that. Just by walking down the street -- not necessarily just listening to their music -- but talking to people. Try having a conversation with someone who doesn't speak English. It's thrilling when you have someone who wants to communicate with you. We find a way because it's human nature. It cuts through any supposed cultural barrier.

Would you elaborate on the Howlin' Wolf project?
The project was well received. I was doing [Central Park's] Summer Stage last summer, where the music of Howlin' Wolf was essentially the sonic backdrop for a play about the blues. We did nine shows around the N.Y.C. area in all the major parks. And because of the response from the press and the public, we have gone on to record a full length album. It's called Moanin' At Midnight: The Howlin' Wolf Project. We will be releasing that at the end of June. It's eleven songs, as opposed to five. It is a joy to go back to what I consider to be my roots -- blues. If you can't sing and play the blues -- there are a lot of other things you can do -- but look at the people who do the blues. B.B. King, Albert King, Jimi Hendrix, Curtis Mayfield. That's a family tree I want to be a part. I see myself as the continuation of those guy's legacies. That's the club I want to be a member. To do this [Howlin' Wolf] project means a lot to me. We have a NY show in July appropriately happening at midnight because the show is called Moanin' At Midnight. We are going to do a multi-media presentation of the whole record. I'm working on the project with Mark Hoffman. Mark Hoffman along with James Segrest of Moanin' At Midnight -- the Howlin Wolf biography. [Mark Hoffman] is also in charge of the official Howlin Wolf website. Obviously, he is the authority on Howlin Wolf. This music doesn't die. It gets passed on from generation to generation. There is something about "soulful" music -- not just soul music. That's how we get our Global Soul thing. This Howlin' Wolf project is important to us to show the roots of where Global Soul comes from.
You can follow Tomas Doncker and True Groove Records on their website.