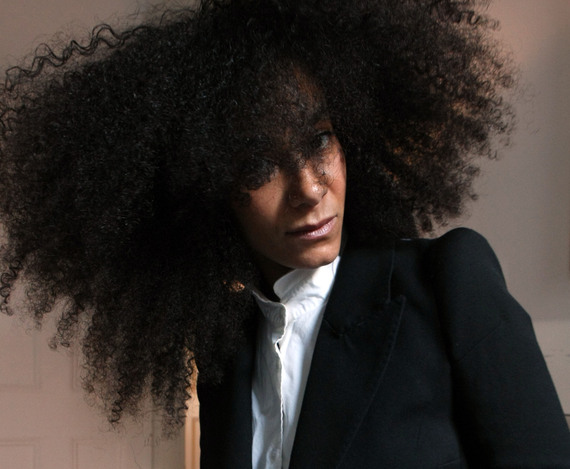 Amatus is a woman with big hair and a sweet, sexy voice that delivers an impressive range of melodic layering. She knows that spontaneous reactions to change are unavoidable in places like New York, Chicago and Philly. The cities she has called home, the cities where she has experienced the freedom to create, and the cities where she has witnessed several deaths through gun violence. Brushing shoulders with people like The Roots, Erykah Badu, Common, just to name a few, her songs ease-out the hard edges of the metropolis, balancing the tension, while adding harmony to life.
Broken Compass, her debut EP, is a response to that creative flow that festers in urban communities; albeit, needing the aid of a navigational tool. But when one has a broken compass it is difficult to place oneself within the larger world. Issues concerning love and relationships might be challenged, but a world of harsh competition would be exponentially daunting.
The five tracks, which are just under sixteen minutes, are dimensional; particularly in the interaction between the drumming and the vocals. Although her lyrics sometimes fall short of insight, her sultry delivery makes up for the missing poetry, especially heard in the last two tracks "Punk" and "Cherish." The effort's first track "Coming Home" introduces Amatus' love proclamation: She sings to a distant lover who holds the key to a broken heart. The aggressive pounding of the drums reinforces the message: she is ready to come home. "Messin" starts with that same pulsating drumbeat as she sexily draws one in to her needs: all I ever wanted is you. Again, the percussion leads into "Run Fast," caught in a mass of concrete, Amatus knows her heart lives in a small town, even though she lives in a big city.
On the whole, the EP's soundscape does convey the never-ending verve experienced in cities like New York, Chicago, or Philly with its mix of contemporary rhythms. However, along with that energy, the sensation of being weighed down by a ball-and-chain often permeates, hence the video. Amatus manages to address her own heartache through her voice and background instrumentals, but it is difficult to take that heartache passed a personal experience and into a larger arena without a visual representation. Perhaps she was trying to find her own way through the city and hoped to guide others in their journey through the larger macrocosm.
You can stream and download Amatus' EP Broken Compass on BandCamp.