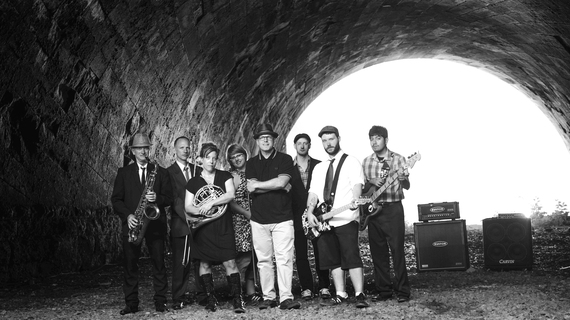 When Jamaican rural Mento music migrated into a jazzy, brassy urban sound, Ska was born. While Mento offered a real slice of Jamaican life in the 1950s, Ska filled the streets and resort areas and brought attention to a nation celebrating its independence in the early 1960s. The music of the people was proud, political, but most of all danceable. The Jamaicans were rejoicing their freedom, marching forward to Derrick Morgans lyrics "Sing it well, sing a song, sing a song, we're independent."
But the political element became more pronounced when poverty struck Jamaicans giving way to the music genre known as Rock-steady and then Reggae. Rock-steady was a slower sound in comparison to Ska and tended to address either love issues or a way to escape the conditions of the ghettos, albeit innocently and gracefully. Rock-steady did not last very long -- just about two years -- but greatly influenced Reggae. Yet, Ska did not fall into a grave. It lasted and went through three waves for a few decades.
In the late '70s, Ska made its way across the ocean to the UK where the second sound wave entered a steamy political punk scene and 2 Tone was born, promoting racial unity with an aggressive sound. Groups like Madness, the Specials, and the English Beat flirted with the political and party aspect of the genre. It wasn't until the '90s that the U.S. combined Ska and Punk Rock and this third wave of Ska achieved commercial success for about a decade.
This begs the question: Does Umbrella Bed, a 2 tone band from Minneapolis, move Ska into a new wave, perhaps the fourth, or has the sound remained the same?
Their new five-track EP, Refill, does fuse Jamaican Ska rhythms with punk rock, but it appears that the refill is more like a rehash. There are no political undertones -- Umbrella Bed is mostly party music. This does not mean that they are not likeable, or are not skilled --heck, they have been around nearly two decades. And there are eight musicians that make up this band. So, one would expect the music to be more complex and less simple. But the five tracks are trouble-free with lyrics that are unadorned and whimsical. Something seems to be lost with Refill. The vocals are uninteresting, and the effort seems to be under-developed. Quite frankly if it weren't for the horn section, this EP might be just suited for their devoted fans.
Umbrella Bed does have an uplifting vibe going-on. And I'm not suggesting that they got it all wrong now, or that they should go away. After all, they might be the 2 Tone monsters that will dub-in that long awaited fourth wave. That is, of course, if the 2 Tone audiences just want to party away their troubles.
You can stream Umbrella Bed's REFILL EP on BandCamp.