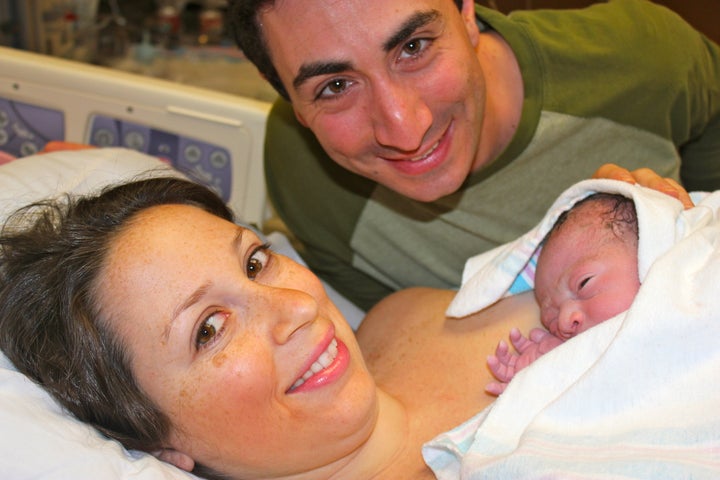 You are just over 2 weeks old, which means we have just a few days of parenting under our belts. We must let you know that we are new at this parent thing. Sure, we read books, we practiced holding friends' babies, and we took the classes at the hospital, but we have no idea what your cries mean. It makes us cry when your lip quivers and tears stream down your cheeks because you're hungry and Mom makes you wait a few more minutes to eat or when you get mad at bath time because you don't like getting wet.
"It can't be that bad!" we say. "You've got it pretty good."
We don't know how to entertain you, and we question every decision we make. I am sure we will all get the hang of each other soon enough. You'll be manipulating us in no time.
Our lives changed on March 13 just before 4 a.m. When the doctor told us to look at our baby, we exclaimed, "It's a boy!" It was the big question we had for so long since we decided not to find out your sex. We are so glad we waited -- it was the ultimate test of patience to not know who exactly was growing in my tummy, and it really kept us excited the last few weeks of pregnancy. The delivery room was the best place to find out "what" you are -- waiting for the big reveal made your arrival even more special.
Right away, we had so many dreams for you. We knew our family name would continue on, and we knew your dad would have a little boy to take to Texas football games and share his love of sports. However, we hope you don't inherit either of our lacking athletic abilities! We immediately had visions of a playroom full of cars and trucks and dinosaurs and airplanes. We knew our summer nights would be at a baseball field and eventually your Saturdays would be spent at the golf course with your dad and granddads, assuming it's not football season. We knew you would also be a fourth-generation Longhorn and inherit your dad's license plate of ILUVUT. That is the biggest dream come true for him.
We hope you will become a mommy's little boy too and spend time with your mommy cooking or doing art projects or loving on your dog big sister, Lily. And judging by the size of your parents' closets and their equal love of expensive shoes, we are also pretty sure you'll be a fashionable boy and young man.
We also have dreams for the kind of student you'll become. We hope you enjoy learning, find something you are passionate about and hobbies you are good at too. We know we will help you find exactly what you want to do. And looking even further ahead (like 20 or more years from now!), we hope you will be a kind, witty and loving young man and find a sweet-as-sugar girl with similar values to what you learned growing up.
There are so many unknowns to your life, being that you're not even 3 weeks old. You've never experienced a major holiday, traveled, or seen snow (well, living in Houston it may be years). You've yet to put your toes in white sand or have your heart broken by your favorite sports team. Your dad assures you it will happen sooner than later! You have a lifetime ahead of you, and we are so excited to be your parents and watch you see the world through your eyes. We can't wait to experience growing up with you, but for now, we're just taking it day by day -- one poopy diaper at a time.
PHOTO GALLERY
Logan Gilbert