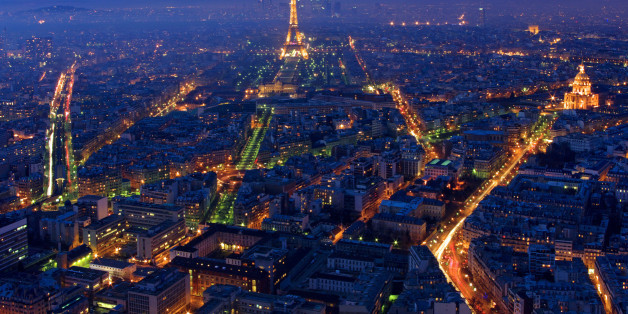 Last year, months before I knew I would be writing a book about France for Travelers' Tales, a publisher in Palo Alto, I was explaining to a friend why I, let's say, strongly encouraged my daughter to study French. For me it was simple. "Every girl should live for a while in Paris," I said. Another person in the room looked at me with disapproval. "That's kind of sexist," she said.
Of course, I know that most men love France as much as women do. My husband, when he was still my boyfriend, encouraged me to take a break from my job at ABC News 20/20, lift up stakes and move with him, just for a little while, to Paris. He is an artist, I'm a journalist and our professional freedom allowed us to heed the call, as Americans have been doing for centuries. We returned home after four years and now, a couple of decades later, with the rosy filter of hindsight, we still look back on our Parisian life together as, in some ways, perfect.
By saying that I wish for my daughter a spell in France does not mean to suggest that I don't wish it for my son, as well. But I believe it changes a young woman in ways that it might not change a young man. I learned to eat well, walk tirelessly, bake a perfect leek tart, and allow the singular elegance of Paris to penetrate me, sink into my bones, strengthen my spine and resolve. Walk with my head up so as not to miss something spectacular. No woman, not even the great beauties of France, could ever compete with Paris and that keeps us both humble and at the very top of our game. We seek out that transformation because in doing so, we seek more idealized versions of ourselves.
In the fall of 2013, I took the assignment to write 100 Places in France Every Woman Should Go. I was determined to make this a book for women and about women, and to add some history and observations behind the usual tropes of City of Light, perfume, champagne, châteaux and sinful desserts from which the clichés about women and France are derived. I wanted to combine memoir, travel advice, deep writing and just enough awe with reflections on some of the country's great -- or interesting -- women, starting with Joan of Arc up through Catherine de' Medici, to Edith Piaf, Amélie and even Carla Bruni. I like her music, and when I taught French, I made the kids memorize "Quelqu'un m'a dit." I wanted to focus on what captivates even the most sophisticated traveler to France, and tell the stories behind the places. The book will not necessarily inform you of all the ways to get to Versailles, or when to go there, but I will give you my take on why we have such an enduring fascination with Marie Antoinette, the last queen to reside in the palace. Similarly, Veuve Clicquot is more than just a yummy luxury champagne. It's a brand (and a place -- in Reims) imbued with story, of a 27-year-old widow who, in the late 18th and early 19th century, made the company what it is today.
I loved writing this book. I traveled to France and often, rented a car, drove along the autoroutes and through medieval villages, in the sun, the rain, the snow, and one particularly brutal windstorm in Brittany. Alone. But I called upon my memories from when I lived there, worked and was married there, and the many, many times I visited, before then and since. Sometimes as I was writing, recollections came face to face with new revelations. The sense of discovery, then and now, is unchanging and provokes me to notice scents, flowers, the colors of the sky. Sometimes, I ran out of words. Often -- when I stood on the beach at Bidart, or sampled Calvados in the middle of an apple orchard in Normandy -- I ran out of power. The emotions caused my wiring to short out. This is what France will do. Confront you with the eternal so gently and so forcefully, one can feel almost not of this earth.