The 2012 BlogHer conference got off to an impressive start with an official opening address from no less than the President of the United States -- live via the Internet. With signage behind his right shoulder that read, "Women for Obama," the Commander-in-Chief congratulated organizers and attendees on the biggest BlogHer gathering to date. Delivering comments that combined stump speech material (the benefits of Obamacare for women and children) with friendly conversation ("Michelle and the girls say 'hi'"), Obama underscored his view that "women were not a monolithic block." Before signing off he wished the crowd "a wonderful conference."
Elisa Camahort Page, co-founder of BlogHer, thanked the President for the respect he was showing the assembled bloggers. In an email to me she qualified that the "community is omni-partisan, with members from across the ideological spectrum." I had contacted Camahort Page to confirm the report I heard that Romney had also been invited to speak. She responded, "The Romney campaign tried to make it work, but could not nail down his direct participation in time. They sent his director of Women's Outreach, Courtney Johnson, who was on the "Using Online Tools To Get Women into Office" panel. She noted that Obama staffer Buffy Wicks was also present and contributed to "How Washington Works and How Women in the States Can Make a Difference." Camahort Page cited that in 2008, BlogHer featured writing from numerous high-level surrogates from both campaigns on the site -- and that they expected the practice "to continue in this election cycle."
Those who post to BlogHer are unquestionably a diverse group. This year, the number of registered attendees hit a staggering 5,200 people. I heard some complaints that the conference had gotten too big. Yet it is the wide range of offerings that keeps such a continuum of women in the fold. There are those engaged with family-oriented concerns, beauty and style, as well as others in the political and activist spaces. Novice bloggers rub shoulders with tech experts. Aware of the trends, BlogHer has three tracks geared to appeal to specific preferences: the personal, the political and the professional. With a mix of keynote speakers, sponsors, and exhibitors, there was something to delight -- as well as potentially annoy -- everybody.
The expo halls had over one hundred companies promoting technology, services, food, personal products and social action groups. With so many eyeballs checking out the wares, it's not surprising that vendors were interested in courting the women. Ironically, BlogHer was held days before the breaking Manhattan tabloid story that pitted Mayor Bloomberg against Trojan on the logistics of their street giveaway of vibrators. At the conference, Trojan came equipped with 4,000 items and provided a low-key atmosphere where women could select the vibrator of their choice.
Sharing a presence with more familiar and high-profile brands were booths offering alternatives to the status quo. Among these were representatives of homeopathic medicines by Boiron and The Pew Charitable Trusts -- on hand to educate mothers about the campaign to stop the overuse of antibiotics in meat and poultry.
For the keynote sessions, the big name draws were Martha Stewart and Katie Couric; the latter is launching a new network television show on September 10. On Saturday, Soledad O'Brien anchored a conversation about "Women Influencers as Change Agents," featuring Christy Turlington Burns and Malaak Compton-Rock.
Along with technical, visual and writing instruction, there was a "Geek Bar" offering how-to sessions on topics such as "Google Analytics" and "Managing Social Media Via Mobile Phone." One of the writing labs was, "Crafting an Interesting Interview." Media maven Jennifer Pozner led "Bootstrapping Your Book's Promotion," which was jam-packed.
I checked out the training titled, "Leveraging Google+, Pinterest and Instagram." It was held in a well-filled combined set of suites. Regarding Google+, a panelist suggested, "People either love it or hate it." I learned that the more you post on the platform, the better it is for your Google algorithms.
Most of my time was spent live blogging in the Sutton Parlor, where panelists parsed the ins and outs of engagement and politics. "Strength in Numbers: Forming and Using Online Organizations to Make Change," was run by Morra Aarons Mele, who spearheads Women Online and The Mission List. Represented were Mom's Clean Air Force and Moms Rising, along with Stacy Mott, and the very impressive human rights activist Elizabeth Blackney.
Council member and writer Jill Miller Zimon led an animated conversation about "Using Online Tools to Get Women into Office." Mixing it up were panelists Debbie Walsh, director of the Center for American Women and Politics; Joanne Bamberger, author and journalist; Sabrina L. Schaeffer, the Executive Director of the Women's Independent Forum and Romney's director of Women's Outreach, Courtney Johnson. Walsh's top advice was this: "If women are not at the table, they are probably on the menu." There was plenty of interaction via Twitter from notable feminist and media influentials in the audience, predominately Shireen Mitchell, Veronica Arreola and Sarah Granger.
It was disappointing to see that the International Activist BlogHer Scholarship Recipients session was sparsely attended. At the 2008 New York event, this panel was a ballroom presentation. Listening to women relate their stories about how they are using the blogosphere to push social action agendas forward was both informative and inspiring. Cheryl Contee, co-founder of Jack and Jill Politics, guided the dialogue as each winner delivered a narrative about her work. Ana P. Santos, founder of Sex and Sensibilities, is informing girls and women in the Philippines about safe sex and their reproductive rights. Fungai Machirori writes about life in Zimbabwe on her blog Fungai Neni. Her site, herzimbabwe, has created a platform for women to share their experiences. Maha El-Sanosi is the publisher of Mimz, where she blogs about under-reported topics in Sudan. Based in Khartoum, she was recently arrested. El-Sanosi explained, "Being an activist isn't a choice." Her tweets are hashtagged with the phrase #SudanRevolts. Rounding out the group was Tara Livesay, who related her on the ground work in Haiti.
The conference wrap-up by Elisa Camahort Page and Lisa Stone outlined the forthcoming initiatives BlogHer was implementing, including opportunities to earn revenue in new arenas beyond their current publishing network.
When the founders of BlogHer originally asked the question, "Where are all the women bloggers?", they moved ahead to embrace a sector that wasn't being valued or taken seriously. Observing women from all walks of life striving to add their voices to countless conversations, it's obvious that the concept of BlogHer was way ahead of the curve.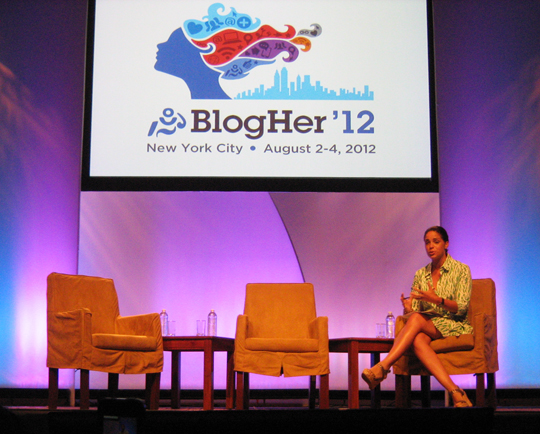 Photo: Soledad O'Brien Introduces a Panel
Courtesy of Marcia G. Yerman